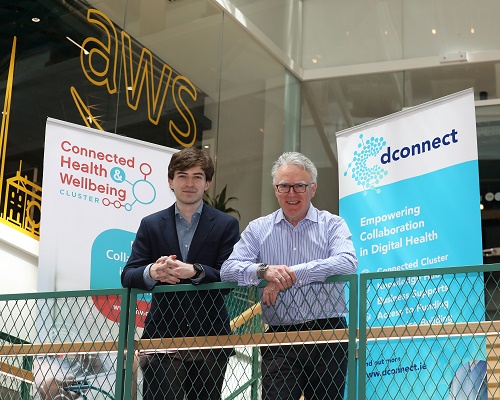 EpiCapture Wins 2023 eHealth Embark Programme Supporting Digital Health Innovation
EpiCapture, a University College Dublin (UCD) spin-out company supported by NovaUCD, has been announced as the overall winner of the second eHealth Embark Programme run by Dundalk Institute of Technology (DkIT) to support digital health innovation across Ireland. The company will receive up to $70,000 Amazon Web Services (AWS) credits.
A total of 10 companies participated in this specialised entrepreneur development programme run by DkIT's dConnect Digital Health Innovation Hub and the Connected Health & Wellbeing Cluster.
EpiCapture, which is developing a novel urine DNA test to detect aggressive prostate cancer, was co-founded by Associate Professor Antoinette Perry and Edward Simons as a spin-out from the UCD School of Biology and Environmental Science.
Edward Simons, co-founder of EpiCapture said, "We are delighted and honoured to have been declared overall winner of the eHealth Embark 2023 programme. The mentorship and expert AWS support provided during this excellent 10-week programme has allowed us to develop an initial architecture for our software solution and identify AWS services that meet our business needs. The prize allows us to implement this solution supported by AWS and to benefit from their experience across healthcare and cybersecurity as we integrate the EpiCapture-prostate algorithm with commercial laboratories."
MedWrite which reduces healthcare professionals' administrative workload and enhances the quality of patient care using generative AI software, was selected as the programme runner-up and will receive up to $30,000 AWS credits.
Both companies were selected as winners by an expert panel of judges, which included Amazon Web Services (AWS), Health Innovation Hub Ireland, EIT Health, and Atlantic Bridge.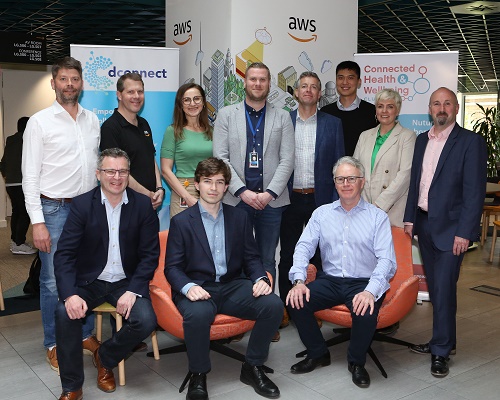 Pictured Back row (l-r): Marc Butterly (Judge), Michael Miller, Amazon Web Services; Joanna Wardzinski (Judge), Amazon Web Services; Stephen Bonney, Amazon Web Services; Thomas Coleman, Amazon Web Services; Weili Wang (Judge), Atlantic Bridge; Ceara Treacy, dConnect Digital Health Innovation Hub, DkIT; Breanndán Casey, Connected Health & Wellbeing Cluster, DkIT. Front row (l-r): EIT Health, Dr Michael Twomey (Judge), Health Innovation Hub Ireland; with Lochlann O'Regan and Edward Simons, EpiCapture. (Credit: Jenny Callanan).
Carl Power, Director of the dConnect Digital Health Innovation Hub, DkIT, said, "It has been our pleasure to coach these wonderfully innovative companies who are absolutely determined to make healthcare more efficient, effective, accessible and accountable through the use of technology. I want to congratulate all ten companies who have all received Credits and advice from AWS to develop their technical solutions. I am especially thrilled for the overall winners, EpiCapture and MedWrite."
The eHealth Embark programme consisted of a series of masterclasses and mentoring, ranging from customer discovery and validation, through to assessing market opportunity, mapping funding, product and technical roadmaps. As part of the programme AWS offered tailored and one-on-one mentoring to support participants leverage the latest cloud technologies such as data analytics, artificial intelligence, machine learning, procurement in the Public Sector, and an introduction to Amazon's culture of innovation.
In addition to EpiCapture, telTaz, an emerging UCD start-up completed the eHealth Embark programme. telTaz is developing child-friendly digital solutions to assist in the rapid detection of mental health symptoms to improve children's outcomes. The members of the telTaz team are Associate Professor Aisling Mulligan, UCD School of Medicine, Maria Joyce, Anne Coffey and Tomás Ward, DCU.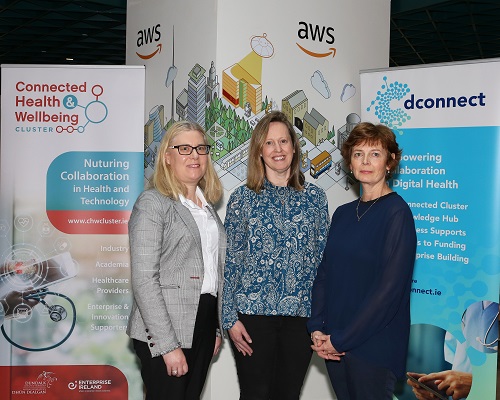 Pictured (l-r) are telTaz team members; Associate Professor Aisling Mulligan, UCD School of Medicine Maria Joyce and Anne Coffey. (Credit: Jenny Callanan).
Breanndán Casey, Manager, Connected Health Cluster, DkIT said, "Innovation in Digital Health is often dependent on using a wide cross-section of skills, market knowledge, and expertise. We are delighted to see Cluster members, such as AWS, Nova Leah, dConnect, and Enterprise Ireland, come together to create and deliver the eHealth Embark programme. The ten participating companies also benefited from supporting each other, and I'm really looking forward to seeing them further develop their business over the coming years and participate in Connected Health Cluster activity to help them scale their idea."
Mark Finlay, Head of Public Sector, AWS Ireland said, "AWS is delighted to support these two innovative and worthwhile Irish start-ups. The impressive digital solutions that these companies have put forward embody creativity, collaboration and entrepreneurship. AWS is committed to supporting technological advancement and maintaining Ireland's reputation as being at the forefront of innovation. I look forward to AWS continuing to support these organisations and seeing how they positively impact healthcare for administrators, medical staff, and most importantly, patients, in the years ahead."
ENDS
29 May 2023
For further information contact Micéal Whelan, Communications and Media Relations Manager, NovaUCD, t: + 353 1 716 3712, e: miceal.whelan@ucd.ie or Carl Power, Programme and Business Development Director, dConnect, e: carl.Power@dkit.ie.