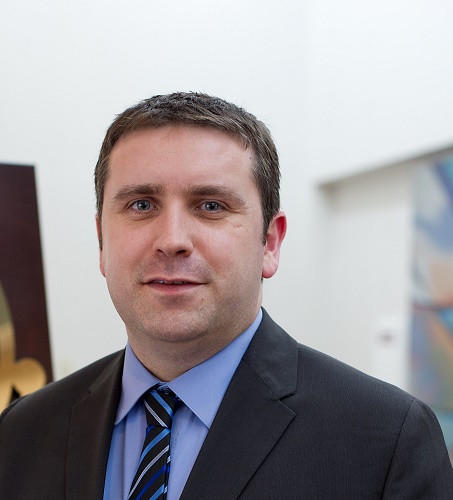 Equal1 Appoints Jason Lynch as New CEO
- Company founder Dirk Leipold to focus exclusively on developing core quantum processor technology
Equal1 Laboratories (Equal1), the silicon quantum computing company, today announced that Chief Operating Officer (COO) Jason Lynch has been appointed Chief Executive Officer (CEO). Company founder and board member Dirk Leipold will move into the role of President to focus his energy on accelerating development of the company's quantum-enhanced processor technology.
The company has secured a total of €20 million investment, from blended (grant and equity) funding through the European Innovation Council (EIC), and a venture capital funding round led by btov Industrial Technologies with long-time Equal1 investor Atlantic Bridge and others, including Enterprise Ireland and 808 Ventures.
"With our recent funding and the substantial progress we have made toward enabling affordable, functional quantum computers, it's key that I focus on overseeing our technology strategy and development execution," said Dirk Leipold.
He added, "Jason has been instrumental in building out the team and leading our fundraising efforts and is well positioned to lead the company into the next stage."
Dirk Leipold founded Equal1 with Mike Asker and Professor R. Bogdan Staszewski as a spin-out from University College Dublin (UCD) to address a major challenge for the quantum computing industry, to scale the number of qubits so that a quantum computer can tackle useful, real-world problems. The company's research and development teams are based at NovaUCD, in Dublin and Silicon Valley, California.
Jason Lynch, with a 22-year career of delivering high impact results in executive management, has led the Equal1 Irish operation, and has driven the company's strategy, fundraising and scaling. Prior to joining Equal1, he held several executive management positions, most recently as a General Manager at Analog Devices and previously as Managing Director at Hittite Microwave.
"Dirk and I have worked closely together to lead the company to this pivotal stage," said Jason Lynch.
"I am honoured that he is trusting me to take the company he co-founded to the next level of funding, recruitment and growth that will be needed to deliver on his vision of democratizing quantum computing," he added.
Equal1's quantum technology is well suited to Quantum Artificial Intelligence (AI) and machine learning. AI is transforming every aspect of our lives from self-driving vehicles to AI-designed drugs. However, the amount of energy required by these applications means that it is now a material and growing contributor to global carbon output and hence global warming. Equal1's quantum computing technology will enable vastly better performance at a fraction of the energy.
ENDS
1 February 2022
For further information contact Micéal Whelan, Communications and Media Relations Manager, NovaUCD, e: miceal.whelan@ucd.ie.
Editors Notes
Equal1 leverages commercially available semiconductor technology to deliver quantum computing solutions that empower businesses to overcome data-intensive AI challenges today. With its much smaller carbon footprint, our scalable, cost-effective technology provides a quantum computing path that will impact the trajectory of AI. This means we enable our customers to more effectively leverage the power of AI to develop useful, real-world solutions. www.equal1.com