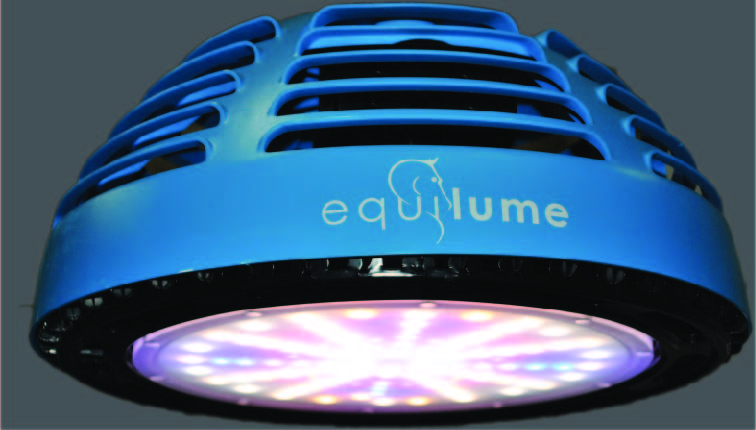 Equilume Announces Expansion of US Sales Team
Equilume, an Irish biotech company offering lighting solutions for the international equine industry, today announced the expansion of its USA team, to meet significant new sales opportunities identified in the North American market.
Equilume intends to further expand the USA sales team in the coming months as demand grows for the company's Equilume Light Mask and the Equilume Stable Light products.
Headquartered in Co. Kildare, the company was established by Dr Barbara Murphy in 2012 as a spin-out from University College Dublin's (UCD) School of Agriculture and Food Science.
Equilume has appointed Michael Lindsey to the newly created position of National Account Manager for North America and Michael Hardy, as Territory Manager for Eastern USA. They will both now work with Stephanie Standridge, the company's current Territory Manager for Central and Western USA, in the development and growth of opportunities across the continent.
Michael Lindsey, a keen horseman living in Texas, brings a wealth of equine knowledge and twenty years of experience in the animal health industry as a national sales manager for a global animal nutrition company.
Michael Hardy, born in Northern Ireland, and now based in Lexington, Kentucky, has a strong equine background. He grew up on a stud farm Co. Down, graduated with a BSc in Equine Science (from the University of Limerick) and is a graduate of the the Godolphin Flying Start management and leadership training programme, which specialises in the international Thoroughbred racing and breeding industry.
Commenting on today's announcement Norbert McDermott, Chairman, Equilume said, "As a global leader in light therapy solutions for the equine industry these appointments strengthen and extend our ability to reach broader markets. Having recently spent some time with the team in the USA, I am excited about the new opportunities for Equilume provided by the added knowledge, experience and diverse equine backgrounds of Michael Lindsey and Michael Hardy."
The Equilume Light Mask is an individual headpiece for horses that provides timed, low-level blue light to a single eye to ensure early reproductive success for the horses. Since its launch in 2013, the Equilume Light Mask has become a standard management tool to ensure reproductive success on breeding farms from the Hunter Valley, Australia to the Kentucky Bluegrass, USA.
The Equilume Stable Light provides horses with biologically effective light in a system that replicates the benefits of nature's environmental lighting indoors designed to maximise health, performance and breeding efficiency for stabled horses.
Equilume is an Enterprise Ireland high-potential start-up (HPSU) company.
ENDS
22 July 2019
For more information contact Micéal Whelan, Communications and Media Relations Manager, NovaUCD, UCD Research and Innovation, t: + 353 1 716 3712, e: miceal.whelan@ucd.ie or Ronan Cox, COO, Equilume, e: ronan@equilume.com.
Editors Notes
Equilume is a world leader in the research and development of light therapy solutions to assist the global horse industry in maximising reproductive efficiency and performance. The company was established as a result of pioneering research at UCD by Dr Barbara Murphy, in collaboration with Professor John Sheridan, a UCD optoelectronics engineer, who identified the optimum light level required to advance the breeding season in horses, giving rise to the successful launch of the Equilume Light Mask. www.equilume.com
Equilume Light Mask
Thoroughbred breeders have known about the importance of light on a mare's reproduction cycle for decades. In order to fool a mare's reproductive system into activating earlier than in nature, many breeders currently maintain, at a significant cost, their non-pregnant mares indoors, under artificial lighting for 8 to 10 weeks prior to the official start of the breeding season in February. However by using The Equilume Light Mask, which shines low intensity blue light into just one eye, Thoroughbred breeders can meet crucial industry timelines and at the same time eliminate the requirement to maintain their non-pregnant mares indoors under artificial lighting and save at least €1,000 per mare per season.
Equilume Stable Light
Modern management of horses requires that they spend a large proportion of the 24-hr day indoors, unexposed to optimum daylight and frequently disrupted by light at night. This regime negatively impacts the horse's body clock and can result in impaired growth, reduced immune response, poor appetite and performance. The Equilume Stable Light was designed to counteract these problems by providing the horse with biologically effective light.