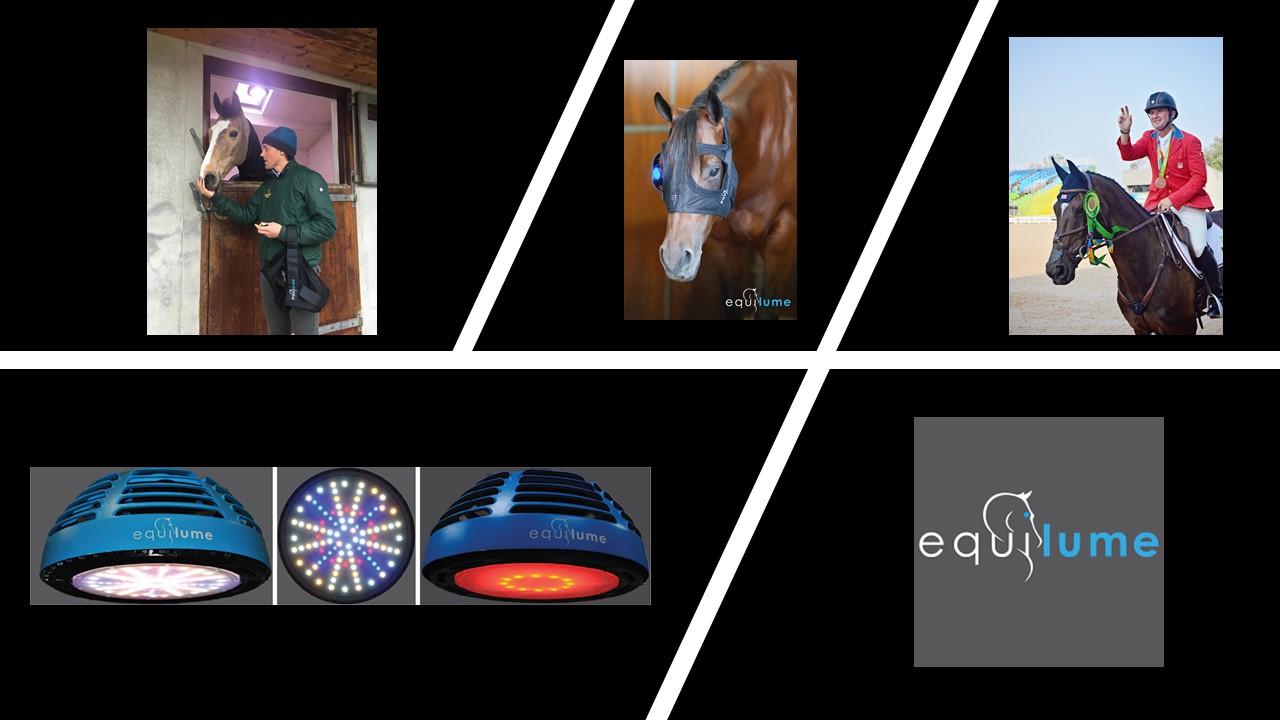 Equilume Announces Partnership with International Eventing Riders
Equilume, an Irish equine biotech firm offering lighting solutions for the international equine industry, has today announced a partnership with two high profile international eventing riders, Sam Watson (IRE) and Phillip Dutton (USA).
Through this partnership the company's Equilume Stable Lights and the Equilume Cashel Light Masks will be used at Watson's Ballybolger Stud in Co. Carlow and Dutton's True Prospect Farm in Pennsylvania. The light masks will be worn by their horses while on the road to competition throughout the year.
The Equilume Stable Light provides horses with biologically effective light in a system that replicates the benefits of Nature's environmental lighting indoors, designed to maximise health, performance and breeding efficiency for stabled horses.
The Equilume Cashel Light Mask is an individual headpiece for horses that provides timed, low-level blue light to a single eye throughout the day to ensure optimum health, performance and coat condition.
Sam Watson, a member of the Irish Eventing silver medal winning team at the World Equestrian Games in 2018, has represented Ireland three times at the Games and was short-listed for Tokyo 2020. For Watson, whose 2019 number seven world ranking was an all-time high for an Irish rider, this partnership comes at an important time in the preparation of his horses for the rescheduled Tokyo Olympics next year.
Sam Watson said, "Getting horses in great condition is often about keeping them in the best conditions. Health, muscle growth, mood, energy, rest and recovery are all areas that I personally feel are negatively impacted on dark and gloomy days. The Equilume team have the science to show that the same is true for horses and that their lighting solutions work to improve these factors."
"We've got our broodmares and performance horses using the Equilume Stable Lights and Light Masks. We want the best for our horses and we don't want to miss out on a performance edge. Lighting clearly has an important part to play. Plus, who doesn't want their day brightened up."
Three-time Olympic medallist (two golds, one bronze) Phillip Dutton was named the number one FEI World Eventing Rider in 2005. He represented his native Australia in three Olympics, winning team gold in Atlanta, and four World Championships before becoming an American citizen in 2006.
Riding for the USA, Dutton was a member of the gold medal team and individual silver medallist at the Pan-American Games in Rio de Janeiro in 2007 and has been on the United States Olympic eventing team at Beijing, London and Rio, winning individual bronze on imported Irish Sport Horse 'Mighty Nice' in Rio in 2016.
Phillip Dutton said, "I had read about the Equilume light concept and the theory of improving a horse's trainability/attitude and healing improvements, so I decided to try one of their Cashel Light Masks. The horse I selected was a very talented but somewhat difficult horse to train on a daily basis. I was told it would take about six weeks of use with the Cashel mask to see the full benefits on the horse."
"After just three weeks, I saw a remarkable improvement in the horse's attitude and willingness to enjoy his work. The logic of more light for a stabled horse makes sense to me, and I was able to see the results. I am excited about what benefits this will have for all my horses - so we are in the process of installing the Equilume Stable Lights throughout our barn."
Equilume, a University College Dublin (UCD) spin-out company supported through NovaUCD and headquartered in Co. Kildare, is best known for the global success of their award-winning blue light mask that aids fertility in breeding stock. The company's continued investment in R&D has led to an expanded product line, including the Equilume Stable Light and the Equilume Cashel Light Mask, targeted at the national and international Sport Horse market.
Dr Barbara Murphy, founder, Equilume said, "We are delighted that two such accomplished and respected riders are seeing the benefits of our products and that Equilume is playing a part in keeping their horses looking and feeling their best while performing at the highest levels".
Equilume joins an elite list of equine companies, including Horseware Ireland, in their support of both Sam Watson and Phillip Dutton.
ENDS
29 June 2020
For further information contact Micéal Whelan, Communications and Media Relations Manager, UCD Research and Innovation, NovaUCD, e: miceal.whelan@ucd.ie, t: + 353 1 716 3712 or Elaine Jenkins, Equilume Ltd, e: elaine@equilume.com.
Editors Notes
Equilume is a world leader in the research and development of light therapy solutions to assist the global equine industry in maximising reproductive efficiency and performance.
The company was established as a result of pioneering research at UCD by Dr Barbara Murphy, in collaboration with Professor John Sheridan, a UCD optoelectronics engineer, who identified the optimum light level required to advance the breeding season in horses, giving rise to the successful launch of the innovative Equilume Light Mask. www.equilume.com
Designed specifically for the Sport Horse market, The Equilume Cashel Light Mask ensures that horses receive optimum wavelengths of light that mimic natural sunlight when they are stabled, travelling or away at competition.
Modern management of horses requires that they spend a large proportion of the 24-hr day indoors, unexposed to optimum daylight and frequently disrupted by light at night. This regime negatively impacts the horse's body clock and can result in impaired growth, reduced immune response, poor appetite and performance. The Equilume Stable Light was designed to counteract these problems by providing the horse with biologically effective light. Key features of the system are blue-enriched light by day, gradual transitions at dawn and dusk, red light at night and a circannual program that optimises performance throughout the year.