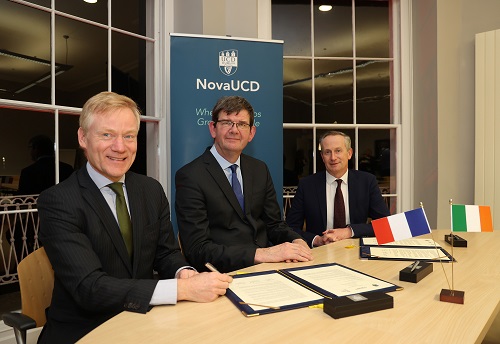 Enterprise Ireland, UCD and French Embassy Announce New Agreement to Strengthen Innovation and Applied Research Links Between Ireland and France
Enterprise Ireland, University College Dublin and the Embassy of France in Ireland today announced the signing of a Memorandum of Understanding (MoU) establishing a new International Technical Expert (ETI) role dedicated to strengthening Innovation and Applied Research links between France and Ireland.
Building on the strong base of academic and cultural co-operation between France and Ireland, the ETI will work with multiple stakeholders in France and Ireland with the aim of broadening co-operation and mutual understanding in the fields of applied research and innovation. The ETI will be based at NovaUCD, Ireland's leading university incubator, which has supported over 500 start-ups and early-stage ventures.
The ETI will also work closely with the Research and Innovation Department at Enterprise Ireland, which is also the co-ordinator of the Irish National Contact Point network for the Horizon Europe programme.
In addition, the ETI will develop an in-depth understanding of the research and innovation landscape in both Ireland and France to identify strategic priorities common to both jurisdictions.
Commenting on this announcement, H.E. Vincent Guérend, Ambassador of France to Ireland, said, "Research and Innovation is one of the most dynamic areas of Franco-Irish relations and this position highlights the special relationship between our two countries as France is now Ireland's closest EU neighbour. This partnership with Enterprise Ireland and UCD is particularly innovative because of its positioning between administration, research and business. The agreement represents one of several milestones that we have achieved in the France-Ireland Joint Plan of Action, which was signed on the occasion of the visit of President Macron in August 2021 in Dublin. This post is one of only 6 of its kind in the world, so having one of them in Ireland is a real achievement."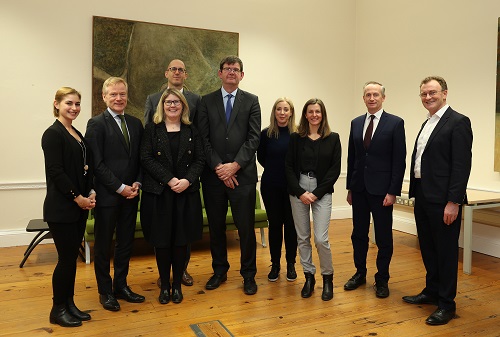 Pictured (l-r), Lilla Korbuly, Global Collaborations Officer, UCD Global; H.E. Vincent Guérend, Ambassador of France to Ireland; Shauna Hughes, Director, Global Relations, Partnerships and Mobility, UCD Global; Gaultier Brand-Gazeau, Head of Economic Department, Embassy of France in Ireland; Professor Mark Rogers, Acting UCD President; Abigail Lalor, Senior International Relations Officer, UCD Global; Delphine Tessier, Academic and Science Attachée, Embassy of France in Ireland; Leo Clancy, CEO, Enterprise Ireland and Tom Flanagan, UCD Director of Enterprise and Commercialisation.
Professor Mark Rogers, Acting UCD President said, "UCD is delighted to be collaborating with the Embassy of France in Ireland and Enterprise Ireland to strengthen innovation and applied research links between Ireland and France, and to be hosting the international technical expert at NovaUCD.
Through NovaUCD and the Enterprise Ireland team, we look forward to working with the international technical expert to strengthen links between the French and Irish start-up, innovation and applied research ecosystems. By leveraging existing partnerships, and building new collaborations, we aim to increase the attractiveness of both countries to the strategic innovation and research opportunities we will create in the coming years."
Leo Clancy, CEO, Enterprise Ireland said, "Enterprise Ireland is delighted to be a key partner in this new initiative that will strengthen the research and innovation links between Ireland and France. Both France and Ireland place a high value on the enterprise and job creation potential of cutting-edge research and innovation and its role in tackling key global issues, such as decarbonisation. I look forward to the new synergies between the research and innovation communities in both countries that this new initiative will foster."
ENDS
16 December 2022
For further information contact Micéal Whelan, Communications and Media Relations Manager, NovaUCD, UCD Research and Innovation, e: miceal.whelan@ucd.ie or Paul Daly, Press Office, Enterprise Ireland paul.daly@enterprise-ireland.com.
Editors Notes
Enterprise Ireland is the Irish government organisation responsible for the development and growth of Irish enterprises in world markets. We work in partnership with Irish enterprises to help them start, grow, innovate and win export sales in global markets. In this way, we support sustainable economic growth, regional development and secure employment. https://www.enterprise-ireland.com/
University College Dublin is Ireland's largest and most diverse university and one of Europe's leading research-intensive universities. Since 1854 UCD has made a unique contribution to the creation of modern Ireland, based on successful engagement with Irish society on every level and across every sphere of activity. As Ireland's leading university in innovation, knowledge transfer and commercialisation, UCD's commitment to innovation and entrepreneurship recognises the importance of active participation and collaboration to exploit leading-edge research and development outputs. As set out in Rising to the Future 2020-2024 UCD's four strategic themes are creating a sustainable global society, transforming through digital technology, building a healthy world, and empowering humanity. www.ucd.ie
The French Embassy in Ireland is the diplomatic representation of the French Republic in Ireland. It is located in Dublin, the capital of the country. Since 2020 H.E Vincent Guérend is the Ambassador of France to Ireland. https://ie.ambafrance.org/
At NovaUCD, the hub for new ventures and entrepreneurs at University College Dublin, we nurture and support new high-tech and knowledge-intensive companies as part of UCD's mission. At NovaUCD we provide purpose-built, state-of-the-art incubation facilities alongside a comprehensive business support programme for client companies. Since opening in 2003 NovaUCD has supported over 500 start-ups and early-stage ventures which haver raised in excess of €1 billion in equity funding and created thousands of jobs. NovaUCD has been funded through a unique public-private partnership that includes AIB Bank, Arthur Cox, Deloitte, Enterprise Ireland, Ericsson, Goodbody Stockbrokers, UCD and Xilinx. www.ucd.ie/novaucd