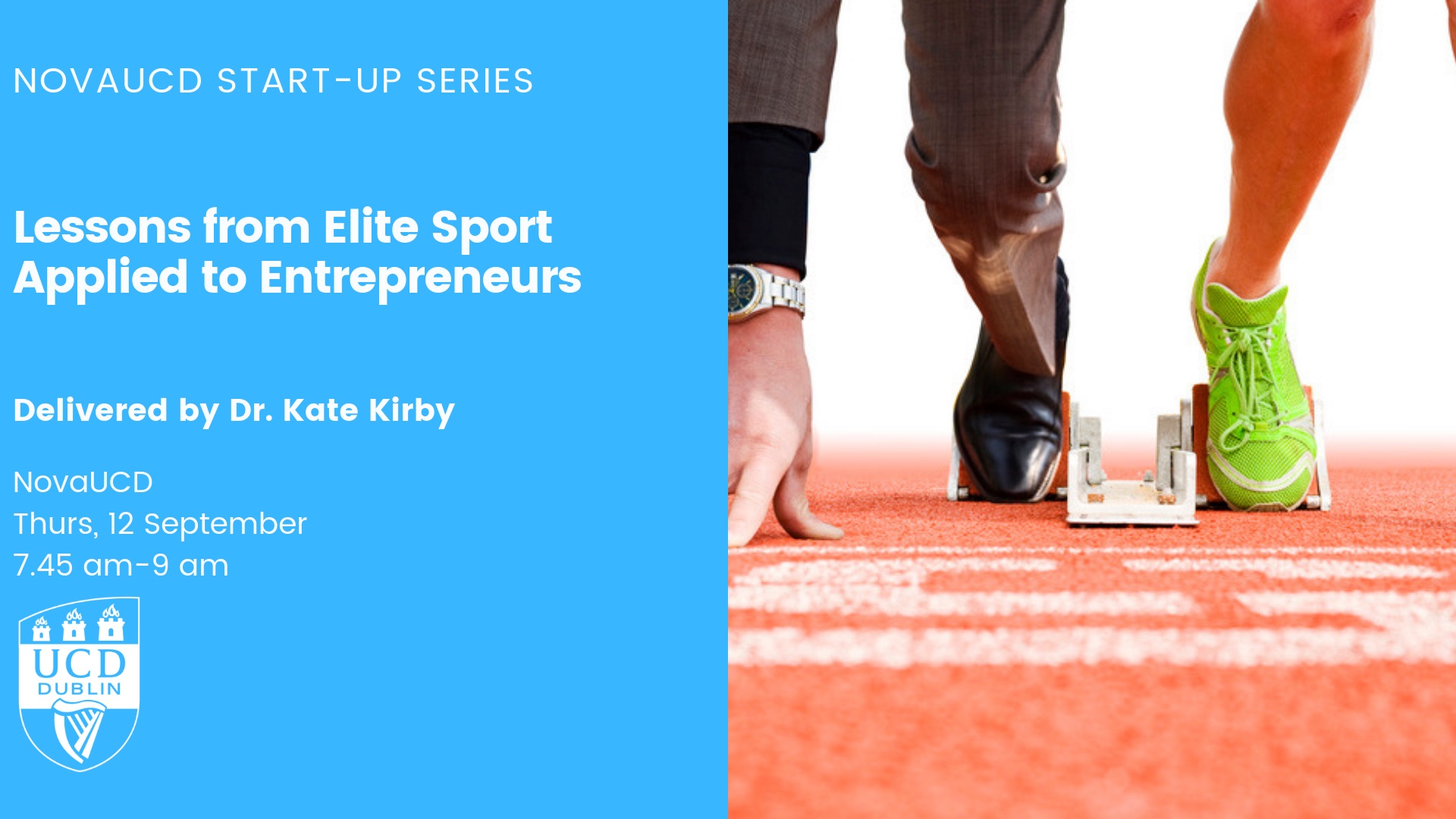 Event: Lessons from Elite Sport Applied to Entrepreneurs
Registration is now open for the fourth event in the NovaUCD Start-Up Series and is entitled, 'Lessons From Elite Sport Applied to Entrepreneurs'.
The event will take place at NovaUCD on Thursday 12 September, from 7:45 am to 9 am and the presentation will be delivered by sports psychologist, Dr Kate Kirby.
During her presentation Dr Kirby will talk about managing the team dynamics of all those who support an Olympic athlete and how these high-performance systems function with so many competing interests.
While there are some differences between sports and business, there are many similarities and parallels that should not be ignored. Understanding them can help drive entrepreneurs and their companes to achievements and successes that others can only dream about.
Dr Kirby has featured regularly in Irish print and broadcast media, speaking about her experiences in high performance sport and specifically, her role in assisting Annalise Murphy to her silver medal success at the Rio Olympics in 2016.
She has also experience in the corporate sector having collaborated with companies such as Deloitte, BNY Mellon and Irish Life Health and she has presented at large-scale events such as Wellfest, GenerationX and Huddle Dublin.
Click here to register to attend.
ENDS
2 September 2019
For more information contact Micéal Whelan, Communications and Media Relations Manager, NovaUCD, UCD Research and Innovation, t: + 353 1 716 3712, e: miceal.whelan@ucd.ie.
Editors Notes
NovaUCD, the hub for new ventures and entrepreneurs at University College Dublin, is Ireland's leading innovation hub with a strong reputation and a proven track record in assisting start-ups to grow and scale internationally.
At NovaUCD we provide purpose-built, state-of-the-art facilities alongside a comprehensive business support programme for our client companies. NovaUCD has supported over 360 companies and early-stage ventures and supported companies have attracted over €760 million of investment and currently employ over 1,040 people directly.
Following a €6.5 million project to develop the Centre's eastern courtyard we can now support an ambitious community of over 450 people. We are now seeking high-tech aspiring start-ups who want to locate at NovaUCD and benefit from our unrivalled network of serial and next generation entrepreneurs, private investors and VCs, experienced business mentors and world-class researchers
NovaUCD has been funded through a unique public-private partnership that includes AIB Bank, Arthur Cox, Deloitte, Enterprise Ireland, Ericsson, Goodbody Stockbrokers, UCD and Xilinx. www.novaucd.ie