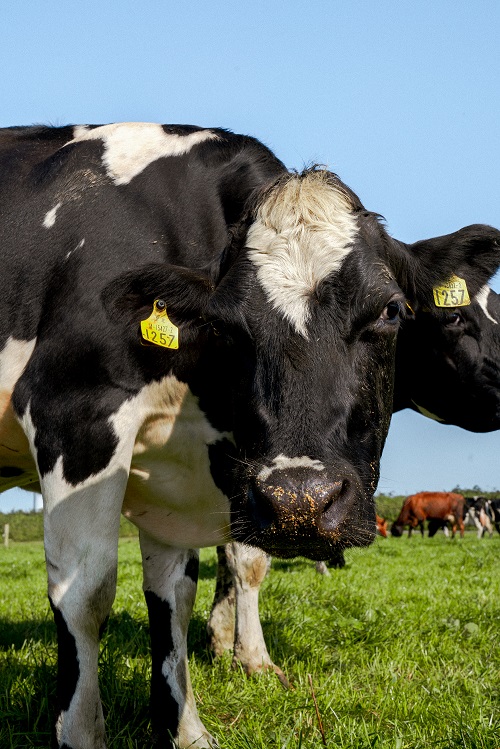 UCD-led Farm Zero C Project Wins SFI Future Innovator Prize of €2 million under the Zero Emissions Challenge
- UCD-led LiCoRICE circular economy project wins special prize of €500k
a dairy farm near Bandon in Co. Cork, achieve net-zero emissions by 2027 with plans to extend the strategy to a further 5,000 farms within five years.
The SFI Future Innovator Prize, funded by the Department of Further and Higher Education, Innovation and Science, is a challenge-based prize funding programme that seeks to support Ireland's best and brightest, to develop novel, potentially disruptive, technologies to address significant societal challenges.
As part of the SFI Zero Emissions Challenge, Farm Zero C, in partnership with dairy producer Carbery Group, studied how planting different types of grasses and clovers on pastures and supporting hedgerows can boost biodiversity and soil health, how using renewable energy that reduces greenhouse gas emissions and how changing what we feed livestock affects how much methane gas they produce.
Farm Zero C is using Shinagh Farm, owned by the farmers of four West Cork Co-ops, as a demonstrator for this project, with the goal that Shinagh will achieve net-zero emissions by 2027. Wider deployment will be achieved through a mobile app. This will integrate farm and satellite data, habitat mapping and natural capital accounting, to provide users with information on the carbon footprint of their activities and to develop strategies to mitigate these.
Minister Simon Harris TD said, "Congratulations to Professor Kevin O'Connor and the Farm Zero C team. Innovative and disruptive ideas like the Farm Zero C project will become increasingly important as we deliver against the Government's ambitious Climate Action Plan and significantly reduce our carbon emissions."
"My Department's support for projects like this one, that have real world impacts, really gives me not only pride, but confidence, as we strive to reduce our carbon emissions by 50% over the next decade."
The members of the Farm Zero C leadership team are; Professor Kevin O'Connor, UCD School of Biomolecular and Biomedical Science and Director, BiOrbic SFI Bioeconomy Research Centre; Dr Fionnuala Murphy, UCD School of Biosystems and Food Engineering and societal impact champion, Enda Buckley, Director of Sustainability, Carbery.
On behalf of the Farm Zero C team Professor Kevin O'Connor said, "Agriculture is a critically important sector for Ireland socially and economically and dairy farms have huge potential to help Ireland to address two existential challenges, climate change and biodiversity loss. Farm Zero C is building a holistic plan to progressively bring farm emissions to net zero, enhance biodiversity, and integrate natural capital and digitalisation into the farm business."
He added, "We have brought the very best national and international partners together to address the challenge. From the outset Carbery group and the Shinagh farm in West Cork have been incredible societal champions and we look forward to working together to roll out the findings to as many farmers as possible."
Other members of the Farm Zero C project team include; Alejandro Vergara (UCD and BiOrbic); Dr Laurence Shalloo (Teagasc and Vista Milk); James Gaffey (Munster Technological University and BiOrbic); Professor Jane Stout (TCD, Nature+ and BiOrbic); Cian White (TCD and BiOrbic); Dr Dario Fornara (Agri-Food and Biosciences Institute, Northern Ireland); and Johan Van Gran (Grassa, Netherlands).
Professor Orla Feely, UCD Vice-President for Research, Innovation and Impact said, "I would like to congratulate Professor Kevin O'Connor and Dr Fionnuala Murphy, and the all Farm Zero C academic and industry partners, on winning the prestigious and highly-competitive SFI Future Innovator Prize Zero Emissions Challenge."
"Winning this challenge, and the associated €2 million in funding, is testament to the world-class research taking place at UCD. It highlights how our researchers, working in collaboration with industry and academic partners, can help to shape the future and create a sustainable global society by seeking solutions to some of the world's most pressing challenges, such as reducing greenhouse gas emissions as well as protecting and increasing biodiversity."
"I wish the Farm Zero C team every success as they now focus on their goal of demonstrating Shinagh Farm in West Cork as a carbon neutral dairy farm. Achieving this goal, with its impact on greenhouse gas emissions, will have considerable influence on the future of agriculture, and dairy farming in particular, not only in Ireland but globally."
Watch video: Farm Zero C Explained
The proposed solution from the Farm Zero C team comprises a combination of diverse climate mitigation strategies that when combined reduce the greenhouse gas emissions of farms, increase biodiversity, quantify the value of natural capital, decrease the farm's operational cost, and increase the value of its products. Each of the strategies have been either experimented, tested and/or modelled to determine pathways for dairy farms to achieve net-zero emissions.
The Farm Zero C project team engaged with a wide range of stakeholders from the farming community, government and the agri-food industry over the course of the project.
Minister of State with special responsibility for Agri-Food Research and Development, the Bioeconomy, Farm Safety and New Market Development Martin Heydon TD said, "Congratulations to the Carbery Group and the Farm Zero C team for developing this pioneering and holistic approach to reducing greenhouse gas emissions and increasing the health and resilience of a working farm. This is the Irish bioeconomy in action safeguarding farmer's livelihoods whilst protecting our climate and environment."
CEO Carbery Group, Jason Hawkins said, "Sustainability is one of our core business priorities at Carbery and, as a co-op, has always been intrinsic to how we operate. We work in partnership with our community to solve problems, and our relationship with BiOrbic is a good example of business and academia working together with farmers to create a sustainable future for dairy farming. With Farm Zero C, our emphasis is on the practical – the solutions we find have to be implementable on the typical Irish family farm. With this project, our partners and the support from Science Foundation Ireland, we are confident that we can achieve this aim."
Professor Mark Ferguson, Director General of Science Foundation Ireland and Chief Scientific Adviser to the Government of Ireland, said: "The SFI Future Innovator Prize is part of an approach to cultivate challenge-based funding in Ireland to accelerate and validate excellent and innovative solutions to critical societal and global issues. The Farm Zero C project, led by Professor Kevin O'Connor, epitomises this ethos as it provides a solution that can enable Ireland's important dairy farming industry to become carbon neutral."
As part of the SFI Zero Emissions Challenge, a special prize of €500,000 was awarded to UCD's Dr Tony Keene and his LiCoRICE project team in recognition of the potential impact of their project to bring lithium cobalt batteries into the circular economy to decarbonise road transport.
The members of the LiCoRICE leadership team are; Dr Tony Keene, UCD School of Chemistry; Dr Steven Ferguson, UCD School of Chemical and Bioprocess Engineering, and societal impact champion, Conor Leonard, WEEE Ireland. LiCoRICE project is co-funded by Department of Foreign Affairs and Trade.
Dr Tony Keene said, "The LiCoRICE team is delighted to be the recipient of a special prize of €500,000 under the SFI Zero Emissions Challenge. We hope to take this project from a chance discovery through to being a leading technology in recycling the huge number of lithium ion batteries predicted to come about from electric vehicles and provide a means for Ireland to move to fully green transport as part of the circular economy."
"The team is really excited to develop this into a process that will benefit the climate, the economy and to help improve conditions for artisanal miners in the Democratic Republic of Congo. The UCD team and our partners at WEEE Ireland are grateful to SFI and the Department for Foreign Affairs for this opportunity."
Professor Orla Feely said, "I would also like to take this opportunity to congratulate the LiCoRICE team, Dr Tony Keene, Dr Steven Ferguson and societal champion, Conor Leonard, WEEE Ireland, on winning a special SFI Future Innovator Prize of €500,000 as part of the Zero Emissions Challenge. I wish the team every success with their goal of making Ireland's first fully green and recycled lithium batteries, helping to demonstrate that electric vehicle production can be environmentally sound."
Dr David McCloskey's team at Trinity College Dublin were also awarded a special prize of €500,000 for their SolarCool project, which is a cost-effective technology that improves efficiency of existing and future solar PV technologies.
Further information on the SFI FIP Zero Emissions Challenge available via https://www.sfi.ie/challenges/zero-emissions/
ENDS
21 June 2021
For further information contact Micéal Whelan, Communications and Media Relations Manager, UCD Research and Innovation, t: + 353 1 716 3712, e: miceal.whelan@ucd.ie.