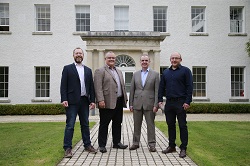 Five University College Dublin Start-Ups to Pitch at Enterprise Ireland's 2018 Big Ideas Showcase
- 12 start-ups in total competing for the 'One to Watch' Award
Five (5) University College Dublin (UCD) start-ups are among the twelve (12) start-ups pitching at Enterprise Ireland's 2018 Big Ideas event.
The event, which takes place tomorrow in the Guinness Storehouse, will enable innovative start-up companies emerging from higher education institutes to pitch their technological solutions to potential investors.
At the end of the event one of the 12 companies will be presented with the 2018 'One to Watch' Award.
The 5 participating UCD companies are; Atturos, Cortex Analytics, En-Perium, PlasmaBound and Prolego Scientific.
Pictured l-r are Dr Daniel Regan, Cortex Analytics; Alan Barry, PlasmaBound; David Corr, Atturos and Michael Mescal, En-Perium
Tom Flanagan, UCD Director of Enterprise and Commercialisation said, "I am delighted that 5 of the 12 start-ups pitching at tomorrow's Big Ideas 2018 event are UCD spin-outs. This indicates the quality and commercial potential of the start-ups emerging from the University across a wide range of research areas."
"Each of these five companies have successfully completed our VentureLaunch accelerator programme which is designed to support the creation and launch of sustainable and profitable new ventures based on UCD intellectual property. We are continuing to support these companies to help them grow, scale and reach their global market potential."
"I wish each of them every success at Enterprise Ireland's showcase event."

Dr Belinda Hernández, co-founder, Prolego Scientific and Tom Flanagan, Director of Enterprise and Commercialisation, UCD
Dr Belinda Hernández, co-founder, Prolego Scientific said, "I am delighted to have this opportunity to pitch our technological and business proposition to leading members of the Irish research and investor communities at the 2018 Big Ideas event. The focus of the technologies being developed by Prolego Scientific is to enhance animal health and performance metrics to improve the quality of the food chain as well as predict breeding values in Thoroughbred animals and crops."
She added, "Our proprietary algorithms have already shown an improvement in predictive accuracy of 20% in the equine industry and we at Prolego look forward to building upon that success in other sectors such as poultry and aquaculture in the near future."
Atturos is building a pipeline of advanced proteomics-based tests to support personalised medicine and enable physicians and their patients to make better decisions. These advanced diagnostic tests provide much deeper insights into a patient's protein status and thus add critical, actionable information to a patient's diagnosis.
Atturos' lead product is a novel multi-marker test which is being developed to address a significant unmet need in the treatment of prostate cancer. The company, headquartered at NovaUCD, was founded by Professor Stephen Pennington as a spin-out from the UCD School of Medicine and the company CEO is David Corr.
Cortex Analytics has developed a unique and proprietary predictive analytic system, the Total Patient Value (TPV) toolkit, for the Life Science market. Exploiting cutting-edge behavioural data, the cloud-based TPV provides actionable information for companies by optimising measurement of the true value patients put on their healthcare products, earlier in the development process. Dr Daniel Regan, UCD School of Psychology, is the founder of Cortex Analytics.
En-Perium, a next generation energy analysis software, has been developed by Michael Mescal, as a spin-out from the UCD School of Architecture. En-Perium helps ease the burden of compliance for both architects and engineers, to increasing government and regional legislation around green and energy compliant buildings.
PlasmaBound provides a step-change in materials surface pre-treatment technology, Controlled Polymer Ablation, which facilitates the structural adhesive joining of lightweight materials, such as carbon and glass fibre reinforced composites. This increases the scope for ultra-lightweight materials in traditionally metallic structures.
This technology enables global enterprises, which are aggressively pursuing lightweighting opportunities, to meet current and future carbon emissions and fuel efficiency requirements. The UCD Engineering spin-out was co-founded by Alan Barry and Dr Nick Barry, and is headquartered at NovaUCD.
Prolego Scientific applies novel artificial intelligence and machine learning methods to provide genomic predictions for Thoroughbred animals and crops. The co-founders of Prolego Scientific, a UCD School of Mathematics and Statistics start-up, are Dr Belinda Hernández and Professor Andrew Parnell. Dr Hernández is currently based at Trinity and Professor Parnell is based at Maynooth University.
The other companies pitching at the event are; Atrian; AudioSourceRE; ChemoGel; iTremor; Senoptica Technologies; SepTec and waytoB.
ENDS
4 September 2018
For further information contact Micéal Whelan, Communications Manager, UCD Research and Innovation, e: miceal.whelan@ucd.ie, t: +353 1 716 3712.
Editors Notes
At NovaUCD, the hub for new ventures and entrepreneurs at University College Dublin, we provide purpose-built, state-of-the-art incubation facilities for knowledge-intensive companies alongside a comprehensive business support programme for our client companies. NovaUCD also runs a series of programmes, such as the UCD VentureLaunch Accelerator, to assist researchers who are commercialising research outputs. NovaUCD has been funded through a unique public-private partnership that includes AIB, Arthur Cox, Deloitte, Enterprise Ireland, Ericsson, Goodbody Stockbrokers, UCD and Xilinx. www.ucd.ie/novaucd
Big Ideas 2018 is an Enterprise Ireland led event that empowers the front runners in Irish research, to take centre stage and pitch their technology solutions and business propositions to an audience comprised of the Irish research and investment communities. Big Ideas provides investor ready start-ups with a bespoke pathway to success, support with growing their business and creating jobs in Ireland. www.bigideas.ie/