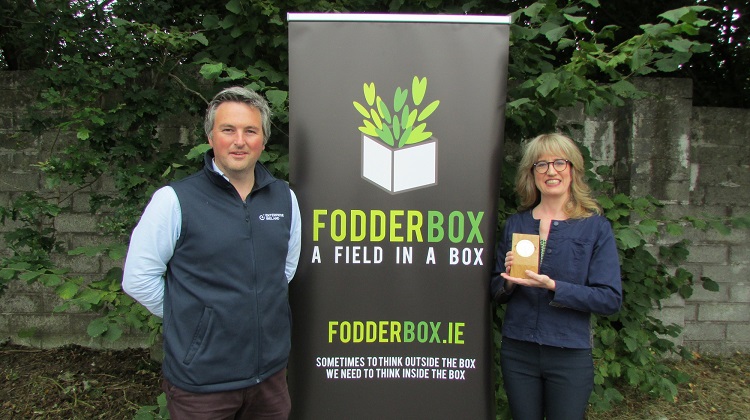 FodderBox Wins AgTechUCD Start-Up Award at 2021 Enterprise Ireland Innovation Arena Awards
- UCD PhD Student Wins Young Innovator of the Year Award
Minister of State for Business, Employment and Retail, Damien English TD has announced the winners of the 2021 Enterprise Ireland Innovation Arena Awards competition (virtual) run in association with the National Ploughing Association (NPA).
Among the 14 category award winners is FodderBox.ie, based in Co. Cork, which was named winner of the AgTechUCD Start-up Award.
FodderBox Ltd founded by Ella Goddin, has developed and built a fully-fitted, self-contained, computer-controlled fodder production system that arrives on-site, ready to plug-and-play. Sustainably producing a ton of fresh premium fodder per day, in pure water, FodderBox is the equivalent of a 40-acre field in a 40' container, with zero water pollution, zero air pollution, zero herbicides, zero pesticides, and zero insecticides.
FodderBox Ltd has also partnered with Teagasc on a ground-breaking 10-week animal trial of fresh Asparagopsis seaweed, cultivated in FodderBox, as an anti-methanogenic dairy cattle feed supplement.
Announcing the Award winners Minister Damien English TD said, "The ingenuity and talent of Irish farm experts, entrepreneurs and businesses, is once again captured by this year's Innovation Arena Award winners."
"In line with Government policy on Climate action, the positive impacts that Irish innovation can have on future global agriculture, particularly in relation to environmental, sustainability and digitalisation solutions, are inspiring. There are significant opportunities for our agricultural sector in overseas markets and the potential to drive economic growth. I would encourage farmers and companies to take advantage of Ireland's reputation for agri-innovation and to explore opportunities to realise their global ambition in new markets."
By winning the AgTechUCD Start-Up Award, FodderBox has secured a place on AgTechUCD's inaugural Agccelerator Programme, an intensive 12-week virtual programme, which commences later this month.
Ella Goddin, founder and CEO, FodderBox said, "I am delighted and honoured that FodderBox Ltd was named winner of the AgTechUCD Start-Up Award at this year's Enterprise Ireland Innovation Arena Awards as part of the National Ploughing Championship. I genuinely can't wait to be taking part in the AgTechUCD Agccelerator Programme over the next three-months. It's a fabulous programme."
She added, "Premium animal products are in increasingly high demand worldwide. Grass-fed beef, alone, is predicted to grow by €14 billion in the next 3 years. Unfortunately, most Irish beef is not considered grass-fed—by the USDA for example—because most Irish beef cattle are supplemented with grain-based feeds. Feeding grain is not feeding grass, because grain is not grass. Not until it germinates! which is why hydroponically produced fodder is considered grass-fed in the US. FodderBox — A Field In A Box will help Irish farmers tap into these grass-fed foreign markets that would otherwise be inaccessible. Sometimes to think outside the box we need to think inside the box: Fodderbox.ie."
The AgTechUCD Agccelerator Programme includes dedicated business development workshops and investor readiness training, mentoring from AgTech and FoodTech experts and business advisors, guest speakers and facilitated introductions to AgTechUCD's venture capital and business angel networks.
Another of the Award winners is Luis Alejandro Vergara, a UCD PhD student in the UCD School of Biosystems and Food Engineering, and the founder of Carbon Harvesters, named winner of the Young Innovator of the Year Award.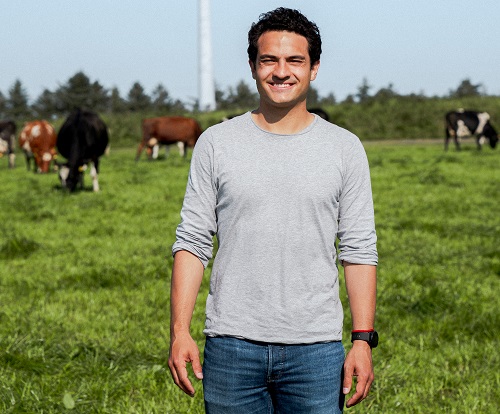 Luis Alejandro Vergara
Carbon Harvesters is an agtech start-up that monitors farms' emissions on a weekly basis, promotes the implementation of economic climate mitigation strategies, and certifies the verified emissions reductions to monetize those as market premiums or through the carbon offsets market, increasing the resilience of rural communities.
Luis Alejandro Vergara's PhD project is part of Farm4More, an EU LIFE and Department of the Environment, Climate and Communications funded programme that aims to develop climate mitigation strategies in the dairy industry including a grass silage biorefinery. He is also a research assistant in BiOrbic, SFI Bioeconomy Research Centre, on the Farm Zero C project which earlier this year won the SFI Future Innovator Prize of €2 million under the Zero Emissions Challenge.
Luis Alejandro Vergara said, "Winning the Young Innovator of the Year Award has been a great honour considering the history and influence that the Innovation Arena Awards has had in Ireland for the last decade. This Award comes as a great sense of motivation and responsibility to keep developing a farmer-centric tool that increases the resilience of rural communities while helping the country achieve its climate goals. At a personal level, I would like to thank the support of the Farm4More and Farm Zero C projects, the UCD School of Biosystems and Food Engineering, and my PhD supervisor, Dr Fionnuala Murphy."
For the second year in a row, the 2021 Enterprise Ireland Innovation Arena Awards in association with the National Ploughing Association (NPA), took place online, with shortlisted innovators pitching their pioneering designs to a virtual judging panel over the course of two days.
Enterprise Ireland's Innovation Arena traditionally showcases ground-breaking agri-related products and innovations from Irish agri-companies at the National Ploughing Championships. This year's competition was once again moved fully online due to the cancellation of the event as a result of the pandemic.
More than 50 entries were received for this year's Awards competition with 28 selected for virtual pitching.
Brandon Bioscience, a marine biotech company based in Tralee, Co. Kerry, was named overall winner of this year's Enterprise Ireland Innovation Arena Awards. In collaboration with the traditional fertiliser manufacturer Target Fertilisers, the company's winning entry is an innovative new biostimulant product using extracts from common brown seaweed that has the potential to reduce chemical nitrogen input on farms by up to 20 percent.
The best overall start-up award went to Jennifer and Kevin Corley, founders of EquiTrace which is an app that works with a horse's microchip to identify, locate and track individual animals as they move while also recording animal temperature and health records when used with a Merck Bio-Thermo chip and scanner.
National Ploughing Association Managing Director, Anna May McHugh said, "The NPA are delighted to be partnering up again with Enterprise Ireland to run this year's online Innovation Arena Awards. Innovation has been a key factor of the National Ploughing Championships since its establishment 90 years ago in 1931 as it as it has grown and evolved over the years to become the epic event it now is.
"Agriculture is deeply rooted in Irish culture and is a vital factor in rural Ireland's economic growth. Over the years the Innovation Arena at Ploughing has seen some of the most cutting-edge technologies & brilliant pioneering ideas and this year is no exception, with previous winners going on to experience tremendous success in business both in Ireland and on the global stage."
ENDS
17 September 2021
For further information contact Micéal Whelan, Communications and Media Relations Manager, UCD Research and Innovation, NovaUCD, e: miceal.whelan@ucd.ie.
Editors Notes
The 2021 Enterprise Ireland Innovation Arena Award winners are;
Overall Winner (Established company) and Sustainable Agriculture Award: Brandon BioScience, Kerry
Overall Winner (Start-up company) and Vet Technology Award: EquiTrace, Kildare
Agricultural Engineering Award and ACE Agritech Centre of Excellence Award: Samco Agricultural, Limerick
Agritech Start-up Award: ApisProtect, Cork
Agritech Established Company Award: Alltech, Meath
Agri-safety Award: Calving Assist, Tipperary
One to Watch Award: SlurryQuip, Down
Young Innovator of the Year: Carbon Harvesters, Dublin
ifac Best Newcomer Award: Moonsyst International, Cork
On Farm Innovation Award – Alfie Cox Founder's Perpetual Trophy: Crushmate, Laois
AgTechUCD Startup Award: FodderBox Ltd, Cork.