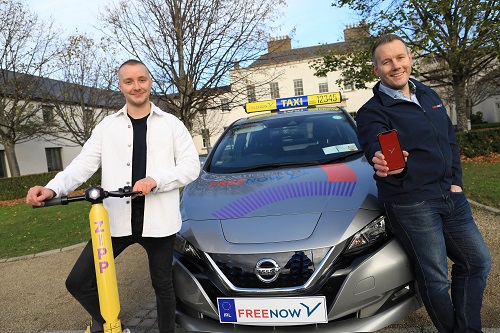 FREE NOW partners with Zipp Mobility to integrate micro-mobility services in app across Ireland
- Ireland's leading multi-mobility app collaborates with leading Irish micro-mobility operator
Leading multi-mobility app FREE NOW and Zipp Mobility (Zipp), a leading Irish micro-mobility operator, have today announced that they are joining forces with aims to integrate Zipp's eScooters and eBikes on the FREE NOW app this year. This partnership will enable passengers to book Zipp's micro-mobility transport options via the FREE NOW app when Zipp rolls out its services across Ireland in 2022.
The announcement comes off the back of the recently announced Road Traffic & Roads Bill 2021 which will legalise eScooter use in public places as public demand grows for flexible and sustainable transport options. Indeed, recent research conducted by FREE NOW shows that 40% of its passengers plan to use eScooters like Zipp's for everyday transport when they are made widely available in Irish cities this year, and three quarters think that Ireland needs more sustainable, electric transport options in line with other European countries.
Zipp, headquartered at NovaUCD, has already launched in the UK and mainland Europe and plans to launch both eBikes and eScooters across Ireland in 2022 along with beginning operations in Portugal and Spain.
FREE NOW's partnership with Zipp and its partnership announcements in 2021 with other eScooter players are an extension of its successful European eScooter rollout to date, and highlights FREE NOW's commitment to empower sustainable urban mobility solutions in Ireland.
Commenting on the partnership with Zipp, Niall Carson, Country Manager of FREE NOW Ireland said, "We are delighted to partner with Irish micro-mobility operator Zipp and share common ambitions to change, and ultimately improve, the way people across Ireland approach daily transport. It's a really exciting time for the industry now that legislation on e-scooters is in motion, and we look forward to having eScooters available on our app in 2022. We understand that our customers want to make more sustainable choices and having the option to book an eScooter or EV taxi facilitates this. Using FREE NOW allows you to choose the best means of transport for you and your specific journey on any given day. Some longer trips make more sense in a taxi and for others using an eScooter or eBike will be quicker! It's all about convenience and giving our customers the choice."
Charlie Gleeson, Founder and CEO, Zipp Mobility said, "We are thrilled to join the group of operators that are able to offer their micro-mobility services on the FREE NOW platform. At Zipp we understand that micro-mobility is not a 'silver bullet' solution to decarbonising transport so we must collaborate with platforms like FREE NOW to give our customers a full spectrum of sustainable transport options. This is the only way we can meaningfully reduce our reliance on the private car and get to net-zero emissions in transport."
He added, "This year we hope to launch our eScooters and eBikes in cities across Ireland including Dublin, Cork, Limerick, Galway and this partnership will be a great asset to our users. Zipp was founded with Ireland in mind and we are so excited to bring our ethos of "mobility done right" to Irish cities during 2022."
ENDS
5 January 2022
For further information contact Micéal Whelan, Communications and Media Relations Manager, NovaUCD, e: miceal.whelan@ucd.ie or Andreina Gonzalez-Escalante/Greta Murphy, Teneo, e: freenow@teneo.com.
Editors Notes
FREE NOW is Ireland's leading mobility app and has been active in the market for nine years. Next to ride hailing, FREE NOW also offers a range of mobility services such as eScooters, eBikes, eMopeds as well as car sharing across Europe. Moving over 16 million people a year, operating in over 20 towns and cities across Ireland offering drivers a pay as you go solution to their business and passengers the opportunity to pay by card, business account or cash if they wish. FREE NOW is part of the FREE NOW Group, the multi service mobility joint venture from Daimler and BMW. The Group attracts 41 million users in 17 markets and more than 150 cities. This makes the FREE NOW Group the biggest ride hailing provider in Europe and the fastest-growing in Latin America. Niall Carson is the General Manager of FREE NOW Ireland, the CEO of the FREE NOW Group is Marc Berg. www.free-now.com.
Zipp Mobility is Ireland's leading micro-mobility operator bringing a safer, more sustainable and community-centric micro-mobility sharing model to cities across Europe. www.zippmobility.com
At NovaUCD, the hub for new ventures and entrepreneurs at University College Dublin, we nurture and support new high-tech companies, such as Zipp Mobility, as part of UCD's mission. At NovaUCD we provide purpose-built, state-of-the-art incubation facilities alongside a comprehensive business support programme for client companies. NovaUCD has been funded through a unique public-private partnership that includes AIB Bank, Arthur Cox, Deloitte, Enterprise Ireland, Ericsson, Goodbody Stockbrokers, UCD and Xilinx. www.novaucd.ie
The research referenced was conducted by Red C among a nationally representative sample of 1,000 people in Ireland in April 2021.