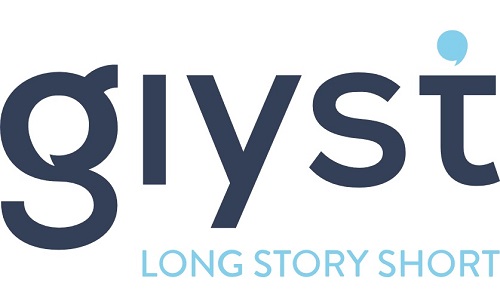 giyst an Emerging UCD start-up is Developing a Video Summarisation Engine to Tackle Information Overload
giyst, which is developing a novel automated video summarisation engine which can instantly transform a 50-minute lecture, speech or training module into a 5-minute video of the essential information, is the latest early-stage AI start-up to emerge from CeADAR at University College Dublin (UCD). CeADAR is Ireland's Centre for Applied AI and is headquartered at NexusUCD, the Industry Partnership Centre at UCD
Having secured €450,000 in funding through the Enterprise Ireland Commercialisation Fund giyst is using AI (Artificial Intelligence) and machine learning to create video summaries to tackle the issues of information overload and shortening attention spans for business, education and other markets.
Video summarisation as a service is considered to have huge potential across a number of sectors as companies increasingly use videos for their sales, marketing, events, communication and training programmes.
giyst is aiming to transform the global enterprise video platform (EVP) market, estimated to be worth $25.60 billion globally by 2025, by enhancing user experience through faster content discovery and allowing people to get to the point as quickly as possible.
The giyst team at CeADAR, includes Colm Murphy and Avril Power, who originated the giyst idea, Sean Mahon, data scientist with expertise in natural language processing, Hanene Jemoui, who is the software architect of the project, and Dr Ricardo Simon Carbajo, Head of Innovation and Development at CeADAR.
Last year giyst completed the UCD VentureLaunch Accelerator Programme run by NovaUCD.
Avril Power, giyst, said, "We can't keep up with the amount of video we are required to watch, and we can't keep tuned in, because we haven't got the attention span. On top of that, we also can't find the right content because of information overload. You might start watching a video that you think is valuable and then you realise it isn't the topic that you wanted."
"By providing instant, automated video summaries of the essence of content, giyst drives four times more content discovery and maximises audience retention by at least 40% thereby creating efficiencies for consumers and the businesses that provide them with video content."
Currently, 82% of all created content is in video form but only 24% of people will get to the end of a video if it is over 20 minutes long. In addition, workers are wasting time by spending 2.5 hours a day trying, and often failing, to find the right content, and shortening attention spans are affecting our ability to consume information. *See sources below.
Dr Ricardo Simon Carbajo, Head of Innovation and Development at CeADAR said, "CeADAR, as Ireland's Digital Innovation Hub in Artificial Intelligence, is now creating and incubating start-ups which seek to tackle key society and industry challenges through the application of AI. The giyst start-up project addresses one of the main challenges when consuming digital content, i.e. how to get the gist of a video in such a short time that suits our daily digital content consumption requirements and constraints."
"Nowadays, the latest advances in deep learning, specially the so-called transformers, are enabling us to train and fine-tune customised models for natural language understanding and summarisation; this technology is at the core of giyst."
Dave Malone, Member Services & Marketing Director of trial partner Irish Executive Institute, said, "We are a bespoke executive-level network for senior leaders of Ireland's biggest and most progressive organisations, and we run over 50 virtual and in-person events every year with strategic business content. Our members are very busy, so we are always looking for new ways to get them to engage with our content. We are excited about piloting content video summaries for our vast library of knowledge experts. We are confident that it will boost discovery and engagement. To date feedback has been great."
giyst is now focused on further enhancing the summarisation engine and converting current trial partners to customers. The team plans to spin-out of UCD later this year with the support of NovaUCD and complete a seed funding round.
ENDS
14 April 2022
For further information contact Micéal Whelan, Communications and Media Relations Manager, NovaUCD, e: miceal.whelan@ucd.ie.
Editors Notes
*Sources:
Workers waste 2.5 hours a day seeking the right content – IDC data. McKinsey also reported that "employees spend 1.8 hours every day – 9.3 hours per week on average – searching for and gathering information. https://www.articlecube.com/research-shows-searching-information-work-wastes-time-and-money
82% of all created content is in video form – Cisco: "By 2022, online videos will make up more than 82% of all consumer internet traffic — 15 times higher than it was in 2017."
Only 24% finish watching videos if they are longer than 20 minutes – Vidyard Benchmark Report 2021 – https://www.vidyard.com/blog/video-length/?gdpr-consent=300
The EVP market is estimated to be worth $25.60 billion globally by 2025 (CAGR 9.3%) – https://www.marketsandmarkets.com/Market-Reports/enterprise-video-market-1182.html?gclid=CjwKCAiA9tyQBhAIEiwA6tdCrBpAkLvVIgwQweOq3MZSh2wsEgUTRgEcGxrnHB11uX8cfMBgm1pU8RoCh_kQAvD_BwE
giyst an automated video summarisation solution for everyday challenges. https://www.giyst.com/
CeADAR is the National Centre for Applied Artificial Intelligence headquartered at NexusUCD. Funded by Enterprise Ireland and the IDA, CeADAR has more than 90 member companies across a wide span of industries and is one of the Digital Innovation Hubs across the EU focused on delivering AI services to industry. The primary work of the Centre is on cutting-edge applied research and developing and deploying industry prototypes and solutions to companies. CeADAR is also very active in European research projects, spinouts, industry upskilling and has its own high-performance computing infrastructure. www.ceadar.ie