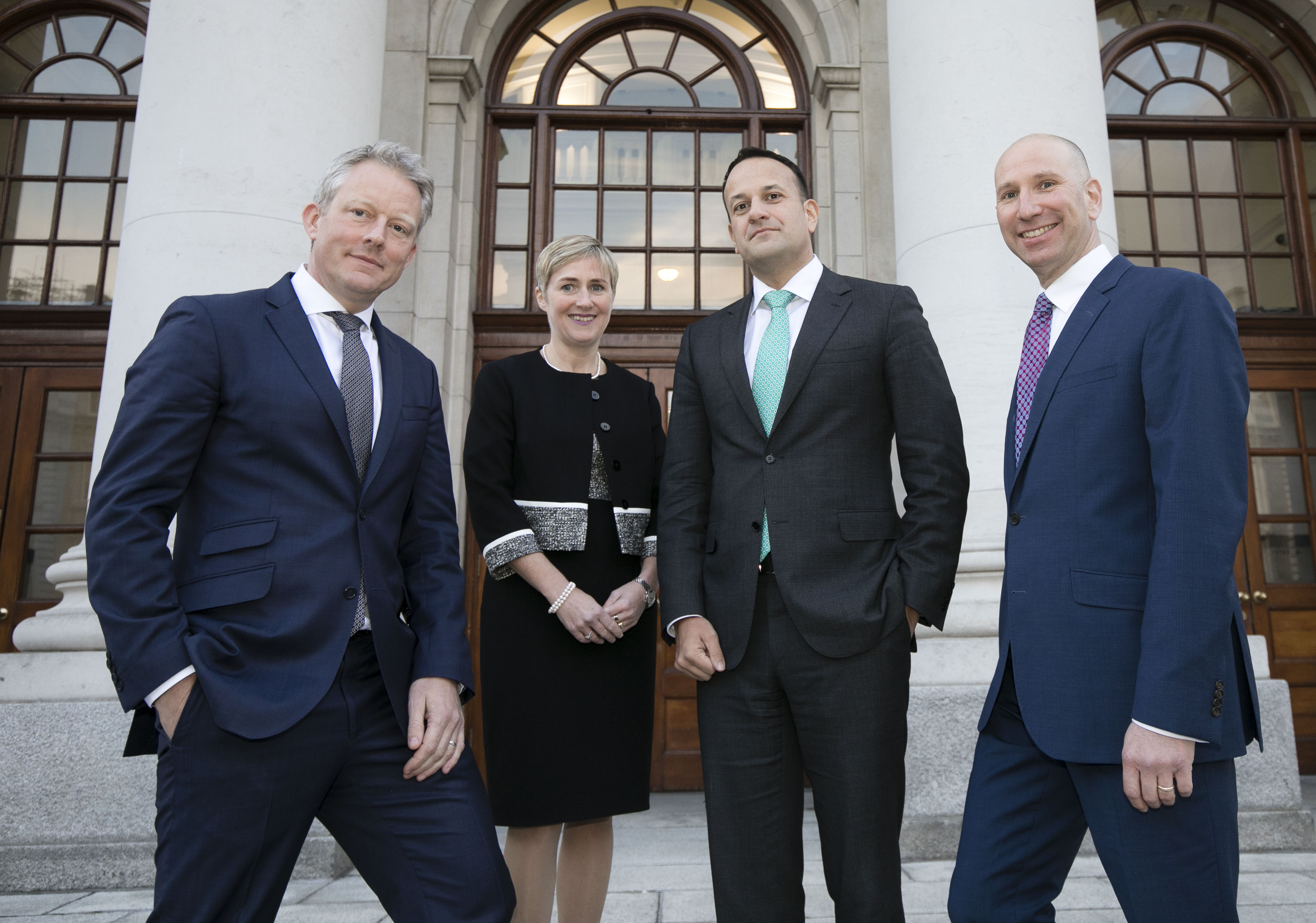 Genomics Medicine Ireland to Create 600 Jobs as Part of €350 million Investment Programme
Genomics Medicine Ireland (GMI), the Irish life sciences company, the Ireland Strategic Investment Fund (ISIF), WuXi NextCODE, the emerging global standard platform for genomics, have today announced details of a €350 million ($400 million) investment programme aimed at making Ireland an important hub for genomics research and development of new disease treatments and cures.
The investment will create up to 600 high-value jobs over the next five years and will position GMI as the cornerstone for a Silicon Docks-modelled International Centre for Advanced Life Sciences (ICALS).
Under the initiative, GMI will become an Irish subsidiary of WuXi NextCODE, which serves as the technology engine for the leading population genomics efforts in Europe, the US and Asia.
GMI, established in 2015, was initially headquartered at NovaUCD, the Centre for New Ventures and Entrepreneurs at University College Dublin (UCD), prior to moving to its current headquarters in Cherrywood, Dublin. GMI is currently undertaking the GenoFit study with the UCD Institute for Sport and Health examining the relationship between genetics and fitness.
Under the terms of the investment, €197 million ($225 million) will be committed to GMI in the near term increasing to €350 million ($400 million) in line with the achievement of milestones as GMI expands and an ICALS develops in the medium term.
Alongside ISIF, who are investing €62 million ($70 million), major Silicon Valley and sovereign wealth funds and other global investors will also invest in the initiative through WuXi NextCODE and GMI.
These include: ARCH Venture Partners, Polaris Partners, Temasek, Yunfeng Capital and Sequoia Capital.
An Taoiseach Leo Varadkar TD, said, "GMI is a real Irish life sciences success story. In just three years since their founding they have proven their capacity to deliver and to grow and, in partnership with the State's Strategic Investment Fund, are now poised for a further exciting period of expansion. GMI's success is a reflection on the wider success of Ireland as a location for the life sciences industry for more than 50 years."
"Twenty-four of the world's largest pharma and biotech companies are located here, creating valuable employment and contributing to our economic success. As a country, we have continuously worked to attract and retain investment from the life sciences sector and we are now positioning for the next wave of knowledge-driven innovation being led by the genomics industry and the economic benefits that will bring."
"With this partnership between GMI, ISIF and WuXi NextCODE we are creating an ecosystem of expertise in advanced life sciences right here in Ireland. That, in turn, will ultimately deliver better health and wellness management to people and patients in Ireland and turn the advances we make here into benefits for people around the world."
Anne Jones, CEO, Genomics Medicine Ireland, said, "WuXi NextCODE is a recognised global leader in the field and is helping to drive many national-scale precision medicine efforts. This landmark investment in GMI will enable us to rapidly scale our study capacity to upwards of 60 disease areas in research sites across Ireland, giving us operational independence backed by global connections and funding. In doing so, Ireland – its people, hospitals, universities and enterprises – will benefit from a globally leading position in the most important new fields in life sciences."
Rob Brainin, CEO, WuXi NextCODE, "We are very excited by the singular potential of the Irish whole-genome sequencing programme, which aims to enrol and read the genome of some 400 thousand people, or 10% of the population. As a company that seeks to improve lives through genomics worldwide, I believe that this will be a unique platform for developing new medicine and better healthcare, to the benefit first of patients in Ireland but also people around the globe."
"Our experience in powering national genome efforts on three continents positions us well to accelerate the outstanding success of GMI to date. Leveraging that leadership, GMI will become the lynchpin of genomic sequencing and discovery for WuXi NextCODE in Europe, and the core of a significant hub in life sciences as a spawning ground for new globally oriented enterprises based in Ireland."
The launch investment will be focused on the expansion of GMI to undertake one of the world's largest whole genome sequencing programmes. The programme will target participation from 400,000 volunteers, or one in every ten people in Ireland, including patients with a range of common and rare diseases.
This will help to deliver healthcare benefits to Irish patients and create a unique platform for research and discovery of new precision medicines for the treatment of life-limiting conditions which currently have no cure.
The initiative builds upon Ireland's unique advantages for conducting population genomics research at scale:
a relatively homogeneous population, which makes key genes easier to identify;
a population large enough to have both common and rare diseases in significant numbers;
high-quality healthcare and medical research facilities; and
a demonstrable track record of high participation among the population in similar research programmes in the past.
Paul Saunders, Senior Investment Director, Ireland Strategic Investment Fund, said,"This investment shows ISIF's ability to act as a catalyst for major investment in high-value economic activity in Ireland by teaming up with top-tier co-investment partners from around the globe."
"Through ISIF's investment in WuXi NextCODE, GMI should be well positioned to scale its activities significantly and quickly, generating new jobs in Ireland, and enhancing Ireland's reputation as a centre for genomics research. This is an excellent example of ISIF's 'double bottom line' mandate of supporting economic activity and employment in Ireland while seeking a commercial return."
To kick-off the investment programme, GMI proposes establishing a strategic advisory board comprised of experts and key stakeholders from academia, the health sector and industry to help foster the programme and maximise potential patient impact.
GMI's sizable population genomics programme as well as WuXi NextCODE's genomics platform will be leveraged to provide core infrastructure of a global hub to attract Irish and international enterprises and organisations working in the life sciences industry including:
Multi-omics
Research and bioinformatics
Precision medicine development
Medical genetics services
Digital health
Cloud computing
High performance computing and artificial intelligence
In addition to the investments announced today, early-stage discussions to fund a genomics accelerator are already underway targeting further development of Ireland's ecosystem in this field to support new start-ups and early-stage companies with similar specialist skills and research capabilities.
The potential for Ireland as an International Centre for Advanced Life Sciences can be seen from the experience of San Diego, California, which has a comparable population of about 3.3 million people. San Diego has built an entire ecosystem around genomics and related life sciences sectors, yielding a $33.6 billion economic impact through more than 1,225 life sciences companies and 80 independent and university-affiliated research institutes together employing 37,790 people.
Paul Thurk, co-founder, GMI and Managing Director Europe at ARCH Venture Partners, said, "ARCH Venture Partners was one of the first venture firms to recognise the huge potential of genomics. We were founding investors in world leaders such as deCODE in Iceland and Illumina in San Diego 20 years ago and more recently, NextCODE in Boston and have continued to invest globally in the space since."
"In setting-up GMI, we were drawn to Ireland's unique attributes: the genome that links its population with a massive global diaspora, the pharma presence, the data infrastructure, and the talent. Taken with our unique ability to leverage the progress, learnings and networks built over the last 20 years, we're well positioned to build something awesome."
ENDS
27 November 2018
For further information contact Micéal Whelan, UCD Research and Innovation, e: miceal.whelan@ucd.ie, t: +353 1 716 3712, or Richard Magnier, MKC Communications, e: richard@mkc.ie.
Editors Notes
Founded in 2015, Genomics Medicine Ireland (GMI) is an Irish life-sciences pioneering population-based genomics in the country, leading a number of research studies across the island examining the relationship between genetics, health and disease spanning a spectrum of disease areas. www.genomicsmed.ie
WuXi NextCODE is a fully integrated global life sciences informatics company building the global standard platform for genomic data. With offices in Shanghai; Kendall Square in Cambridge, Massachusetts; and Reykjavik, Iceland, we serve the leading population genomics, precision medicine, diagnostics and wellness initiatives and enterprises using the genome to improve health around the world. wuxinextcode.com
The Ireland Strategic Investment Fund has a statutory mandate to invest on a commercial basis in a manner designed to support economic activity and employment in Ireland. www.isif.ie.