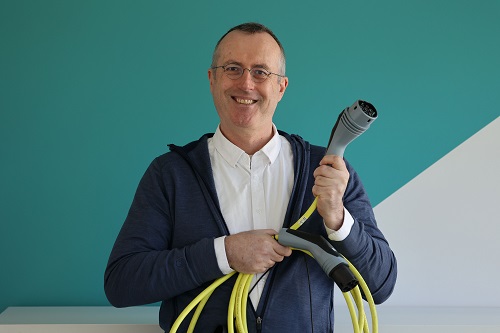 EV Charging Start-up Go Eve Secures £3 million in First Funding Round
- Pioneering charging technology promises lower cost and scalable rapid charging
Go Eve, an electric vehicle (EV) charging start-up and a joint University College Dublin (UCD) and Imperial College London (Imperial) spin-out, today announced securing £3 million (€3.5 million) in the company's first funding round.
Investors in the funding round include; The Pearl Family Office; Carter Gem; Automotive Ventures Inc.; Kero Development Partners and Cur8 Capital.
Go Eve's "DockChain" technology aims to make high-power DC charging cost-competitive with lower-power AC charging options. DockChain achieves this by extending the reach of single rapid chargers to service multiple parking spaces.
Current EV charging technology only allows for one or two EVs to access a fast-charging station at a time. This creates "down time", wasted charging potential as vehicles are moved on and off the charger. Go Eve's technology solves this problem by extending the reach of a single rapid DC charger to a daisy-chain of low-cost charging terminals.
Go Eve's software then intelligently manages a virtual queue, flowing high power to each individual connected EV, scheduling each in turn. The company completed a successful pilot installation at the Imperial campus last November.
Watch a video of Go Eve's DockChain EV charging demonstration
Go Eve is using the success of this initial fund-raising round to secure its supply chains and significantly scale production. This financial backing is also being used for their first installations of the DockChain system on sites over the Summer. Go Eve wants to ensure volume availability in Europe and the US before the end of the year.
Go Eve was co-founded by Hugh Sheehy, John Goodbody, Professor Robert Shorten, Dr Pietro Ferraro and Andrew Cullen in 2021. The technology was originally invented by a team of academics and researchers led by Professor Shorten at the UCD School of Electrical and Electronic Engineering. Professor Shorten subsequently moved to the Dyson School of Design Engineering at Imperial where the technology was further advanced by him and his team.
The company has offices at NovaUCD, in Dublin and in London.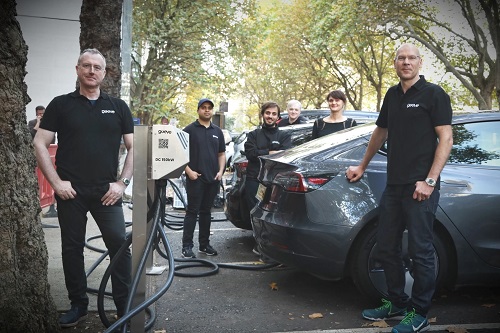 Pictured (l-r) in London are members of the Go Eve team: Hugh Sheehy, Ammar Malik; Dr Pietro Ferraro; Professor Robert Shorten; Natalia Goehring and John Goodbody.
Hugh Sheehy, CEO, Go Eve said, "Go Eve offers a technology that can transform EV charging. For EVs to replace fossil-fuel cars, charging needs to be faster, lower cost, more widely available and most efficiently use available grid capacity. Our technology does all these things, which is why we see a future with rapid charging in every space."
He added, "We have reliable manufacturing partners who can rapidly scale cable and microchip production to meet our expected growth. We currently have capacity for hundreds of installations now – we're prepared for thousands next year. We anticipate strong pickup for DockChain, particularly for fleet operators and in destination car parks."
Tom Flanagan, Director of Enterprise and Commercialisation, UCD said, "Given the importance of climate action and sustainability it is fantastic to see Go Eve close this £3 million seed funding round to enable it to take the next steps in bringing its innovation electric charging solution to market."
He added, "We are delighted to continue to collaborate with our colleagues in Imperial College London as we support Go Eve in commercialising its exciting DockChain technology which has potential to make a significant impact on how EVs are charged on the global stage."
"Go Eve is another great example of an Imperial start-up that has the potential to deliver a strong return on investment while tackling the challenges of climate and environmental change," says Dr James Groves, Head of Investment Services at Imperial, which is a shareholder in the company.
Hugh Sheehy, Go Eve's co-founder and CEO, has more than 30 years of experience in digital transformation and engineering. He has held senior roles at Google, HP and Shell and holds an MBA from INSEAD.
John Goodbody, Go Eve's co-founder and Marketing Director, is an experienced marketing professional with an extensive background in the automotive industry, including with Honda, Avis Budget Group and Zipcar.
Robert Shorten is Professor of Cyber-Physical Systems Design at Imperial College London, inventor of DockChain and Go Eve's Head of R&D. Robert was previously Professor of Control Engineering and Decision Science at UCD, and has also held private sector positions at Daimler, IBM and AEG.
ENDS
10 July 2023
For further information contact Micéal Whelan, Communications and Media Relations Manager, UCD Research and Innovation, e: miceal.whelan@ucd.ie.
Editors Notes
For further information about Go Eve visit www.goeve.com.