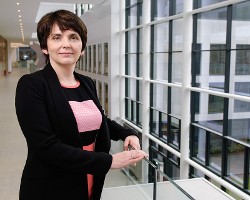 How University College Dublin is Accelerating Ireland's Bio-based Economy
Luke Upton, Editor of Bio-based World News recently interviewed Professor Orla Feely, UCD Vice-President for Research, Innovation and Impact to talk about linking academia to entrepreneurship, why Ireland is a perfect fit for the bio-economy and much more.
This interview first appeared in Issue #10 of the Bio-Based World Quarterly, which had a special focus on the Irish bio-economy.
"Whilst a small country, we have a global outlook, and when I speak to people abroad about what we are doing and what we offer, they look at Ireland and say, yes, you are perfect for this."
Luke Upton (LU): Thanks for the time today. With the first National Policy Statement, the development of the National Bioeconomy Campus at Lisheen as well as a growing number of start-ups, we are seeing a real focus in Ireland on developing its bio-economy. What's driving this change?
Professor Orla Feely (OF): Quite simply, it's an obvious opportunity for Ireland to take. With our strong tradition of forestry, marine and in particular agri-food - which employs around 170,000 people in a sector worth €26 billion - we are perfectly placed to become a global leader.
For rural areas, the bio-economy offers an opportunity for a more diversified agricultural economy, helping create new businesses, new products and new jobs. To give just one example, we are seeing agricultural waste, which previously has been a costly problem for farmers to dispose of, being turned into products and new revenue streams. Many of the high-tech outputs of academic research are most visible in urban areas, but the bio-economy represents an important link between academia and rural areas.
Beyond these economic benefits, a growing bio-economy can also help Ireland address the challenges that every country faces – climate change, food and energy security and sustainability. The bio-economy can help us find new ways to make the things we need and help achieve the United Nations Sustainable Development Goals (SDGs) to which the country is fully committed.
LU: So, where does UCD fit into supporting the bioeconomy growth?
OF: We are not just Ireland's largest university, but also the most globally engaged. The whole university is committed to excellence in research and innovation, with the bio-economy a major aspect of this. NovaUCD is a major example with around 30 exciting companies currently clients and with 160+companies incubated since 2003.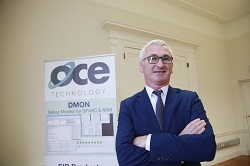 NovaUCD - The Centre for New Ventures and Entrepreneurs
Another is the Science Foundation Ireland (SFI)-funded Beacon Research Centre, which focuses on bio-based resources, creating clusters for partnerships and delivering expertise and training, and of which UCD is the lead institution.
I should also mention my colleague Professor Kevin O'Connor, Director of the Beacon Research Centre, who is playing a major role in shaping the future of the bio-economy, not just in Ireland but also across Europe in his role as chairman of the Science Advisory Board for the Bio-Based Industries Joint Undertaking (BBI JU). In addition to his academic and policy work, he's also an entrepreneur, and has his own business, Bioplastech, which was founded as a UCD spin-out company. This mix of experience and perspective, makes him a great leader.
LU: Thanks, with lots of bio-based innovations beginning at university, one of Irish projects making headlines recently is AgriChemWhey after securing €22 million in EU funding. What's UCD's connection with the project?
OF: We are very proud to be part of the consortium behind this project, which will explore the development of a new state-of-the-art bio-refinery. Based in Lisheen in Co. Tipperary, it had its foundation in UCD's research and innovation partnership with Glanbia Ireland.
Together with Trinity College Dublin, we helped find a sustainable solution for disposing of by-products which represent a major challenge for the dairy industry and turn them from a problem into an opportunity. The process coverts them into cost-competitive, sustainable lactic acid which can be used to make bio-based products including biodegradable plastics, bio-based fertiliser and other minerals. There's a fantastic consortium behind this, and one that really shows the value of partnerships in building major projects.
LU: We will certainly be covering AgriChemWhey as it develops. Are there any projects or products in Ireland that you would like our readers to be aware of?
OF: I think the SFI Beacon Research Centre is going to be a very exciting development for the country and is going to help make a big difference to scientific, technological and social challenges in the country.
Another project, I'd like to highlight is another that unites agriculture and ICT – Consus. This is a five year collaboration between UCD and Origin Enterprises that delivers a 'data-driven' approach to agriculture, with the aim of sustainably improving crop yields. Again, it's another link between academia and business in Dublin and rural parts of the country, and one that has huge potential for economic and job growth.
LU: Thanks, and just to finish if we were having this discussion again in ten years' time, how would you like to see the role of the bio-economy in Ireland?
OF: We want to see real change. From the economic benefits, to the growth it can deliver in rural areas, job creation, helping alleviate the problems of climate change and fulfil the UN SDG agenda, it is too big an opportunity not to take.
Whilst a small country, we have a global outlook, and when I speak to people abroad about what we are doing and what we offer, they look at Ireland and say, yes, you are perfect for this. It's an exciting time, and I'm looking forward to seeing a lot more developments and projects in our bio-economy.
LU: Great, well thanks for the time today, we'll certainly keep our readers up to date with the work that UCD are doing in this sector and those projects you've mentioned.
Editor's Comment: The energy and confidence that Ireland has in growing its bio-economy is clear when speaking to Professor Feely. The blend of a strong agricultural base, academic institutions such as UCD infused with not just expertise but also a strong entrepreneurial spirit, supported by a government (and legislators with rural constituencies) who are beginning to see the many positives of a strong bio-economy, create a powerful proposition.
Merville House, which once would have been surrounded by fields, but has now been renovated, restored and extended, and renamed NovaUCD, to support hi-tech innovation is on reflection, the perfect setting for one of the major hubs driving forward the Irish bio-economy.
This interview with Professor Feely is reproduced here with permission to Bio-based World News. Click here to read the original interview.
ENDS
18 July 2018
For further information contact Micéal Whelan, Communications Manager, UCD Research and Innovation, e: miceal.whelan@ucd.ie, t: + 353 1 716 3712.