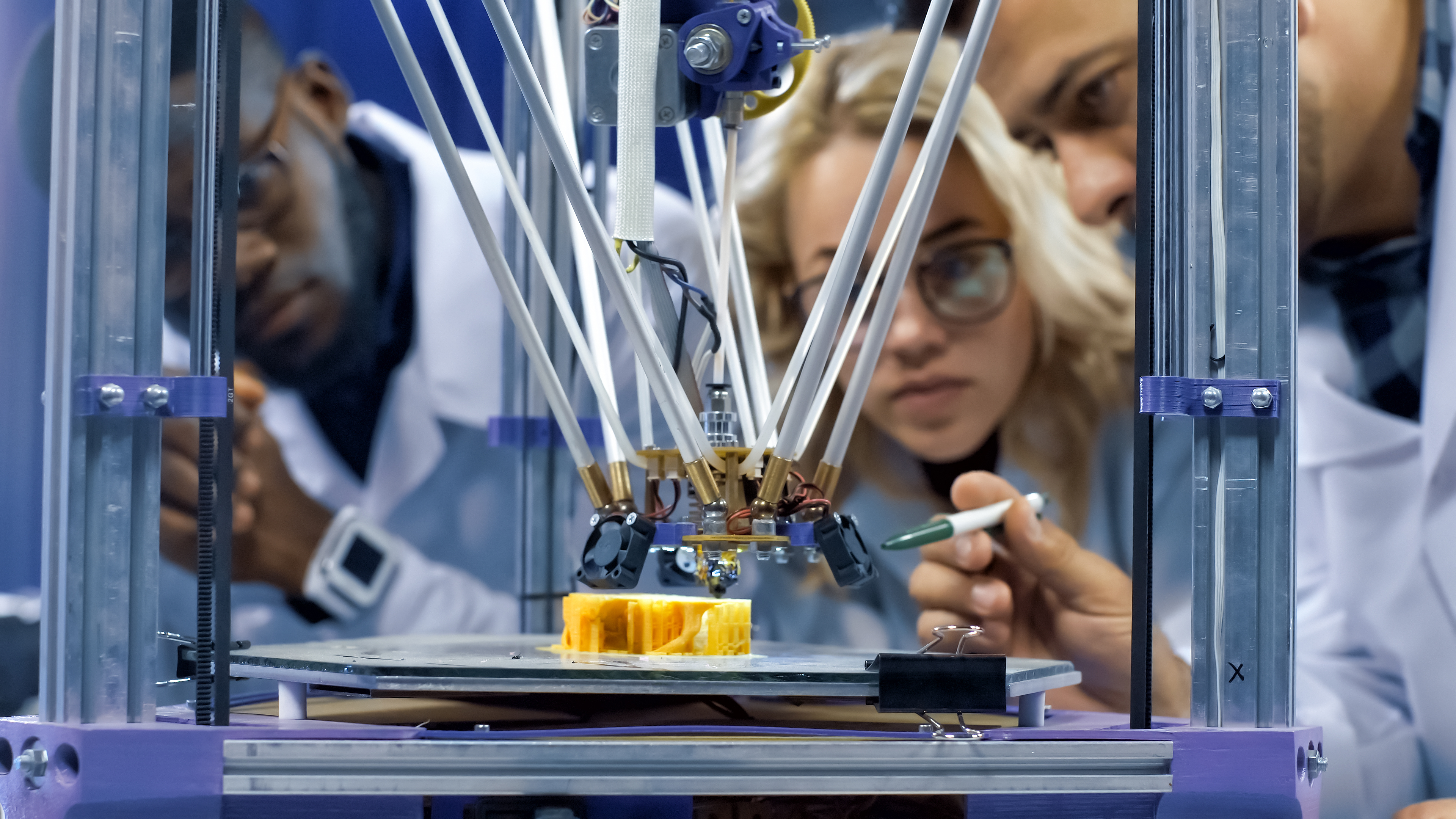 SFI Research Centre Hosts Session in Brussels on Advanced Manufacturing as Part of EU Industry Days
- Expert panel to debate the promises and challenges 3D printing brings to global manufacturing
I-Form, the Science Foundation Ireland (SFI) Research Centre for Advanced Manufacturing, is today hosting a thought-provoking session on 3D printing in manufacturing as part of the EU Industry Days event being held in Brussels.
The mission of I-Form, which is headquartered at University College Dublin (UCD), is to shape the future of manufacturing through high-impact research into the application of digital technologies to materials processing.
In addition I-Form is taking a leading role in the debate on the development of advanced and additive manufacturing in Europe, and is the only Irish entity to organise a session as part of the EU Industry Days event.
The EU Industry Days is an annual event attracting more than 1,000 participants from across Europe and beyond. This year's event is focusing on key industrial challenges for the EU such as sustainability, digitalisation, investment and globalisation. The event also provides input for future industrial policy making in the EU.
The event will be opened by Jean-Claude Juncker, President of the European Commission, and each industry session has the opportunity to raise awareness of issues that are of broad relevance for EU industrial policy development, providing a unique opportunity to make a real impact on upcoming EU-level decisions.
During the I-Form session, entitled 'Manufacturing as a service: The additive manufacturing promises to the EU economy' keynote speakers and an expert panel will debate the promises and challenges 3D printing (additive manufacturing) brings to global manufacturing.
Professor Robert Shorten, I-Form and UCD School of Electrical and Electronic Engineering said, "Additive manufacturing promises to profoundly change manufacturing and put the consumer at the heart of the production process. The personalisation of products and the potential to produce things at or close to home are two of big trends threatening to disrupt the traditional supply chain."
"Alongside these technological developments, we must address key questions of standards, security and privacy. Today's event is about debating these questions and asking where we want to go as a society and as an industry."
Other speakers at the I-Form session in addition to Professor Shorten include; Dr Alireza Parandian, Head of Global Business Strategy Wearables, Materialise; Dr Paula Quiepo, IDONIAL Technology Centre; Tanja Missfeld, Associate Partner, EY Global R&D and Innovation Services and Professor Dr Ingomar Kelbassa, Siemens. Professor Valeria Nicolosi, I-Form and Trinity College Dublin, an ERC laureate, will MC and moderate the session.
Professor Mark Ferguson, Director General of Science Foundation Ireland and Chief Scientific Adviser to the Government of Ireland, said, "SFI Research Centres deliver significant economic and societal impact to Ireland. I-Form is shaping the direction of manufacturing in Ireland and at an EU level, helping to drive Ireland's competitiveness internationally."
"Manufacturing, as a key driver of the Irish economy, is the second largest employer in Ireland. It accounts for 36.5% of GDP and €122.6 billion in exports. Involvement in this EU Industry event ensures that Ireland continues to develop a leadership position and attracts outstanding researchers in this rapidly changing sector."
Dr Sergio Fernandez-Ceballos, National Delegate and Contact Point for Horizon 2020, Enterprise Ireland, said, "To date, Irish researchers and companies have successfully won over €630 million under Horizon 2020, bringing Ireland over halfway to achieving our national Horizon 2020 target of €1.25 billion. I-Form's successful bid to host this EU session builds on recent success by Irish participants in Horizon 2020 Advanced Manufacturing Research & Innovation programmes."
"Enterprise Ireland provided support for the team to develop their proposal in line with our strategy for H2020 to support excellence in research, with the objective of driving innovation and competitiveness across the Irish economy in line with Enterprise Ireland's strategy 2017-2020."
The EU Industry Days event hashtag is #EUIndustryDay and the hashtag for the I-Form session is #EUmanufacturing.
ENDS
5 February 2019
For further information please contact Micéal Whelan, Communications Manager, UCD Research and Innovation, e: miceal.whelan@ucd.ie or t: +353 1 716 3712 or Sylvia Leatham, I-Form Advanced Manufacturing Research Centre, e: sylvia.leatham@i-form.ie, t: +353 (0)1 716 2956.
Editors Notes
The I-Form session as part of the EU Industry Days event will address issues such as;
Rethinking the current manufacturing model
Putting the customer at the heart of the manufacturing process (the emergence of the 'prosumer')
Identifying potential regulatory gaps (in areas such as IP and standards) that may emerge through a paradigm shift in manufacturing
New supply chain models, new markets and new customer needs.
Speakers will include;
Professor Robert Shorten, I-Form and University College Dublin, who will address the topic of the democratisation of manufacturing and the emergence of the 'prosumer' model, where the end-user is increasingly involved in the design and manufacture of the goods they consume.
Dr Alireza Parandian, Head of Global Business Strategy Wearables, Materialise, who will address the growing prominence of 'manufacturing as a service'.
Dr Paula Quiepo, IDONIAL Technology Centre, who will offer insights on how Europe is positioned to take best advantage of the promise of additive manufacturing.
Tanja Missfeld, Associate Partner of EY Global R&D and Innovation Services, who will discuss the impact of rapid digitalisation on partnerships, supply chains and operations.
Professor Dr Ingomar Kelbassa, Siemens will share how this paradigm shift is addressed within industry and will elaborate on the promises of additive manufacturing.
I-Form, the SFI Research Centre for Advanced Manufacturing, is delivering the next level of understanding and control for complex manufacturing processes. I-Form works with industry to advance the low-cost, low-risk design of new products and the manufacture of high-value components exhibiting enhanced material performance, while reducing processing times and achieving enhanced process reliability. I-Form is actively engaged across a range of different materials processing technologies, with a particular focus on Additive Manufacturing (3D printing).
I-Form is funded through the Science Foundation Ireland Research Centres Programme and co-funded under the European Regional Development Fund. It is a partnership between University College Dublin, Dublin City University, Trinity College Dublin, Institute of Technology Sligo, the National University of Ireland Galway, Waterford Institute of Technology and the National University of Ireland Maynooth, along with strong collaborative industry engagement in sectors that include medical devices, aerospace, automobile and microelectronic components. www.i-form.ie
For more information on EU Industry Days visit https://ec.europa.eu/info/eu-industry-days-2019_en.