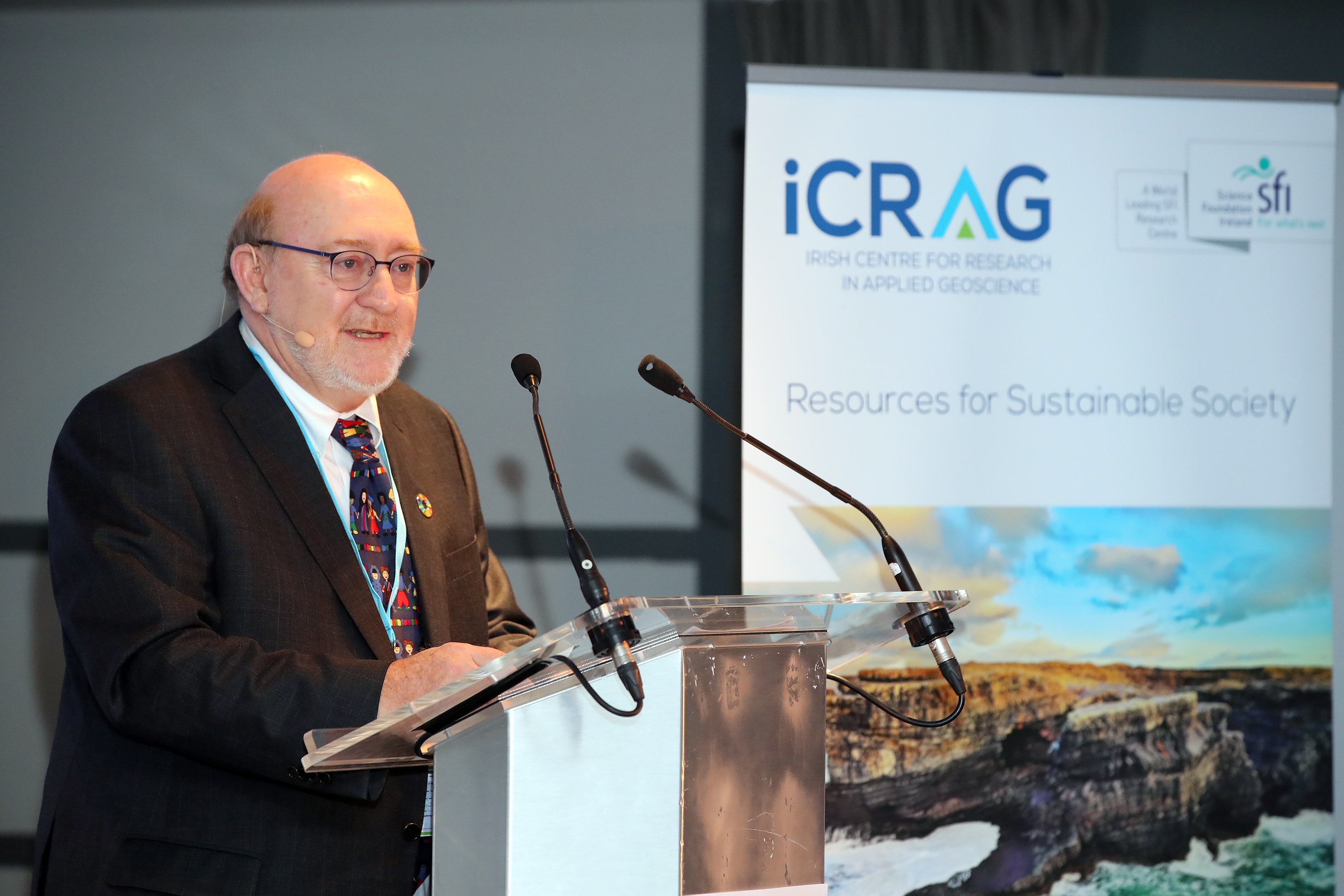 Applied Geosciences Research Centre at UCD Receives €28 million Investment from SFI
- A key iCRAG focus is developing Ireland's wind energy capacity off the East Coast
Minister for Further and Higher Education, Research, Innovation and Science, Simon Harris TD today announced an investment of €28 million in the iCRAG SFI Research Centre for Applied Geosciences hosted at University College Dublin.
The iCRAG investment is part of a €193 million investment announced by Minister Harris TD in five Science Foundation Ireland (SFI) Research Centres for six years. This SFI investment is further backed by significant industry support from 200 industry partners committing over €91 million in cash and in-kind contributions.
This investment by SFI will support approximately 1,060 graduate and post-doctoral students and research fellows employed by the Centres, including over 130 researchers by iCRAG across eight research institutes.
iCRAG is focused on developing innovative science and technology to better understand the Earth's past, present, and future, to create solutions for a sustainable society, including developing Ireland's wind energy capacity off the East coast.
Overview of iCRAG
Minister Simon Harris TD said, "I am delighted to announce this significant Government investment in five SFI Research Centres, which reflects Ireland's position as a world leader in research and innovation. The investment will ensure that we are prepared for the changes and disruption that we are facing in addressing global societal and economic challenges."
He added, "SFI Research Centres promote discovery and impact, as well as collaboration between academia, government and industry across the Island of Ireland and internationally. This support will further enhance the important work these Centres have already achieved, so they continue to play a pivotal role in the years ahead in protecting the wellbeing of the population and the economy."
He concluded, "The five centres will also work to promote science, technology, engineering and maths (STEM) to the wider public through extensive Education and Public Engagement outreach. These initiatives include summer computer camps, developing secondary school education modules, and residency programmes for filmmakers, artists and teachers to forge collaborations between researchers and the community."
The funding announced today will enable iCRAG to drive research in areas that are critical to society and the economy, including the sustainable discovery of energy resources and raw materials required for decarbonisation, climate change mitigation and adaptation, securing and protecting groundwater and marine resources and protecting society from Earth's hazards such as flooding and landslides.
iCRAG Director, Professor Murray Hitzman, UCD School of Earth Sciences, said, "SFI's new funding to our Centre means that we can expand our research efforts to help Ireland reach carbon neutrality by 2050. iCRAG will continue to work with industry partners from across Ireland and the world to help meet global environmental targets."
In the coming weeks, iCRAG researchers based at the UCD School of Civil Engineering will be undertaking an investigation to assess the feasibility of a novel fibre-optic approach to carrying out offshore site investigations for windfarm developments in the Irish Sea.
Andrew Trafford, UCD School of Civil Engineering said, "Understanding the seabed off the Irish coast is key to installing offshore windfarms to power our sustainable future. This March, aboard the Celtic Voyager, we will be applying a novel technology using laser interrogation of fibre-optic cables, in Dundalk Bay, to gain a better understanding of sub-surface conditions. Through this method we are effectively using light you can't see to listen to sound you can't hear in order to provide essential information for engineers to design infrastructure projects on the seabed."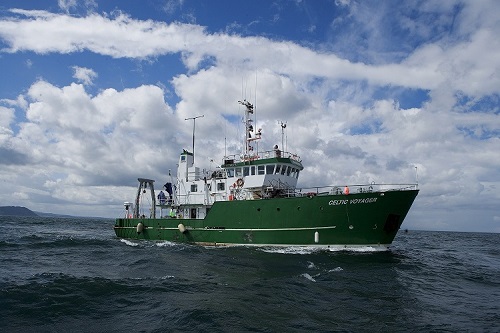 Marine Institute's Celtic Voyager (David Brannigan, Oceansport Photography)
The announced investment is set to benefit the whole country with 17 Higher Education Institutions (HEIs) across the country partnering in Centres. The partner HEIs in addition to UCD include; Athlone Institute of Technology, Dublin City University, Dublin Institute for Advanced Studies, Dundalk Institute of Technology, Limerick Institute of Technology, Maynooth University, Munster Technological University, NUI Galway, Royal College of Surgeons in Ireland, Teagasc, Technological University of Dublin, Trinity College Dublin, Tyndall National Institute, University College Cork, University of Limerick, and Waterford Institute of Technology.
Other partners include, the National Institute for Bioprocessing Research and Training (NIBRT), Geological Survey Ireland (GSI), Teagasc, Telecommunications Software and Systems Group (TSSG), Cork City Council, Cork County Council, Dublin City Council and Dún Laoghaire-Rathdown County Council.
Professor Mark Ferguson, Director General Science Foundation Ireland and Chief Scientific Adviser to the Government of Ireland, said, "To maintain and build on Ireland's global standing in research, innovation, and discovery, it is crucial that we invest in excellent ideas and research with impact. SFI Research Centres support both basic and applied research, spanning a wide range of sectors at varying levels and stages, and as a country we have benefited from their considerable contributions in the recent Covid-19 pandemic."
He added, "They have made transformational progress in just six years, with increased academic and industrial collaboration, extensive training of PhD students for future skills needs, winning competitive funding from the EU, producing excellent scientific results and driving vital public engagement. We look forward to further strengthening our ability to positively impact our society and economy through excellent scientific research, with continued support from the Government and industry in the years ahead."
In addition to iCRAG four other SFI Research Centres are to receive funding. ADAPT, the SFI Research Centre for AI-Driven Digital Content Technology, led by Trinity College Dublin, has been awarded €42 million in funding; CONNECT, the SFI Research Centre for Future Networks and Communications, led by Trinity College Dublin, has been awarded €39 million in funding; CÚRAM, the SFI Research Centre for Medical Devices, led by NUI Galway, has been awarded €46 million in funding and Lero, the SFI Research Centre for Software, led by University of Limerick, has been awarded €37 million in funding.
Awards of funding to SFI Research Centres are made following rigorous international expert peer reviews. For more information visit http://www.sfi.ie/sfi-research-centres/
ENDS
1 February 2021
For further information contact Micéal Whelan, Communications and Media Relations Manager, UCD Research and Innovation, e: miceal.whelan@ucd.ie, t: + 353 1 716 3712 or Dr Fergus McAuliffe, Communications and Engagement Manager, iCRAG, e: fergus.mcauliffe@icrag-centre.org.
Editors Notes
iCRAG is the SFI Research Centre for Applied Geosciences. We are a team of researchers creating solutions for a sustainable society. We develop innovative science and technologies to better understand the Earth's past, present, and future and how people are connected to it. We drive research in areas that are critical to society and the economy, including:
Sustainable discovery of energy resources and raw materials required for decarbonisation.
Securing and protecting groundwater and marine resources.
Protecting society from Earth's hazards such as flood and landslides.
iCRAG, the world leading SFI Research Centre for Applied Geosciences hosted by UCD, comprises 150 researchers across eight universities and institutions. iCRAG is supported by Science Foundation Ireland, the European Regional Development Fund, Geological Survey Ireland and industry partners. The Centre brings together expertise from eight major institutes, University College Dublin, Trinity College Dublin, Dublin Institute for Advanced Studies, University College Cork, National University of Ireland Galway, Maynooth University, Dublin City University and Teagasc. www.icrag-centre.org/