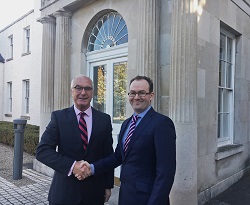 Initiative Ireland Appoints Director of Investment and Wealth Management
Initiative Ireland, the Peer-to-Peer secured lender, today announced the appointment of Brian Ó Nualláin, as the company's new Director of Investment and Wealth Management.
An experienced Director within the financial services sector, he brings over 30 years of experience having held senior roles in asset management, wealth management, private banking and life and pensions. Prior to joining Initiative Ireland, Brian was Business Development Director Ireland at Aviva Investors.
Brian Ó Nualláin will be working closely with Initiative Ireland's Chief Operating Officer (COO), in supporting the company's next stage of growth as it prepares to expand its product offering to include Pension Lending Accounts and in anticipation of its upcoming Senior Debt Fund.
Initiative Ireland, founded in 2015, is headquartered at NovaUCD, the Centre for New Ventures and Entrepreneurs at University College Dublin (UCD).
As Ireland's largest peer-to-peer, Secured Lending Platform, Initiative Ireland offers affordable finance to experienced property developers building new family homes. All loans are secured against the underlying property deeds and financed by Initiative Ireland's secured lending community, via Secured Lending Accounts.
Comprised of Private and Corporate Clients, Initiative Ireland's secured lending community can earn 6% to 8% APR helping to fund the build of much needed family homes across Ireland.
The upcoming Senior Debt Fund, which has an initial target raise of €35 million and a cap of €150 million, will finance additional loans via the company's syndicated finance platform. It is expected that the fund will be structured as a sub-fund of The Davy Platform ICAV umbrella fund structure and that the Davy Group will provide regulatory and investment management services to the fund.
Initiative Ireland will provide investment advisory services to the fund in addition to Loan Management Services and will enable the fund to lend alongside its existing private and corporate clients, via its platform.
Making the announcement Rory McEntee, co-founder and COO, Initiative Ireland said, "I'm delighted to have someone of Brian's calibre joining the company. He brings both a new breadth of experience to the company and a great energy which makes him the perfect fit, as we begin what will be an exciting new phase for the company."
Brian Ó Nualláin, Director of Investment and Wealth Management, Initiative Ireland, said, "There is a significant opportunity in the market for conservative, Secured Property Finance. Coupled with the increasing demand for high quality, low volatility private debt, this offers a significant opportunity to would-be investors and lenders, who are looking to earn a fair reward without taking excessive risks. The experience of the team and their considered approach to lending, is something I'm proud to be associated with and I look forward to engaging with new partners to expand the reach of our offering."
ENDS
26 September 2018
For more information contact Miceal Whelan, University College Dublin, Communications Manager, UCD Research and Innovation, t: + 353 1 716 3712, e: miceal.whelan@ucd.ie or Padraig W. Rushe, CEO, Initiative Ireland, t: +353 1 685 9259 or e: team@initiativeireland.ie.
Editors Notes
Initiative Financial Services trading as Initiative Ireland is a financial services company. It acts as Loan Agent on all loans. With a Secured Lending Account from Initiative Ireland, clients can lend as part of a Syndicate, in return for a share of the issued loan and interest income. All loans are secured with a 1st charge over the property deeds. Clients can tailor their loan portfolio in line with their own risk-reward appetite, choosing which pre-approved loans to fund and opting to finance senior and/or subordinate debt, to achieve their financial goals. Initiative Ireland has financed over €5.5m in loans, supporting the construction of housing developments across Ireland. www.initiativeireland.ie
Initiative Ireland Nominees Limited is a trust and company service provider, authorised by the Department of Justice and Equality of Ireland. It acts as the Security Agent, holding a first legal charge over the funded properties in trust for the Private Lending Syndicate Members. www.iin.ie
Initiative Ireland is a partner of MANGOPAY, a public limited liability company incorporated in Luxembourg (Number B173459) and approved as an electronic money institution by the Financial Sector Regulator (CSSF), Luxembourg. As the regulated payment partner for the company, it holds all client funds on behalf of the firm, facilitating payments between borrowers and lenders.
At NovaUCD, the hub for new ventures and entrepreneurs at University College Dublin, we nurture and support new high-tech and knowledge-intensive companies as part of UCD's mission. At NovaUCD we provide purpose-built, state-of-the-art incubation facilities alongside a comprehensive business support programme for client companies such as Initiative Ireland. NovaUCD has been funded through a unique public-private partnership that includes AIB Bank, Arthur Cox, Deloitte, Enterprise Ireland, Ericsson, Goodbody Stockbrokers, UCD and Xilinx. www.ucd.ie/novaucd