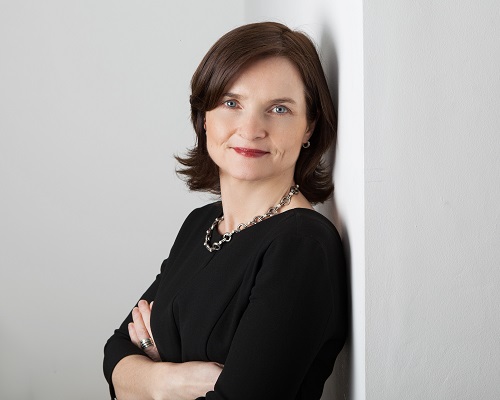 InvoiceFair CEO Named a 2022 EY Entrepreneur Of The Year™ Ireland Finalist
Helen Cahill, CEO and co-founder of InvoiceFair, the innovative working capital provider, is among the finalists announced today for the 2022 EY Entrepreneur Of The Year™ Ireland programme.
A total of 29 people, representing 25 companies from across Ireland will compete across three categories, Emerging, Established and International, and one overall winner will be selected as The EY Entrepreneur Of The Year™ 2022 in November. Helen Cahill has been shortlisted for the emerging category.
InvoiceFair, headquartered at NexusUCD, is a funding platform that helps companies fund their own future by converting sales orders, WIP (work-in-progress), invoices & future revenues into upfront growth capital. Since the company was founded in 2015 by Helen Cahill and Peter Brady over €1 billion in funding has been advanced to growing UK and Irish companies on the InvoiceFair platform
Helen Cahill, CEO, InvoiceFair said, "Firstly, I am deeply honoured to be selected in what is the most prestigious award programme in Irish Business. I believe that this nomination recognises the extraordinary progress by the entire InvoiceFair team over the past 5 years, rather than purely my own contribution."
She added, "2022 is turning out to be quite the year for us, in January we reached a huge milestone, exceeding €1 billion in growth funding advanced to growing Irish and UK businesses, something everyone in InvoiceFair is hugely proud of. I would like to congratulate my fellow nominees and wish everyone taking part in the awards the very best of luck. If any of them need funding to grow even faster, they know who to call!."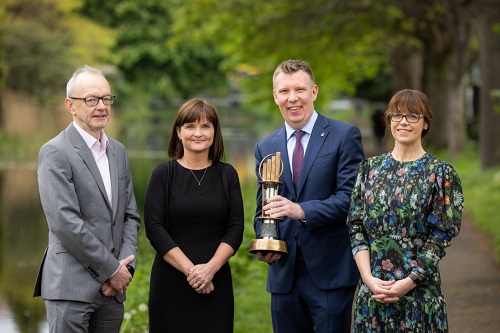 Pictured (l-r), Cathal Fay, CEO, PrePayPower (shortlisted in the Established entrepreneur category); Helen Cahill, CEO, InvoiceFair; Roger Wallace, Partner Lead for EY Entrepreneur of the year and Jenny Melia, Divisional Manager at Enterprise Ireland.
The shortlisted entrepreneurs among the three award categories span a wide range of sectors including technology, consumer, manufacturing, energy, health and finance. Collectively this group of world class business leaders generate annual revenues in excess of €800 million.
Roger Wallace, Partner Lead for the EY Entrepreneur Of The Year™ programme said, "Our entrepreneurs this year represent an impressive variety of industries, including consumer, healthcare, energy, banking, and manufacturing. From a company that has delivered Europe's largest windfarms to a family-run tailor that's been dressing some of Ireland's most well-known names since the 1930s, to a business leveraging cutting edge AI to unlock the value of data, the scope of the impact that these entrepreneurs have across the island of Ireland is vast."
He added, "We are hugely proud to celebrate 25 years of the EY Entrepreneur Of The Year Ireland programme this year. Our theme 'The Changemakers' couldn't be more fitting to describe our finalists today. Each of our entrepreneurs is revolutionising their own industries and creating opportunities for Ireland and beyond. EY is proud to support the island's entrepreneurs and I am delighted to formally welcome this year's finalists into the EY Entrepreneur Of The Year community."
This year's finalists have been shortlisted from more than 100 nominations by an independent judging panel of previous winners, chaired by Anne Heraty, Founder of CPL Resources Plc, and EY Entrepreneur Of The Year™ 2006.
Anne Heraty said, "Such was the incredibly high calibre of applicants to this year's programme it was a real challenge for our experienced judges to select the finalists. Despite the ongoing difficulties of COVID-19, and more recently the energy and inflation crisis and challenging geopolitical issues, it's inspiring to see our entrepreneurs as tenacious and relentless as ever in their pursuit to create innovative businesses that benefit Ireland and the wider world."
She added, "This year's finalists have joined a courageous group of passionate people driving Irish entrepreneurship. They are now part of a special network of like-minded peers, unafraid to disrupt the status quo in a bid to seize new opportunities. I'd like to wish them all the very best in the programme. It's an experience that will prove invaluable."
Celebrating its 25th year this year, the programme has established itself as a world-class development programme that supports, promotes, and connects an extraordinary community of entrepreneurs, championing entrepreneurship throughout the island of Ireland and around the world.
Since its inception, the EY Entrepreneur Of The Year™ community has grown to a tight-knit network of more than 585 alumni who harness each other's wealth of experience, with three quarters (75%) conducting business with one another. Together, the EOY alumni community generates revenues of €21 billion, and employs more than 170,000 people across the island of Ireland.
The other finalists in the emerging category alongside Helen Cahill are: John Harkin, Alchemy Technology Services; Allan F Buechner and Niamh Parker, Altada; Alan Carson, Cloudsmith; Caroline Dunlea, Core Optimisation; Stephen Nolan, Nutritics; Fionn Lahart and Christoph Hennersperger, One Projects, and Evelyn Kelly, Orphan Drug Consulting Ltd.
The EY Entrepreneur Of The Year™ Ireland programme is supported by Premium Corporate Sponsor Julius Baer International, and Enterprise Ireland and Invest Northern Ireland.
Click here for information on the other entrepreneurs shortlisted for the Established and International categories.
This year for the first time, a new Sustainability Award will be presented to the finalist who is making the biggest contribution towards environmental sustainability through their business.
ENDS
5 May 2022
For further information contact Micéal Whelan, Communications and Media Relations Manager, UCD Research and Innovation, e: miceal.whelan@ucd.ie or Ciarán O'Reilly, CMO, InvoiceFair, e: coreilly@invoicefair.com.
Editors Notes
The EY Entrepreneur Of The Year™ programme is a global recognition programme run in 145 cities in more than 60 countries. Currently in its 25th year in Ireland, the programme works to recognise, promote and build a supportive community around Ireland's high-growth entrepreneurs and is considered one of the strongest programmes globally.
Emerging: Nominees in the Emerging category run businesses that have been trading for a minimum of two years. They are ambitious entrepreneurs who have started a business which is growing quickly. They are high potential, dynamic, resourceful and 'ones-to-watch' for the future.
Established: Established, longstanding businesses with a pedigree of growth and innovation, contributing significantly as employers on the Island of Ireland. Including some of our greatest family businesses, our Established finalists are market leaders in their sectors and have made a significant contribution to the economy over a considerable period of time.
International: The International category consists of entrepreneurs who are global players. Their companies operate in multiple markets across the globe and can be headquartered here in Ireland or overseas.
The Sustainability Award: This award is presented to the finalist who is making the biggest contribution towards environmental sustainability through their business. They are striving to protect our future by providing solutions and taking transformative business actions to address some of the world's most pressing environmental issues and concerns.