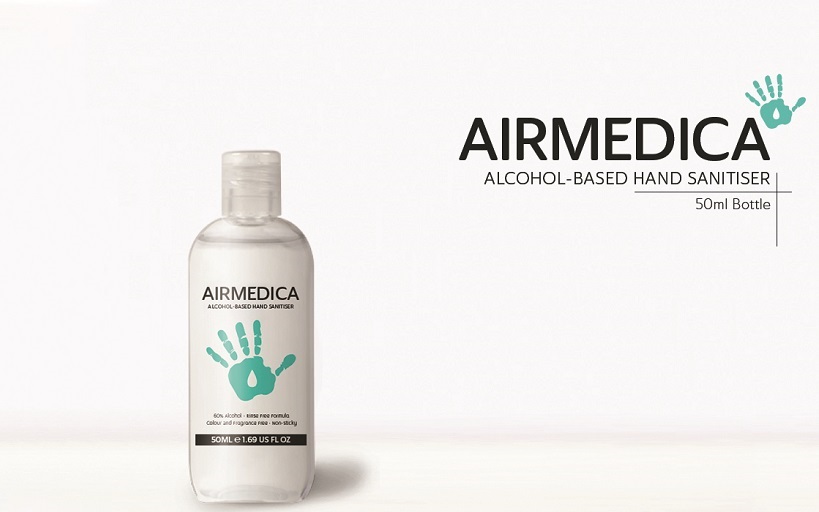 InvoiceFair Trading Platform Enables Cosmetic Creations to Significantly Ramp up Production of Hand Sanitisers in Ireland
InvoiceFair, which runs an innovative receivables trading platform, has supported leading Irish manufacturer Cosmetic Creations in accessing working capital to enable it to significantly ramp up production of hand sanitisers in Ireland.
Cosmetic Creations, with bases in Mayo and Cork, specialises in the creation of cosmetics such as skincare, self-tanning products and body-care as well as wellness-enhancing food supplements and medical device applications.
Initially planning to produce up to 80,000 units a week, the company is now producing over 150,000 units of the Airmedica hand sanitiser a week, with output predicted to increase week on week.
The company was also recently awarded a significant public sector order to produce Airmedica for use in clinical environments across Ireland as a result of demand created by the coronavirus outbreak.
The company has taken on 20 more staff, 20 new contractors and redeployed its sites to meet the demand for Airmedica. The key focus for the company was securing funds for raw materials and components upfront and to increase their skilled workforce.
InvoiceFair runs an innovative receivables trading platform to enable SMEs, such as Cosmetic Creations, access fast and flexible working capital funding. The company, founded by Helen Cahill, Peter Brady and Ivan Fox in 2015, has to date funded over €550 million in multi-currency receivables, and is headquartered at NexusUCD, the Industry Partnership Centre at University College Dublin.
Using the InvoiceFair marketplace enabled Cosmetic Creations to leverage a blue-chip Purchase Order (PO) to release working capital to purchase raw materials and fund increased labour costs. This was done using Purchase Order Finance where up to 70% of the value of the Purchase Order was sold to a pool of institutional investors. Production began immediately with the first order due to be delivered within 4 weeks.
Helen Cahill, CEO, InvoiceFair said, "When Aiden Corcoran, CEO, Cosmetic Creations contacted us regarding this opportunity we were immediately able to analyse the contract terms, related productions costs, delivery schedules and identify their overall working capital requirements. Talking with the Cosmetic Creations management team we were able to understand their capability, expertise and ability to perform."
She added, "Once Cosmetic Creations received their PO, the required funding was provided to them within 24 hours. Cosmetic Creations has the knowledge and security of funding to take on additional orders of this size from this or any other large customer."
Aiden Corcoran, Chief Executive, Cosmetic Creations said, "At Cosmetic Creations, we wanted to play our part in making sure supply lines of vital products such as hand sanitiser stay open. The current unfortunate situation presented by the coronavirus means that solutions have to be developed quickly. Purchase Order Finance gives us enormous scope to fulfil large scale POs inside the critical time schedule."
ENDS
1 April 2020
For further information contact Micéal Whelan, Communications and Media Relations Manager, UCD Research and Innovation, t: + 353 1 716 3712 or e: miceal.whelan@ucd.ie or Gillian Coghill Sheehy, Head of Marketing, InvoiceFair, e: gillian@invoicefair.com.
Editors Notes
The InvoiceFair founding team has over 75 years of experience in business management and finance. InvoiceFair was born out of a shared vision that all companies should be able to finance their growth using the best solutions from traditional and alternative funders. https://invoicefair.com
With over 30 years' experience in contract formulation and manufacturing, Cosmetic Creations exists to add value to how people feel, look and live, both in terms of direct customers but also the product end-user. Cosmetic Creations' expert teams in Mayo and Cork work closely with their valued clients to make their ideas a reality. The company currently employ 110 people.
In November 2019, Cosmetic Creations announced 90 jobs were to be created between its operations in Cork and Mayo, following an investment of €7.5million into the company. Shipping to more than 15 countries globally, clients include private label national brand names and Irish, the UK and European retail multiples.
The products the company have developed have won over 14 national awards in 2019. From skincare and self-tanners to supplements and cosmetics, they are passionate about using the best ingredients possible to deliver bespoke products that adhere to the highest standards of manufacturing practices. https://cosmeticsireland.com/
Additional information, the fact that Cosmetic Creations could access a pool of institutional funders, not just one finance provider, delivered significant benefits:
They could leverage their Future Receivable/Purchase Order to release capital to fulfil the Order.
They had already access to and had built a track record with funders who have an appetite for purchasing Future Receivables and understand the sector risks & complexities.
Funding is spread across a deep pool of funders as opposed to reliance on the single Balance Sheet of a traditional funder. This eliminates the restriction around funding limits and customer concentration.