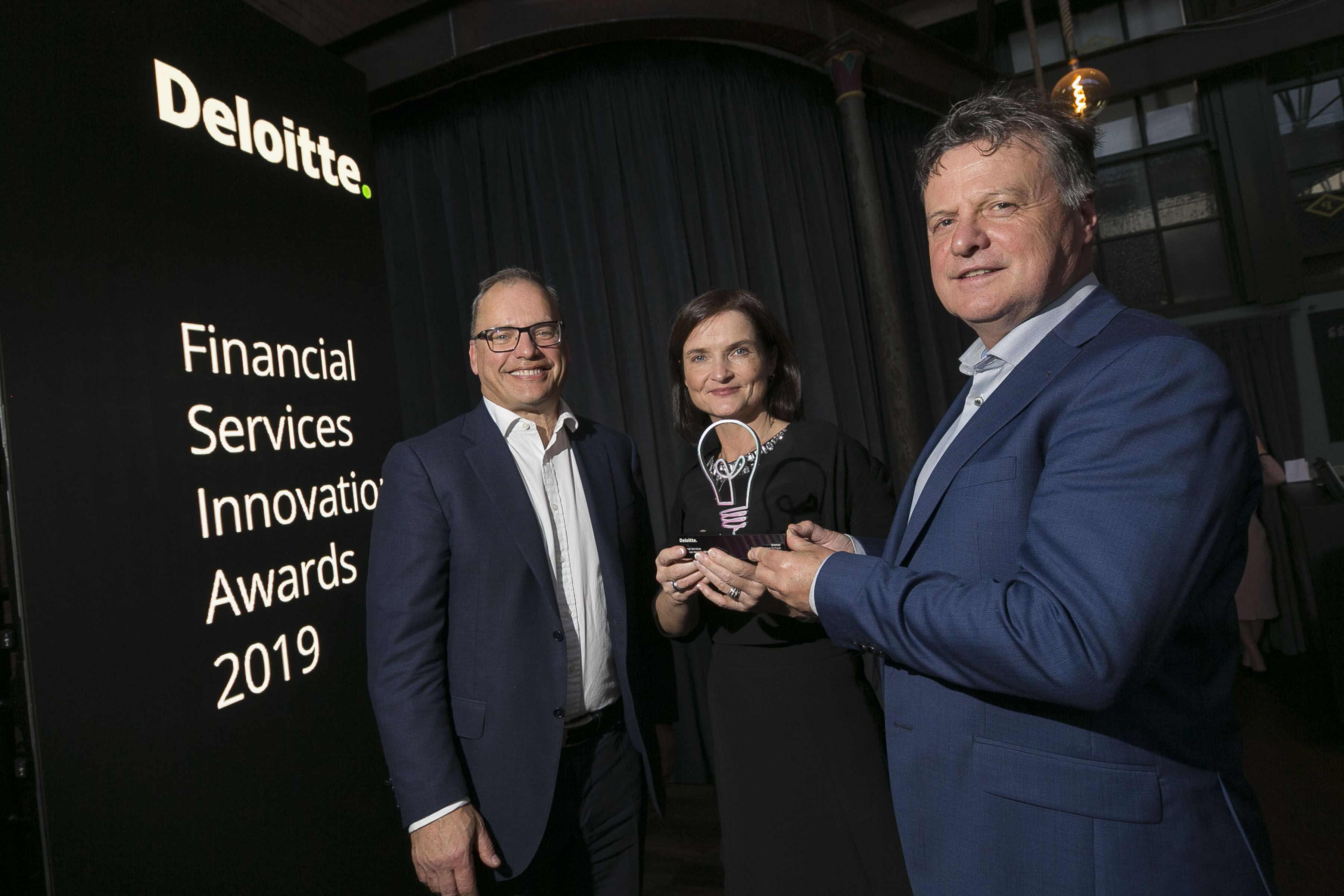 InvoiceFair Wins Most Disruptive Fintech Award at 2019 Deloitte Financial Services Innovation Awards
InvoiceFair, which has developed an innovative trading platform to enable SMEs access fast and flexible working capital finance, has won the Most Disruptive Fintech Award at the inaugural Deloitte Financial Services Innovation Awards.
InvoiceFair was founded by Helen Cahill and Peter Brady in 2015 and has to date traded over €400 million in receivables. The company is headquartered at NexusUCD, the Industry Partnership Centre at University College Dublin (UCD).
Helen Cahill, CEO and Co-Founder InvoiceFair said, "Winning this award is the result of true teamwork and it reflects the amazing partnership between our brilliant team and our innovative customers. We are passionate about crafting funding solutions that mirror the actual working capital requirements of Irish SMEs and are committed to making it economically accessible for every SMEs to access capital market-based funding."
"Winning this Deloitte Financial Services Innovation Award is recognition that our solutions are addressing real market failures in the Irish Funding landscape - we are changing the game for Irish SMEs."
The Deloitte Financial Services Innovation Awards, celebrate innovation by financial services companies across the island of Ireland and recognise both individuals and companies that are leading the way in innovation, using technology to address challenges and create opportunities, improving user experience, and changing the way business is done.
Speaking at the Awards ceremony, Minister Michael D'Arcy TD, Minister of State, Department of Finance with special responsibility for Financial Services and Insurance said, "Financial services has long been a priority sector for the Irish Government. The development of our international financial services sector has been one of the highlights of Ireland's economic development over the last 30 years. It is innovation that will be key in ensuring that we maintain what we have and to continue enhancing our IFS sector. The Ireland for Finance strategy recognises this with one of the four foundational pillars being Technology and Innovation."
"As the first event of its kind in Ireland, the awards celebrated innovation in the financial services space and I would like to congratulate all of the nominees and award winners on their achievements."
David Dalton, Head of Financial Services at Deloitte Ireland, said, "Through these awards, we have observed a level of innovation in the financial services industry and an ecosystem in Ireland not seen before, and we are delighted to recognise those companies that are driving this.
From over 100 applications the judging panel, comprising Julie Sinnamon, CEO, Enterprise Ireland; Brian Hayes, CEO, BPFI; Joe Duffy, Chair of FSI Executive Board and Country Executive for BNY Mellon in Ireland; Ciaran Hancock, Business Editor, The Irish Times; Mai Santamaria, Head of the Financial Advisory Team at the Department of Finance; and David Dalton, Head of Financial Services, Deloitte, selected the Award winners.
Global payments company TransferMate was announced as the Overall Award winner as well as winning the Product or Service Award.
Financial Services Ireland (FSI) and Banking and Payments Federation Ireland (BPFI) partnered with Deloitte on the Awards.
ENDS
24 September 2019
For further information contact Micéal Whelan, Communications and Media Relations Manager, UCD Research and Innovation, t: +353 1 716 3712, e: miceal.whelan@ucd.ie, or Gillian Coghill Sheehy, Head of Marketing, InvoiceFair, e: gillian@invoicefair.com or Claire Quinn, Deloitte, e: cquinn@deloitte.ie
Editors Notes
The other 2019 Deloitte Financial Services Innovation Award winners were; Operations - Institute of Banking; Customer Experience – Xtremepush; Learning - Ulster Bank; RegTech – AQMetrics & Fenergo (joint winners) and Leadership – Denis McCarthy.