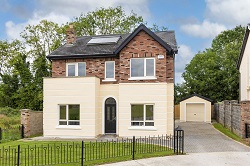 Ireland's First Peer-to-Peer Funded Family Homes Come to Market
- Cluain Dara residential housing development phase one launches in Derrinturn, Kildare offering 2, 3 and 4-bedroom homes
- Developer aims to deliver over 65 residential houses to the area over the next 3 years across two sites
Initiative Ireland today announced the official launch of Cluain Dara, the first peer-to-peer funded family homes to be financed and built in Ireland.
Developed by Landport Estates and financed by Initiative Ireland's lending community, the first phase of houses, comprising a limited number of 2, 3 and 4 bedroom homes, priced from €227,500 to €305,000, have come to the market in Derrinturn, Co. Kildare.
The development is financed by Initiative Ireland, a social impact finance provider, which originates and syndicates loans on behalf of its Private and Corporate Lending Clients.
Founded in 2015 by Padraig W. Rushe, Initiative Ireland is headquartered at NovaUCD, the Centre for New Ventures and Entrepreneurs at University College Dublin and is supported by Enterprise Ireland.
The company combines peer-to-peer lending technology with traditional, asset-backed secured lending practices. All loans to developers are secured with a first legal charge over the properties, with loans repaid from initial sale proceeds.
Padraig W. Rushe, CEO, Initiative Ireland said, "Initiative Ireland was established to do three things; provide social impact by delivering affordable homes quickly; promote competition by supporting smaller developments at fair rates, and deliver strong returns to our lending community without compromising on capital security. Cluain Dara is prime example of all three and we are proud to play our small part in delivering much needed family homes."
Initiative Ireland recently announced its to intention to increase the scale of its lending through the launch of a new Social Impact Fund. With a targeted initial close of €35 million, it is expected that the fund will be structured as a sub-fund of The Davy Platform ICAV umbrella fund structure and that the Davy Group will provide regulatory and investment management services to the fund.
Initiative Ireland will provide investment advisory services to the fund in addition to Loan Management Services. Initiative Ireland, which specialises in syndicated property finance, will enable the fund to lend alongside their existing private and corporate clients, via their syndicated finance platform.
The fund, which will target an annual return of 7 to 7.5 percent, has already secured backing from Abbey International Finance, which will invest up to €20 million in the fund.
Padraig W. Rushe, added, "We are in talks with large international and domestic firms, who appreciate our conservative approach to loan management and our focus on sustainable lending. While we welcome these corporate partnerships, we remain committed to maintaining and building our community of Private Lenders, giving them access to an asset class usually reserved from large pension funds."
Initiative Ireland is one of the fastest growing peer-to-peer lending platforms in Ireland and the first to specialise in secured property backed finance. With over €5 million in loans approved to date, the firm aims to significantly increase its lending in the coming months ahead of the launch of the planned debt fund, aiming to exceed €10 million in loans, by the end of the year.
ENDS
7 September 2018
For more information contact Micéal Whelan, University College Dublin, Communications Manager, UCD Research and Innovation, t: + 353 1 716 3712, e: miceal.whelan@ucd.ie or Padraig W. Rushe, CEO, Initiative Ireland, t: +353 1 685 9259 or e: team@initiativeireland.ie.
Editors Notes
Initiative Financial Services trading as Initiative Ireland is a financial services company. It acts as Loan Agent on all loans. As a Private Lender with the company, members can lend as part of a Private Lending Syndicate, in return for a share of the issued loan and interest income. Members will be able to tailor their loan portfolio in line with their own risk-reward appetite, choosing which pre-approved loans to fund and opting to finance senior and/or subordinate debt, to achieve their financial goals. www.initiativeireland.ie
Initiative Ireland Nominees Limited is a trust and company service provider, authorised by the Department of Justice and Equality of Ireland. It acts as the Security Agent, holding a first legal charge over the funded properties in trust for the Private Lending Syndicate Members. www.iin.ie
Initiative Ireland is a partner of MANGOPAY, a public limited liability company incorporated in Luxembourg (Number B173459) and approved as an electronic money institution by the Financial Sector Regulator (CSSF), Luxembourg. As the regulated payment partner for the company, it holds all client funds on behalf of the firm, facilitating payments between borrowers and lenders.
At NovaUCD, the hub for new ventures and entrepreneurs at University College Dublin, we nurture and support new high-tech and knowledge-intensive companies as part of UCD's mission. At NovaUCD we provide purpose-built, state-of-the-art incubation facilities alongside a comprehensive business support programme for client companies such as Initiative Ireland. NovaUCD has been funded through a unique public-private partnership that includes AIB Bank, Arthur Cox, Deloitte, Enterprise Ireland, Ericsson, Goodbody Stockbrokers, UCD and Xilinx. www.ucd.ie/novaucd