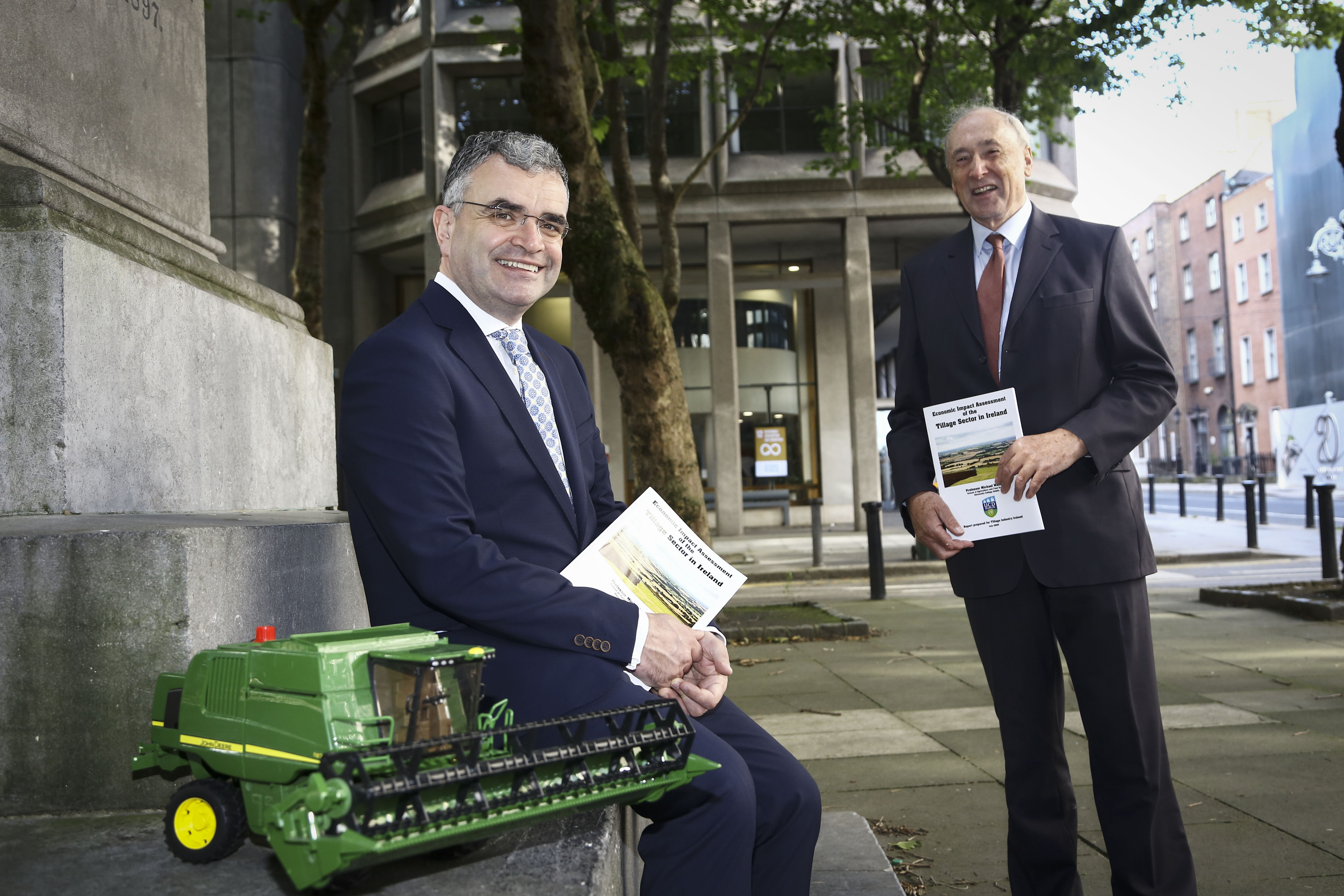 New Report Reveals that Irish Tillage Sector Generates Economic Outputs of €1.3 billion per annum and Supports 11,000 jobs
A new report commissioned by Tillage Industry Ireland, through ConsultUCD, University College Dublin's (UCD) managed consultancy service, has quantified the Irish tillage sector as generating €1.3 billion in economic outputs and supporting 11,000 jobs.
In the first comprehensive economic evaluation of the sector, Professor Michael Wallace, an agricultural economist at the UCD School of Agriculture and Food Science has examined tillage activities in Ireland including key trends in upstream and downstream supply chain activity and the economic impacts of the sector in jobs and output.
Professor Wallace has also examined the carbon footprint of tillage activities in Ireland and how these compare with the main livestock activities, including dairy. In particular, the report examines the implications for greenhouse gas (GHG) emissions of the loss of land area to tillage activities as Ireland struggles to meet EU burden-sharing commitments to reduce GHG emissions by 30% by 2030.
Welcoming the report Dara Calleary TD, Minister for Agriculture, Food and the Marine, said, "The tillage sector is very significant in terms of its contribution to Irish agriculture, our national economic output, and its importance in supporting rural areas. Professor Wallace's study greatly increases understanding of the sector and its role in the wider rural and agricultural economy."
He added, "While the sector mainly supplies feed grains to the livestock sector, it also produces a range of raw materials for the drinks industry and is a producer of high quality oats that are used in food production and feed markets and exported around the world. The sector has many favourable environmental credentials and significant potential to replace imports. This will become even more important as international trade comes to terms with the diverse challenges that lie ahead."
Matt Dempsey, President, Tillage Industry Ireland, said, "A vibrant Irish tillage sector is critical to many rural communities, particularly in the east and the south. It is also important in helping to validate the authenticity of many world-famous Irish brands. But, as Irish cereals slide down the self-sufficiency scale for animal feeds and distilling, we are risking a backlash from consumers in international markets. The tillage sector generates high output in crop yields but it is also high cost in land inputs. It needs to retain scale and critical mass to remain viable. For these reasons it was important that the structure and functioning of the Irish tillage sector are properly evaluated and their contribution to agriculture and the rural economy properly understood."
He added, "Tillage farmers in Ireland have to cope with climatic conditions that make some crops prone to certain diseases including fungal diseases in grain crops. Plant protection products (PPPs) provide a defence but increasing restrictions on the use and authorisation of PPPs in Europe is limiting the access of growers to an effective 'toolbox' to control disease and ensure the competitiveness of Irish-grown grain. Biotechnology can support the development of plant varieties that are more resistant, but the regulatory environment in the EU is inhibiting critical aspects of crop science innovation which places Irish and European growers at a competitive disadvantage."
He concluded, "We need a regulatory environment that both protects the environment and supports innovation, and policy responses that halt the decline in acreage of the last decade and more, and equip the sector to grow and replace imports of feed grains and other crops."
Report author, Professor Michael Wallace, UCD School of Agriculture and Food Science said, "Tillage activities take place on approximately 10,000 Irish farms representing a total area of about 340,000 hectares, or 7.6% of the utilisable agricultural land area in Ireland. About half of these farms are specialist tillage units with farmers that are commercially focused and profitable, and with an average income performance which is second only to dairying."
He added, "However, the land area and number of farms on which tillage activities take place have been declining. The area under tillage has declined by 15% over the last decade and by 42% since 1980. Much of the better land lost to tillage in the south east and south west over the last decade also coincides with the expansion of dairying activities over the same period. While there has been a decline in acreage, output has remained the same at approximately 2.3 millions per annum. The Irish tillage sector is highly productive and produces amongst the highest yields anywhere in the world."
He concluded, "Almost half of direct output in value terms are feed cereals for livestock, 13% are potatoes, 8% malting barley and 11% is straw. Just 1% of output is milling wheat. Tillage activities have strong environmental and biodiversity credentials particularly in comparison with dairying and other drystock activities. Average CO2e emissions from tillage activities at 1.2 tonnes per hectare are approximately 14% of the emissions of the average dairy system and 30% of emissions per hectare from beef systems. For every 100 hectares of tillage switched to an average dairy system, emissions of greenhouse gases would increase by about 740 tonnes of CO2e. The current and potential contribution of the tillage sector in Ireland, both environmentally and economically, should be more explicitly recognised in a balanced agri-food strategy for Ireland."
ConsultUCD is supported by Enterprise Ireland through the Technology Transfer Strengthening Initiative, managed by Knowledge Transfer Ireland.
The full report entitled Economic Impact Assessment of the Tillage Sector in Ireland may be download via http://tillageindustryireland.ie/wp-content/uploads/2020/07/Economic-Impact-Assessment-of-the-Tillage-Sector-in-Ireland.pdf
ENDS
31 July 2020
For further information contact Micéal Whelan, Communications and Media Relations Manager, UCD Research and Innovation, NovaUCD, e: miceal.whelan@ucd.ie or t: + 353 1 716 3712 or Jim Devlin, Cunningham Devlin Communications, e: jim@cunninghamdevlin.ie.
Editors Notes
Tillage Industry Ireland was established in 2019 to promote and champion a sustainable and competitive tillage sector within Irish agriculture that is built around innovation, high quality and full traceability throughout the food chain.
Tillage Industry Ireland's membership is made up of representatives of the Irish Farmers' Association Grain Committee (IFA), the Animal and Plant Health Association (APHA), the Irish Seed Trade Association (ISTA), Independent Merchants Ltd (ACORN), the Federation of Agricultural Retail Merchants (FARM), the Irish Fertilizer Manufacturers Association (IFMA), the Irish Tillage Consultants Association (ITCA) and the Irish Farmers Journal (IFJ) and companies active in and concerned about the Irish tillage sector. www.tillageindustryireland.ie
ConsultUCD is UCD's managed consultancy service that enables business, industry, public sector and not-for-profit organisations to benefit fully from the wealth of expertise generated by UCD. Our academics, from all disciplines, work with organisations to answer complex or technical questions, influence strategy or policy and find innovative solutions to a wide variety of challenges.
ConsultUCD provides facilitated access to UCD's expertise and supports the consultancy engagement from initial enquiry to end result. ConsultUCD is based at NovaUCD. www.ucd.ie/consultucd