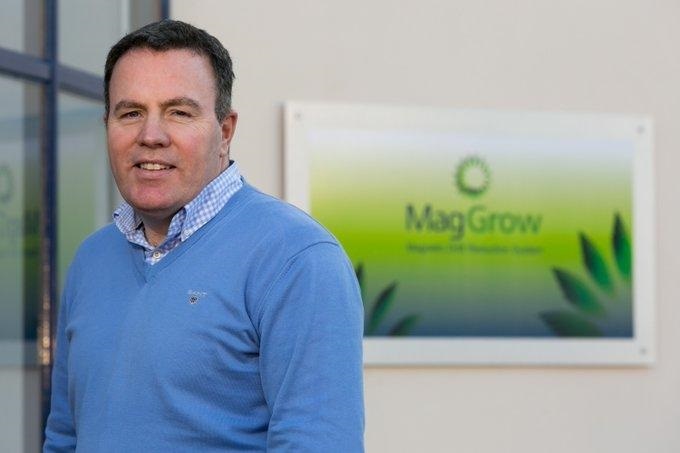 MagGrow Closes €6 million Series A Funding Round
MagGrow, which specialises in delivering crop protection products that significantly reduces waste associated with conventional pesticide spray applications, has announcement the completion of a €6 million Series A funding round. This brings to €18 million the total raised by the company to date.
This latest funding round was led by Astanor Ventures with participation by other strategic international investors, including WakeUp Capital. A number of existing shareholders also contributed to the round. BDO assisted on the Corporate Finance Fund raise.
MagGrow was established in 2013 by Gary and Derek Wickham and David Moore and was headquartered for many years at NovaUCD, the Centre for New Ventures and Entrepreneurs at University College Dublin (UCD).
The company, which is now headquartered in Clonskeagh, Dublin, employs over 30 people and has operations in the USA, Canada, South Africa, Australasia, and Europe. The company also has crop science, industrial engineering, and research facilities in the UK with its state-of-the art Agricultural Research Facility to open shortly.
Approximately 70% of crop protection products when sprayed do not hit or remain on its intended target crop and/or weed. MagGrow's award winning science-based technology solves the compromise between drift and coverage associated with conventional spraying. After spending €10 million to date on the science behind its technology, the company moved to the commercial role out phase of its key Tractor Boom product through various channel partners such as with Trimble Ag.
This latest funding round will enable MagGrow to build on that momentum by providing some key additions to the executive team and Board. In addition, the funding will be used to accelerate research and development of new products, intellectual property and applications as well as building up additional manufacturing capability.
Gary Wickham, CEO, MagGrow, said, "The MagGrow team and I are delighted to welcome our new investors who can position the company for rapid growth. MagGrow believes every person on this planet has the right to food and water."
"These impact investors align with MagGrow's core values and our collective desire to do our part in feeding this planet sustainably. The way to do this is to ensure farmers are profitable in the first instance and sustainable. This is where MagGrow's technology steps in as it allows farmers to achieve both simultaneously and, in doing so, supports the sustainable intensification of global food production."
MagGrow has appointed Hendrik Van Asbroeck (Astanor Ventures) to its Board. In addition, Faye Walsh Drouillard (WakeUp Capital) and Arthur Pierse (Astanor Ventures) will attend board meetings in an observer capacity.
Hendrik Van Asbroeck, Astanor Ventures Partner said, "MagGrows technology is already playing a pivotal role in transforming our food system. Ambitious targets of a 50% reduction have been set across the EU to reduce pesticide use, MagGrows technology will be a crucial enabler of this transition. Their farmer friendly hardware reduces drift, increases coverage, and significantly reduces the impact pesticides have on our water, soil, and the food we eat."
"Governments and consumers alike are looking for innovative solutions which reduce the impact agriculture has on our environment. MagGrow's strong traction and growing presence in countries such as the US, Australia, and the Netherlands, signals that farmers are embracing this technology. We look forward to working with Gary and the international team he has assembled, to scale this technology and build upon their growing international presence."
Faye Walsh Drouillard, Founder, WakeUp Capital, said, "WakeUp Capital is delighted to make its first investment in MagGrow, whose pioneering technology is transforming agriculture worldwide to be sustainable. MagGrow's incredible growth trajectory in a market ripe for innovation will make an unprecedented impact on how the world grows food in the face of population growth and dwindling natural resources."
"Our investment in MagGrow's ambitious team, its unparalleled research, development, and scaling ability demonstrate how innovative technology combined with impact-driven investment can solve problems that matter."
MagGrow has also partnered with AMBER, the SFI Research Centre for Advanced Materials and Bioengineering Research at Trinity College Dublin, on research projects.
Earlier this year Gary Wickham was named among the 24 finalists for the 2020 EY Entrepreneur of the Year Ireland Awards. He has been shortlisted in the Emerging Award category.
ENDS
7 August 2020
For further information contact Micéal Whelan, Communications and Media Relations Manager, UCD Research and Innovation, NovaUCD, e: miceal.whelan@ucd.ie or t: + 353 1 716 3712.