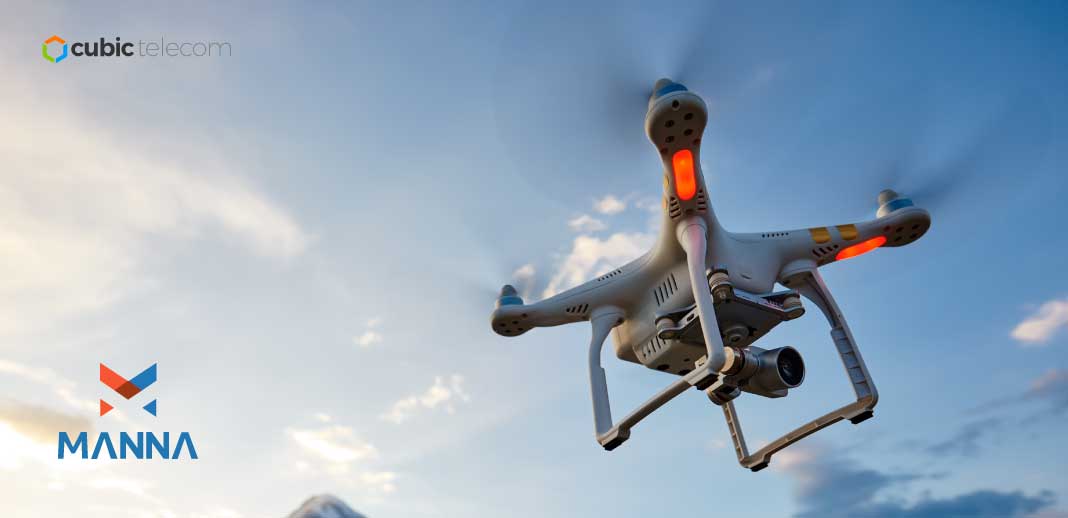 Manna and Cubic Telecom Announce Partnership to Enable High-Speed Food Delivery by Drones
Cubic Telecom, a global connectivity management software supplier based in Dublin, has announced a partnership with Manna, the Irish drone delivery start-up, to enable it to track, monitor and control its drone fleets while delivering from restaurants and centralised kitchens directly to consumers' homes across Europe and the US.
The announcement was made in Las Vegas at CES 2020 – the world's biggest technology fair.
Manna was founded by serial entrepreneur, Bobby Healy and is headquartered at NovaUCD, the Centre for New Ventures and Entrepreneurs at University College Dublin and with an office in Wales.
Manna's drones, connected by Cubic Telecom will autonomously deliver customers' meals while flying at a height of up to 80 meters and a speed up to 80 km per hour, completing deliveries in less than three minutes and at a fraction of today's rates.
Cubic's software is embedded into Manna's drones at the manufacturing stage allowing for real-time data to be exchanged between the drone, the restaurant, and customers, thus enabling seamless communication with minimal latency at all stages of the delivery process.
Cubic's PACE connectivity platform has successfully underpinned the global connectivity strategy of several car manufacturers and it is now embedded in millions of cars across 93 markets, enabling seamless connectivity for drivers while delivering significant supply chain economies and efficiencies for OEMs.
Cubic's technology leadership and experience in dealing with global manufacturers and regulatory agencies are now being leveraged to provide connectivity solutions to several verticals besides automotive.
Alan Hicks, CTO, Manna said, "The future of last-mile delivery is an airborne one. One of the most difficult challenges in making that work at scale is reliable communications between our drone fleet and our cloud services layer."
"We are delighted to be partnering with Cubic for this critical component of our technology stack, bringing us one step closer to our dream of pervasive, autonomous drone delivery for the planet."
Barry Napier, CEO, Cubic said, "Everyone is waiting for the commercial drone delivery market to take off as we all see the true potential in revolutionising the delivery services industry. Cubic's experience in delivering proven global connectivity solutions with real-time analytics across the globe will enable Manna's custom-developed autonomous service to reduce the cost and time of deliveries, while lessening the overall environmental impact."
"The team and I are looking forward to expanding into a new vertical and collaborating with the innovative team at Manna."
At the end of last year Manna announced that it had secured $3 million (€2.7 million) in additional funding to support the company's commercial growth, bringing to a close a $5.2 million (€4.6 million) seed funding round.
ENDS
9 January 2020
For more information contact Micéal Whelan, Communications and Media Relations Manager, UCD Research and Innovation, NovaUCD t: + 353 1 716 3712, e: miceal.whelan@ucd.ie or Elain Murray, Cubic Telecom elaine.murray@cubictelecom.com.
Editors Notes
Manna is a Drone Delivery Service "in a box" for dark kitchens and restaurant chains. Its aviation-grade drones fly at 80 km/h and provide a guaranteed 3-minute delivery time to the local neighbourhood. By providing and operating a channel-agnostic fleet of drones, Manna allows its food partners to provide drone delivery for all their distribution channels – direct and indirect and can operate deliveries for a fraction of the cost of human-powered road-based delivery. Manna is regulated by the relevant aviation regulatory bodies in Europe and USA. www.manna.aero
Cubic Telecom is a global connectivity management software supplier that offers mobility solutions powering connectivity for leading Internet of things (IoT), automotive and mobile device companies across the globe.
An expert in Connected Intelligence, Cubic Telecom enables global scalability with local connectivity anytime, anywhere. Cubic provides connectivity in over 180 countries; the most robust network, device and retail partnerships worldwide; and flexible over-the-air (OTA) device management for clients and partners.
Based in Dublin, Cubic Telecom is privately held with over €100 million in funding by Audi Electronics Venture GmbH, Qualcomm, Valid, the European Investment Bank, Enterprise Ireland and the Ireland Strategic Investment Fund, among others. www.cubictelecom.com/