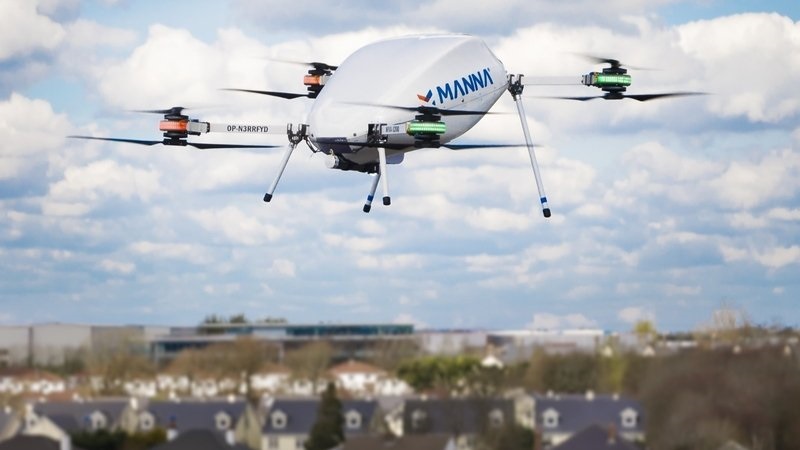 Manna First to be Awarded a Light UAS Operator Certificate by Irish Aviation Authority
The Irish Aviation Authority (IAA) has today issued its first 'light UAS (Unmanned Aircraft Systems) operator certificate' (LUC) to Manna, the Irish drone delivery start-up headquartered at NovaUCD.
Manna, which also has offices in Wales, builds and operates unmanned aerial vehicles (UAVs) which perform high-speed deliveries of takeaway food, groceries and pharmacy goods/supplies of up to 3 kgs (6.5 lbs) in suburban last-mile settings.
Manna was the first company to apply for a LUC, following their recent trials of drone delivery services in rural Ireland. The company's successful application follows a rigorous assessment of their operational capabilities in line with the new EU drone regulations, which came into force at the start of the year.
The LUC is recognised in all EU Member States and provides drone operators with significant business opportunities across the single market.
Speaking at the handover of the certificate by video conference call, the Aviation Regulator, Diarmuid Ó Conghaile, congratulated Manna CEO, Bobby Healy on their success to date and reaffirmed the importance of a pro-business regulatory environment for Ireland's drone industry.
Diarmuid Ó Conghaile said, "The light UAS operator certificate is a very exciting development in EU regulatory terms and provides Irish companies like Manna Aero with access to a potential European market of over half a billion customers. Drone services are an important part of the green technology mix in Europe and provide a competitive alternative to traditional service delivery. Our ambition for the new IAA is to facilitate UAS innovation and competitiveness with the highest safety and security standards, ultimately providing benefits to consumers at the end of the supply chain."
Bobby Healy, CEO, Manna said, "This achievement marks the culmination of our two-year engagement with the IAA and is a strong endorsement for Manna, the nascent European drone delivery industry, and Ireland as a tech-epicentre for drone technology. We thank EASA, and IAA for their vision and leadership, our delivery partners, and of course our wonderful trial customers in Oranmore and Moneygall for helping us to get this far."
Last month Manna announced a $25 million (€21 million) Series A investment round led by Draper Esprit, with participation from Team Europe, DST Global, and with participation from existing investors Dynamo Ventures, Atlantic Bridge, and Elkstone.
ENDS
21 May 2021
For further information contact Micéal Whelan, Communications and Media Relations Manager, UCD Research and Innovation, NovaUCD, e: miceal.whelan@ucd.ie.
Editors Notes
Manna Drone Delivery is the world's first aviation-grade B2B drone delivery 'as-a-service' company. The Manna drone fleet - which is autonomous - is operated by Manna directly from the restaurant or dark kitchen premises and is accessible via API to food tech providers and online food platforms alike in a channel-agnostic manner. One fleet for all demand. https://www.manna.aero/
A light UAS operator certificate (LUC) is an organisational approval certificate which assigns certain privileges to a drone operator. When the IAA is satisfied that the LUC applicant has demonstrated all the necessary capabilities, it issues the certificate and assign privileges to the drone operators based on their level of maturity. The privileges may allow the organisation to self-authorise operations, removing the requirement to obtain a prior authorisation.
The privileges may be one or more of the following:
- conduct operations covered by standard scenarios without submitting a declaration;
- self-authorise operations conducted by the drone operator and covered by a pre-defined risk assessment;
- self-authorise all operations conducted by the drone operator without applying for an authorisation.
Find out more visit: www.iaa.ie/drones and www.easa.europa.eu/drones