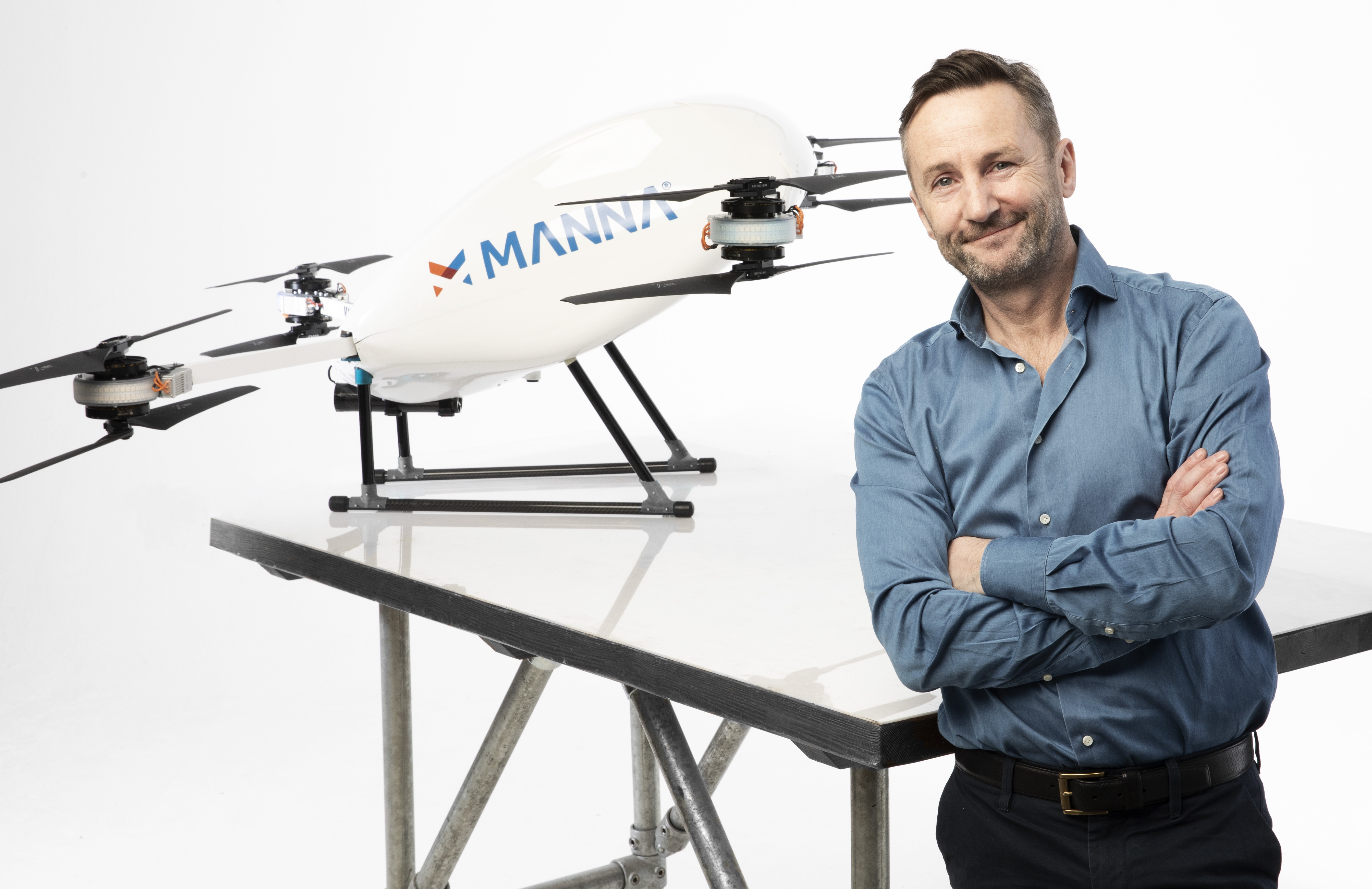 Manna Announces Partners for Drone Food Delivery Commercial Pilot at University College Dublin
- Manna to partner with Camile Thai, Ben & Jerry's and Just Eat
Manna, the world's first aviation-grade B2B drone delivery 'as-a-service' platform will commercial pilot its airborne logistics platform 'in-a-box' at University College Dublin (UCD) with partners, premium food brand Camile Thai and Ben & Jerry's ice cream, via food ordering and delivery platform Just Eat, delivering to a large customer base with a sub 3-minute delivery promise from vendor to customer.
Commenting on the trial Manna CEO and founder Bobby Healy said, "I am extremely proud of the team and what we have built. It is a pleasure to work with such high calibre partners on our project next month in Dublin, our commercial pilot in University College Dublin."
"It's clear that Drone delivery provides a faster, cleaner, safer, cheaper and higher quality alternative to road-based delivery. We are excited about how that will improve the world."
Amanda Roche-Kelly, Managing Director, Just Eat Ireland said, "Technology is at the core of everything we do at Just Eat, so we're delighted to be involved in these pioneering trials with Manna, who have clearly built a groundbreaking drone delivery system."
"Transforming the business of food delivery as we know it, this coming together of two complementary services will greatly improve the delivery experience for our customers and further adds to the countless ways we connect people with food, everywhere. We are just so proud to be Ireland's first online food ordering and delivery platform to provide a commercial drone delivery offering to our customers."
Bobby Healy added, "This technology will transform online food marketplaces, restaurants, dark kitchens, and communities globally. The Irish Aviation Authority have been a tremendous help and guide over the past three years, working together we have ensured that our drones are extremely safe in all operating conditions."
"We look forward to working with regulators around the world as we bring this innovative technology to customers across the Globe."
Manna, which closed a $5.2 million (€4.6 million) seed funding round at the end of 2019, currently employees a staff of over 20 people between its headquarters at NovaUCD, the University's Centre for New Ventures and Entrepreneurs, and offices in Wales.
ENDS
26 February 2020
For more information contact Miceal Whelan, University College Dublin, Communications and Media Relations Manager, UCD Research and Innovation, t: + 353 1 716 3712, e: miceal.whelan@ucd.ie or Richard Forde, Beachhut PR, e: richard@beachhutpr.com.
Editors Notes
Manna Drone Delivery is the world's first aviation-grade B2B drone delivery 'as-a-service' company. The Manna drone fleet - which is autonomous - is operated by Manna directly from the restaurant or dark kitchen premises and is accessible via API to food tech providers and online food platforms alike in a channel-agnostic manner. One fleet for all demand. www.manna.aero/
Just Eat Plc (LSE: JE.) operates a leading global hybrid marketplace for online food delivery. Headquartered in London, we use proprietary technology to offer a quick and efficient digital ordering service for over 28 million customers (ex LATAM) and more than 240,000 Restaurant Partners across the UK, Australia & New Zealand, Canada, Denmark, France, Ireland, Italy, Mexico, Norway, Spain, Switzerland and Brazil.
In Ireland, Just Eat has over 2,100 takeaway restaurants online and consumers can access their favourite local eateries for lunchtime and evening options with a choice of over 40 cuisines. More than 80% of customers order either via the app or on mobile device with the Just Eat app downloaded over 2 million times since it was launched in Ireland five years ago. www.just-eat.ie/
Camile Thai Kitchen is a category-leading Thai restaurant chain of 30+ restaurants focused on providing premium quality online delivery. It is positioned as an award-winning food brand in Ireland and the UK with regards to health, sustainability and plant-based initiatives. Camile can be found in Dublin, Limerick, Cork, Belfast, London, and now - the skies. www.camile.ie/