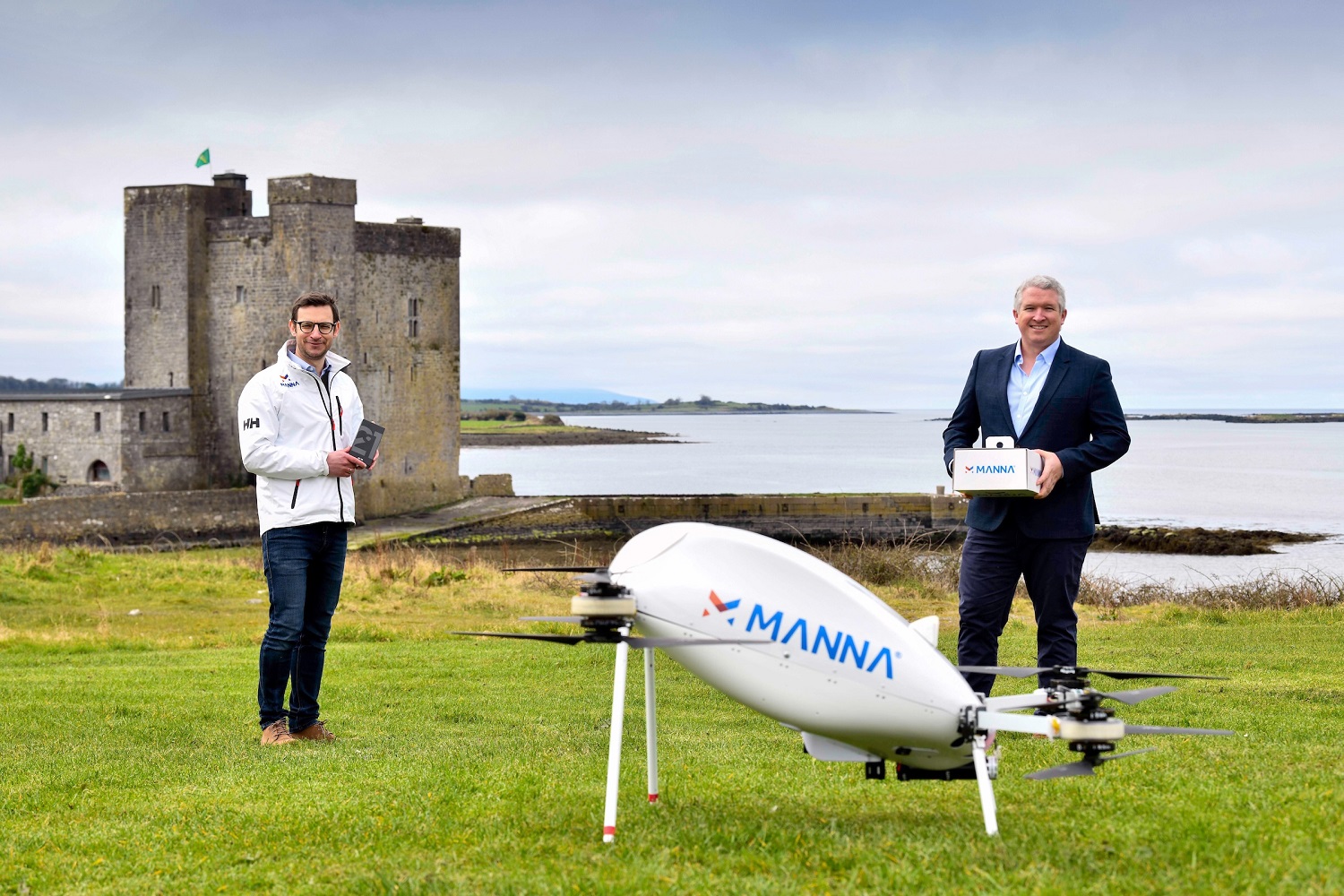 Samsung Partners with Manna to Deliver Galaxy Devices by Drone to Irish Customers
Samsung Electronics Co. Ltd has announced a new partnership with Manna Drone Delivery, a move that will see drone delivery made available to Irish customers when purchasing online the latest range of Samsung Galaxy devices.
The new service, which is a first for Samsung, will facilitate an end-to-end contactless experience for Samsung customers from their initial online order through the company's Irish eStore, right through to fulfilment.
The service will first be made available to customers based in Oranmore, Co. Galway, with Samsung and Manna keen to expand this service nationwide in the future.
Manna, founded by Bobby Healy, uses custom-developed aerospace grade drones to deliver products directly to customer's homes, and is headquartered at NovaUCD and with offices in Wales.
Manna drones fly at an altitude of 50-80 metres and a speed of over 60 kph enabling delivery to homes in Oranmore within 3 minutes.
Eamonn Grant, Head of Online, Samsung Ireland said, "At Samsung we are always looking for ways to bring meaningful innovation to our customers so we're really excited to move beyond our existing same day and next day offerings on our products and be the first technology company in Ireland to make our products available to our customers via drone delivery."
He added, "To be able to deliver our products to our customers within three minutes of leaving the dispatch centre is a brilliant example of innovation in motion. Superior customer experience is at the heart of what we do and with this new service we are embracing what we believe will be the future of retail. In the current environment, there is no better time to provide a contactless alternative to 'click and collect' and we are really thrilled to be partnering Manna to achieve this."
Alan Hicks, CTO, Manna, said, "This partnership with Samsung marks the first of its kind in the world. To date, we have been working with Tesco and local businesses to deliver grocery, hot food, books and pharmacy items, to people in the area. We recognise that the potential for the application of drone delivery is enormous. Samsung is one of the most innovative and widely recognised brands globally that always puts its customers front and centre. It's for this reason we are genuinely excited to be embarking on this next chapter with them."
Last year Bobby Healy was named the recipient of the annual NovaUCD Founder of the Year Award.
ENDS
23 March 2021
For more information contact Micéal Whelan, University College Dublin, Communications and Media Relations Manager, NovaUCD, t: + 353 1 716 3712, e: miceal.whelan@ucd.ie
Editors Notes
Samsung inspires the world and shapes the future with transformative ideas and technologies. The company is redefining the worlds of TVs, smartphones, wearable devices, tablets, digital appliances, network systems, and memory, system LSI, foundry and LED solutions. https://news.samsung.com/uk
Manna Drone Delivery is the world's first aviation-grade B2B drone delivery 'as-a-service' company. The Manna drone fleet - which is autonomous - is operated by Manna directly from the restaurant, dark kitchen or retail premises and is accessible via API to food tech providers and online food platforms alike in a channel-agnostic manner. One fleet for all demand. https://www.manna.aero/