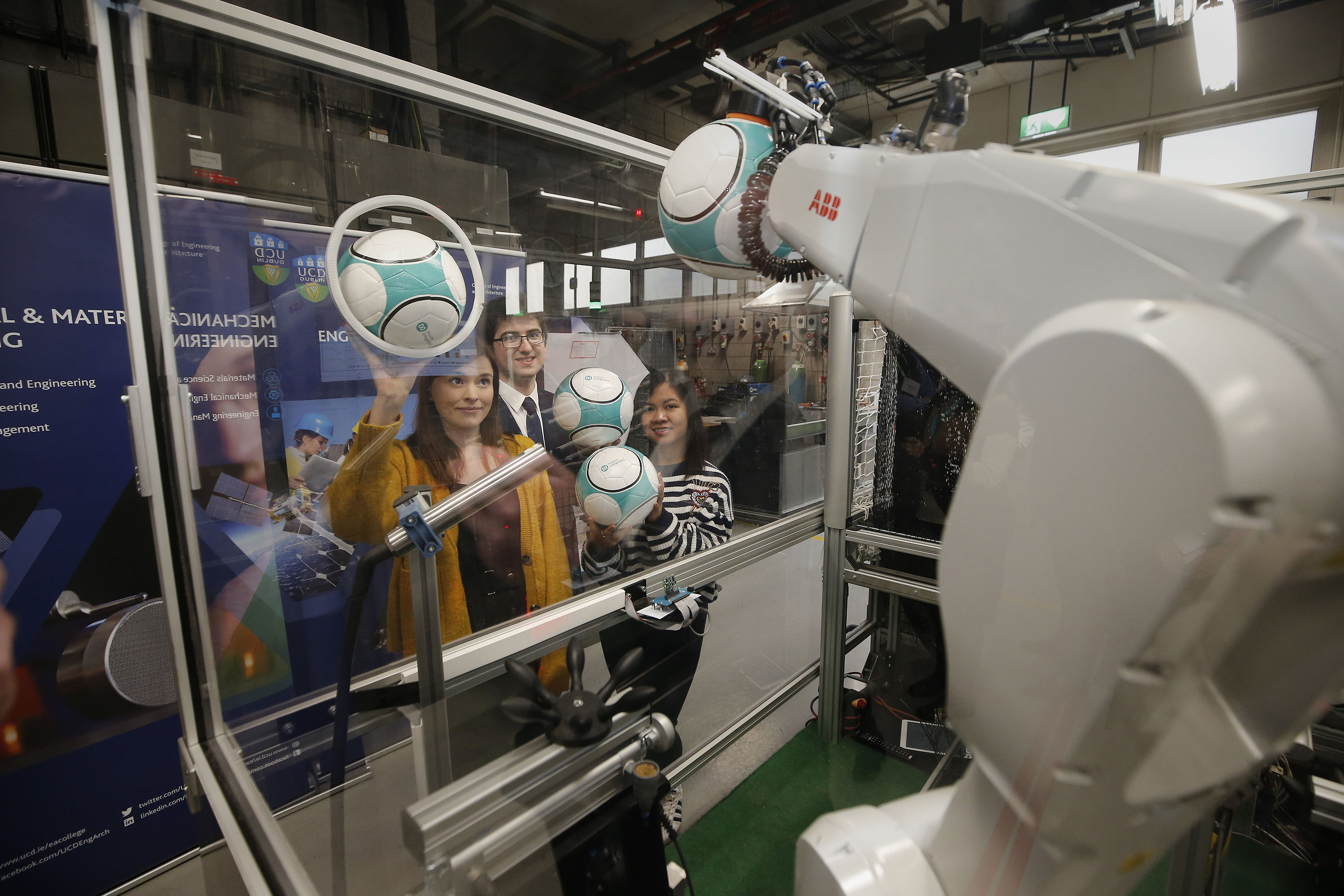 Maxim Donates Unique Robotic Learning Factory to University College Dublin
- Football factory demo to provide engineering students with hands-on experience with Industry 4.0 principles
Engineering students at University College Dublin (UCD) will have the opportunity to gain hands-on experience with Industry 4.0 principles using an automated football factory demo donated to the University by Maxim Integrated Products, Inc. (NASDAQ: MXIM).
The demo integrates several of the company's adaptive manufacturing technologies, including the recently announced Go-IO industrial internet of things (IIoT) reference design.
In a world of rapidly evolving production technologies, the donation to the UCD School of Mechanical and Materials Engineering will help current students and future engineers learn the principles of a smart factory and how to design fully automated and intelligent production equipment with self-diagnostic and adaptive capabilities.
The football factory commences with regulation-size footballs and tests them for weight, air-pressure, bounce height and roundness. The footballs are handled by an industrial robot, and the entire assembly line is controlled wirelessly by an iPad® app.
The demo also showcases the principles of adaptive/flexible manufacturing, where the production system embodies a level of flexibility to react to different environmental conditions, product variations, specification changes or even product options.
Not only is this demo optimised to test size five footballs; it can also be configured on-the-fly to test different-sized footballs, such as size four and size three. When such smaller footballs are inserted at random in the production line, the demo factory identifies the product variation and re-adjusts the different sensor calibrations as well as the robotic software to process the appropriate-sized balls.
Watch a short demo via the video below
"This factory gives UCD students as well as our academic staff, particularly those from mechanical, electrical and control engineering and computer science, the opportunity to experiment and learn how to design future production facilities, which are highly connected, increasingly intelligent and even self-aware," said Professor Denis Dowling, UCD School of Mechanical and Materials Engineering and Director of I-Form, the SFI Advanced Manufacturing Research Centre.
"We are very grateful for this donation in the form of a state-of-the-art production facility in a small format and are pleased to be able to deepen our co-operation with Maxim, which has its European headquarters in Dublin."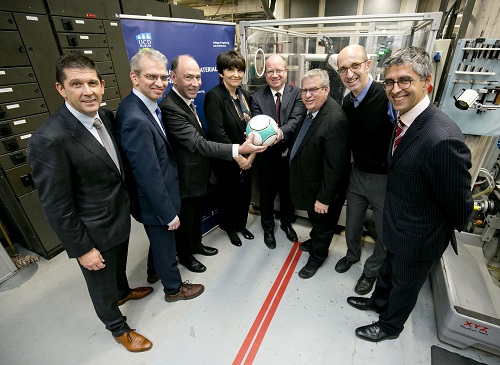 Pictured (l-r) are John Kirwan, Vice-President, Global Customer Operations, Maxim Intergrated, UCD Professors Nikolaos Papakostas and Denis Dowling; Professor Orla Feely, UCD Vice-President for Research, Innovation and Impact; Professor Kenneth Stanton, Head, UCD School, Mechanical and Materials Engineering, Jeff Jeff DeAngelis, Managing Director, Industrial & Healthcare Business Unit, Maxim Integrated, Anders Reisch, Managing Director, Training and Technical Services, Maxim Integrated and Professor Michael Gilchrist
"Our football factory has been pivotal in demonstrating the concepts of Industry 4.0 based on the capabilities of our third-generation industrial factory automation chipset that embodies the Go-IO IIoT reference design, most recently at electronica, the world's leading trade fair for electronics," said Jeff DeAngelis, Managing Director, Industrial & Healthcare Business Unit, at Maxim Integrated.
"We are very happy that we can now pass the factory on to good hands to help educate a new generation of students and prepare them for the technological challenges of the future."
The Go-IO IIoT reference design is the backbone for this digital football factory. It consists of Maxim's new third-generation industrial automation chipset made up of 12 highly integrated ICs, 17 IOs supporting multiple digital IO configurations, a 4-channel IO-Link master to provide a universal IO interface to both analog and digital sensors and a robust 25Mbps isolated RS-485 communications channel that provides a reliable, multi-drop data network for uploading time-sensitive health and status information into the cloud.
The football factory demo epitomises an Industry 4.0 factory that is locally controlled by a programmable logic controller (PLC) reference design driving a host of intelligent sensors that communicate the factory's health and status information to enable real-time decision-making to optimise productivity.
The advantage of having a small, distributed PLC working in conjunction with smart, IO-Link-enabled sensors is that changes in the assembly line can be affected at a local level and in real time.
ENDS
11 December 2018
For further information contact Micéal Whelan, UCD Research and Innovation, University College Dublin, e: miceal.whelan@ucd.ie, t: + 353 1 716 3712, or Solveig Loesch, Maxim Integrated, Senior Manager, EMEA Marketing Communications, e: solveig.loesch@maximintegrated.com, or Catherine Schneider, MEXPERTS AG, e: catherine.schneider@mexperts.de.
Editors Notes
Go-IO pushes intelligence closer to the edge, enabling active monitoring and communication of equipment health and status information as well as higher throughput and productivity. The reference design also meets increasingly stringent size and power requirements of PLCs, providing a 10x smaller solution (one-half the size of a credit card) with 50 percent less power consumption compared to its industry-leading predecessor, the Pocket IO. The flexible, rugged, open-source Go-IO reference design is ideal for industrial automation, building automation and industrial robotics applications. https://www.maximintegrated.com/go-io and http://bit.ly/MaximGoIO_Image
Established in 1854, University College Dublin is Ireland's largest university with over 30,000 students from more than 125 countries worldwide. Founded on the educational principles of its first Rector, John Henry Newman, the university seeks to contribute to the economy and society through the excellence and impact of its research, innovation and scholarship, the quality of its graduates and through its engagement nationally and internationally. www.ucd.ie
Maxim Integrated develops innovative analog and mixed-signal products and technologies to make systems smaller and smarter, with enhanced security and increased energy efficiency. We are empowering design innovation for our automotive, industrial, healthcare, mobile consumer, and cloud data center customers to deliver industry-leading solutions that help change the world. http://www.maximintegrated.com