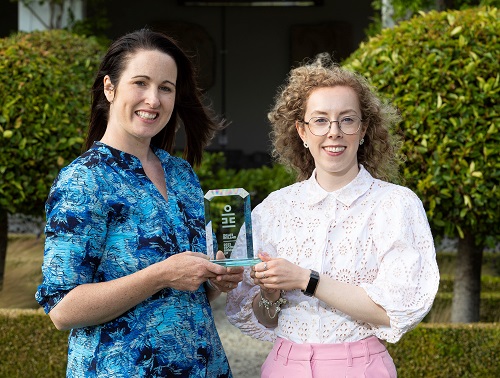 University College Dublin Team Wins an Ideate Ireland Business Competition Award
MetHealth, an emerging University College Dublin (UCD) start-up supported through NovaUCD, has been announced as an award winner at the 2022 IDEATE Ireland business competition, during an event held recently in the US Ambassador's residence.
MetHealth, which received the third placed award, is developing a biomarker-based risk-stratification platform and associated digital health solution that can identify patients with complications of obesity, including heart disease and liver disease, that impacts clinical decision making and enhances delivery of personalised care for the individual.
The members of the MetHealth team are Dr Fiona McGillicuddy and Professor Stephen Pennington, UCD School of Medicine and UCD Conway Institute, Associate Professor Catherine Mooney, UCD School of Computer Science and UCD Conway Institute, Dr Rachel Byrne, UCD School of Medicine, Dr Anna Antoniadi, UCD School of Computer Science and Aleksandra Dudzik, UCD School of Medicine.
MetHealth is an Enterprise Ireland Commercialisation Fund project awarded to Dr Fiona McGillicuddy.
The IDEATE Ireland business plan competition is committed to enhancing cooperation, connection and mutual understanding on the island of Ireland, engaging with all communities and traditions around a shared passion for entrepreneurship and new venture development. IDEATE Ireland seeks to uncover and empower Ireland's next generation of entrepreneurs, helping to turn their brilliant ideas into thriving international businesses. The ten best submissions participated in a ten-week mentoring and support programme.
Claire D. Cronin, US Ambassador to Ireland, said, "I am delighted to celebrate entrepreneurship and innovation from third-level institutions across Ireland. Ireland's start-up ecosystem has a reputation for being diverse and welcoming with an excellent network of supports, incubators, and accelerators that provide mentoring to early-stage companies. The U.S. Embassy looks forward to supporting the IDEATE Ireland awardees with their global ambition and expansion into the United States through our SelectUSA programme."
Dr Fiona McGillicuddy, UCD School of Medicine said, "We are absolutely honoured to have placed third in the Ideate Ireland Competition with our MetHealth project. We really enjoyed the programme and are very thankful to Helen and her team for selecting MetHealth to participate."
Dr Mark O'Sullivan and Dr Alison O'Shea of Neurobell, emerging from the INFANT Research Centre at University College Cork, which is developing a pocket-sized brain monitor with automated seizure detection for new-borns, were announced as the overall winners, winning a €15K prize fund. Using patent-pending electronics and artificial intelligence, the Neurobell technology can be used by all neonatal ICU staff, ensuring timely monitoring and treatment of seizures.
Sarusha Pillay and Dr Fergus McCarthy of pHetalSafe also emerging from the INFANT Research Centre at University College Cork, which seeks to detect and prevent fetal hypoxia and assess fetal well-being during labour, was the first runner-up and won a €7k prize.
Nick Cotter of Cotter Agritech, which has developed a system that uses advanced algorithms to enable farmers to transition from blanket treating animals with antiparasitic drugs to precise applications targeting only animals that need treatment shared third place with MetHealth. The MetHealth and Cotter Agritech teams will split the €5K prize fund between them.
Co-founder of IDEATE Ireland, Helen Fullen said, "The standard of submissions was exceptionally high. We were particularly pleased to note a significant number of female led applications (43%) and growing number originating from Northern Ireland (26%)."
She added, "We also had excellent support from the academic institutions across the country; this year's cohort came from the CeADAR Research Centre, INFANT Research Centre, National University of Ireland Galway, NovaUCD, Queen's University Belfast, Tyndall National Institute, University College Cork, and University of Limerick. Congratulations to all of our finalists and winners. We look forward to continuing to support them on the next stage of their entrepreneurial journey and are proud to add them to our impressive alumni group."
Giyst, an emerging AI start-up from CeADAR, Ireland's Centre for Applied AI at UCD, also took part in the competition. Giyst is developing a novel automated video summarisation engine which can instantly transform a 50-minute lecture, speech or training module into a 5-minute video of the essential information. The members of the Giyst team are Avril Power and Colm Murphy.
ENDS
4 July 2022
For further information contact Micéal Whelan, Communications and Media Relations Manager, NovaUCD, e: miceal.whelan@ucd.ie.
Editors Notes
The IDEATE Ireland initiative is building on the Ireland Funds Business Plan Competition (BPC) which helped develop entrepreneurial skills and innovative ideas among early-stage, student entrepreneurs. Since its founding in 2011 by The Ireland Funds Board Director Bill McKiernan, 276 people from academic institutions throughout the island of Ireland have participated in the programme. 60% of participating teams have formed viable businesses, creating 300+ jobs.
Co-founder Helen Fullen is joined in the IDEATE Ireland initiative by Co-Founders David Moffitt, Danny Moore, Options Technology, Cian O'Flaherty, Safecility and Bill McKiernan, WSM Capital. With extensive entrepreneurial backgrounds, all are firm believers in the importance of risk-taking and the ability of business ideas to bring about positive change. https://ideateireland.ie/