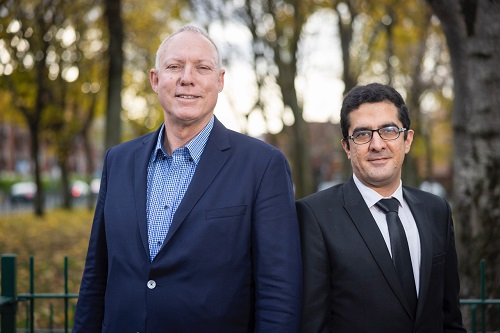 NanobOx Closes €900k Funding Round
- Novel nanobubble technology dissolves gases in water using a fraction of the energy consumed by conventional methods
NanobOx, a University College Dublin (UCD) spin-out company, has closed a €900,000 funding round from a consortium of Irish venture capital investors led by The Yield Lab, with participation from DeepIE Ventures and Growing Capital.
NanobOx has developed novel, patented technology that adds gases such as oxygen, ozone and carbon dioxide to water using nanobubbles. Bubbles are used in a wide range of industries to dissolve gases in water. The smaller the bubbles, the better they are at transferring the gas to the water, but the more expensive they are to generate.
This funding will see the company complete field trials in agriculture and aquaculture, with the aim of going to market in 2024.
"Our revolutionary nanobubble technology generates nanobubbles using a low-voltage electric field that has no moving parts," said CEO, Dr John Favier, co-founder of NanobOx with Dr Mohammad Reza Ghaani, who co-developed the technology while at UCD and who is currently a Professor of Engineering at Trinity College Dublin.
"It requires less energy than it takes to power a lightbulb, in contrast with competing methods of nanobubble production that consume hundreds of watts of power."
A particular focus for NanobOx is using its technology to add oxygen to water using only ambient air.
"We uniquely generate nanobubbles from air that are enriched with oxygen, providing an oxygen-transfer efficiency of 90%, compared to less than 20% using conventional aeration," added Dr Favier. "Our first-generation products are being designed under exclusive licence from UCD for use in agriculture and aquaculture to increase crop yield and reduce input costs. Nanobubbles carry nutrients and oxygen in irrigation water to plant roots, accelerating crop growth and reducing the amount of fertiliser needed."
In aquaculture, NanobOx aims to radically cut the cost of oxygenation, as well as enhancing fish health and boosting growth rate, he continued.
"NanobOx technology can be deployed to significantly reduce energy costs and enhance performance in any bioprocess requiring addition of oxygen to process water, including wastewater treatment, industrial bioreactors and environmental remediation."
Field trials of the novel nanobubble aeration technology are under way with multinational fruit and vegetable producers Dole plc, Dutch horticulture experts Delphy, and Irish nutraceutical and ornamental plant specialists Beotanics and Fitzgerald Nurseries.
Ireland's Goatsbridge Trout Farm and Connemara Abalone shellfish farm will investigate how the aquaculture sector can maximise benefits of the technology.
NanobOx was the winner of Enterprise Ireland's Big Ideas 'One to Watch' award in 2022. It has been recognised by Bord na Móna in its Accelerate Green programme, as one of a cohort of early-stage companies in Ireland bringing innovative sustainable technologies to the market, with potential to have a major impact globally.
ENDS
6 October 2023
For more information contact Dr John Favier, CEO, NanobOx e: info@nanobox.ie.
Editors Notes
NanobOx is a spin-out from University College Dublin (UCD), where the novel 'electrostriction' method of generating nanobubbles was discovered and devices first prototyped and tested. NanobOx is focused on generation of nanobubbles from source gases air, oxygen and ozone. It is initially developing nanobubble-generation solutions for oxygenation of water and wastewater, nutrient capture, transport and delivery, suppression of pathogens and biofilm, and cleaning and sanitation of pipelines, tanks and process equipment in the fields of agriculture and aquaculture. www.nanobox.ie