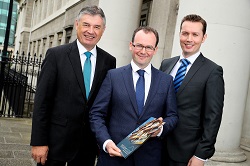 New €150 million Fund Planned to Finance the Construction of 2,500 Irish Homes
Irish fintech entrepreneur, Padraig W. Rushe, has announced that he is planning to launch a new €150 million Senior Credit Fund within the next 3 months. The Fund will specialise in financing residential property developments, funding the construction of over 2,500 new family homes, in high-demand areas across Ireland, over the next 5 years.
The Fund, which will target an annual return of 7 to 7.5 percent and has already secured backing from Abbey International Finance, which will invest up to €20 million in the Fund. The Davy group will provide regulatory and investment management services to the Fund, which is expected to be a sub-fund of The Davy Platform ICAV umbrella fund structure.
Padraig W. Rushe is the CEO and co-founder of Initiative Ireland, which specialises in syndicated property finance. The company will provide investment advisory services to the new Fund in addition to Loan Management Services. It will also enable the Fund to lend alongside its existing private and corporate clients, via the company's syndicated finance platform.
Initiative Ireland already has an existing loan pipeline in excess of €150 million, comprised of over 30 housing developments in high-demand areas around Ireland.
Padraig W. Rushe, CEO, Initiative Ireland said, "We will be marketing the opportunity both in Ireland and across Europe, to pension fund managers, large institutional investors and family offices alike. It will also open to qualified investors in Ireland subject to a regulatory minimum investment of €100,000."
He added,"One of Initiative Ireland's core objectives is to promote financial inclusion. As such, investors who cannot commit the required amount for the fund will still be able to open Private Lending Accounts or Corporate Lending Accounts with InitiativeIreland.ie to access the underlying secured asset class, directly lending alongside the fund at smaller amounts."
Initiative Ireland, a University College Dublin (UCD) spin-in company headquartered at NovaUCD, the Centre for New Ventures and Entrepreneurs, was co-founded in 2015 by Padraig W. Rushe, CEO; Padraig M. Rushe, CCO and Rory McEntee, COO.
The company is supported by Enterprise Ireland as a High-Potential Start-Up.
ENDS
17 July 2018
For further information contact Micéal Whelan, Communications Manager, UCD Research and Innovation, e: miceal.whelan@ucd.ie, t: + 353 1 716 3712 or Padraig W. Rushe, CEO, Initiative Ireland, e: finance@InitiativeIreland.com or t:+353 1 685 9259.
Editors Notes
Initiative Ireland, which is privately owned by Irish investors, enables private individuals and institutional clients to finance secured loans, leveraging the firm's financial technology platform, to form online lending syndicates. Thereafter Initiative Ireland's experienced team performs due diligence on all loans, facilitates the syndication and management of the loans and engages and works with a panel of trusted professional and legal partners, to provide end-to-end loan management services. By combining peer-to-peer technology with secured property-backed finance, Initiative Ireland is unique in the Irish Market. www.initiativeireland.ie
At NovaUCD, the hub for new ventures and entrepreneurs at University College Dublin, we nurture and support new high-tech and knowledge-intensive companies such as Initiative Ireland. At NovaUCD we provide purpose-built, state-of-the-art incubation facilities alongside a comprehensive business support programme for our client companies. NovaUCD has been funded through a unique public-private partnership that includes AIB Bank, Arthur Cox, Deloitte, Enterprise Ireland, Ericsson, Goodbody Stockbrokers, UCD and Xilinx. www.ucd.ie/novaucd
The Davy group is one of Ireland's leading financial services groups, providing a broad range of services to institutional investors, corporations and private clients. The group was established in 1926 and has evolved to include core businesses of wealth and asset management, capital markets, corporate finance and research. The Davy group has offices in Ireland and the UK and employs in excess of 670 professionals. It has assets under management of circa €14.5 billion (as of March 2017). The group is a full service manager of private and institutional financial assets and an active participant in equity and debt capital markets. www.davy.ie.