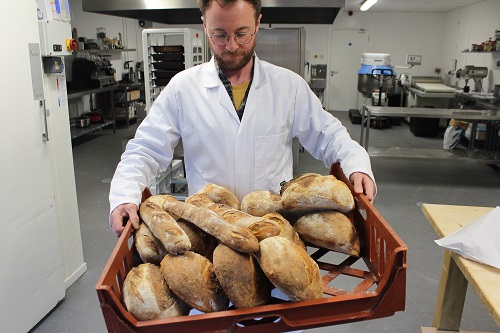 Irish AgTech Start-Up Selected for Global Accelerator Programme by Big Idea Ventures
- Niskus Biotec only Irish start-up selected for programme running in Paris, New York and Singapore
- Niskus Biotec receives pre-seed investment package of US$200,000
Big Idea Ventures, a global leader in early-stage investments in the alternative protein sector, revealed its latest cohort today.
Seventeen (17) early-stage start-ups, including Ireland's Niskus Biotec, were selected for pre-seed investment packages of US$200,000 each as part of Big Idea Ventures' bi-annual new protein accelerator programme. Investments were made through the firm's three offices in Paris, New York and Singapore and the firm's first fund - New Protein Fund I ($50M+ AUM).
Through this fund, Big Idea Ventures is trying to address one of the biggest challenges for the future, feeding the world sustainably. The alternative protein industry can significantly contribute to solving challenges, such as food security and environmental consequences of climate change, by making quality protein cheaper and more readily available, and by moving the end-to-end production process to local communities.
Niskus Biotec is the only Irish start-up among the 17 selected start-ups and is taking part in Big Idea Ventures' Paris accelerator programme along with 5 other start-ups, from Germany, Iceland and the UK. Niskus Biotec is creating a new generation of sustainable functional food ingredients that are nutritious, healthy and natural.
The company's first ingredient product range is MycoGrain, a gourmet mushroom mycelium-based protein rich flour suitable to use as a base ingredient for a broad range of food products. It can be tailored to provide additional taste, texture, aroma, and nutraceuticals by changing the mushroom species in the fermenter.
Niskus Biotec, which recently established a production facility at the Ballybay Food Enterprise Hub in Co. Monaghan, was founded by Vincent Farrelly, Dr Alejandra Omarini and Dr Tony Callaghan.
Vincent Farrelly, CEO and co-founder, Niskus Biotec, said, "We are delighted to have been selected for the Big Idea Ventures Accelerator, the support from their team is helping us forge strong collaborations with food companies and connections with food tech investors around the globe."
In January Niskus Biotec completed the inaugural 12-week AgTechUCD Agccelerator Programme for early-stage AgTech and Agri-food start-ups with global potential. AgTechUCD is focused on promoting and accelerating the launch and scaling of start-ups and SMEs, with disruptive innovations in Ireland and Europe, in the AgTech, Agri-food and VetTech sectors, as they build their innovative businesses into leading companies on the global stage.
AgTechUCD, based at UCD Lyons Farm and part of NovaUCD, has been funded through the Regional Enterprise Development Fund administered by Enterprise Ireland.
This summer Niskus Biotec was also among the 61 high-impact agrifood start-ups from across Europe selected to join the EIT Food Acceleration Network (EIT FAN) and the company is currently taking part in the EIT FAN programme in Reading and in Cambridge, UK.
ENDS
4 October 2022
For further information contact Micéal Whelan, Communications and Media Relations Manager, NovaUCD, e: miceal.whelan@ucd.ie or Olivia Chavassieu Martin, Big Idea Ventures, e: olivia.chavassieu@bigideaventures.com or Shruti Azad, Big Idea Ventures, shrutiazad@bigideaadventures.com.
Editors Notes
Niskus Biotec is transforming agrifood biomass into high value products. http://niskusbiotec.com/
Big Idea Ventures is a venture firm focused on solving the world's greatest challenges by backing the world's best entrepreneurs, scientists and engineers. Through its three funds - the New Protein Fund, the Generation Food Rural Partners fund and the Strategic Opportunities fund - Big Idea Ventures invests in the best food, food technology and agritech companies globally. The firm has offices in New York, Paris and Singapore and has already invested in more than 100 companies across 22 countries. www.bigideaventures.com
With the New Protein Fund (NPF), Big Idea Ventures invests in the best plant-based, cell-based and fermentation-enabled food, ingredient and technology companies. NPF I is backed by leading food corporations including AAK, Avril, Bel, Bühler, Givaudan, Meiji, Temasek Holdings, and Tyson Foods. NPF II will be available in Q4 2022.