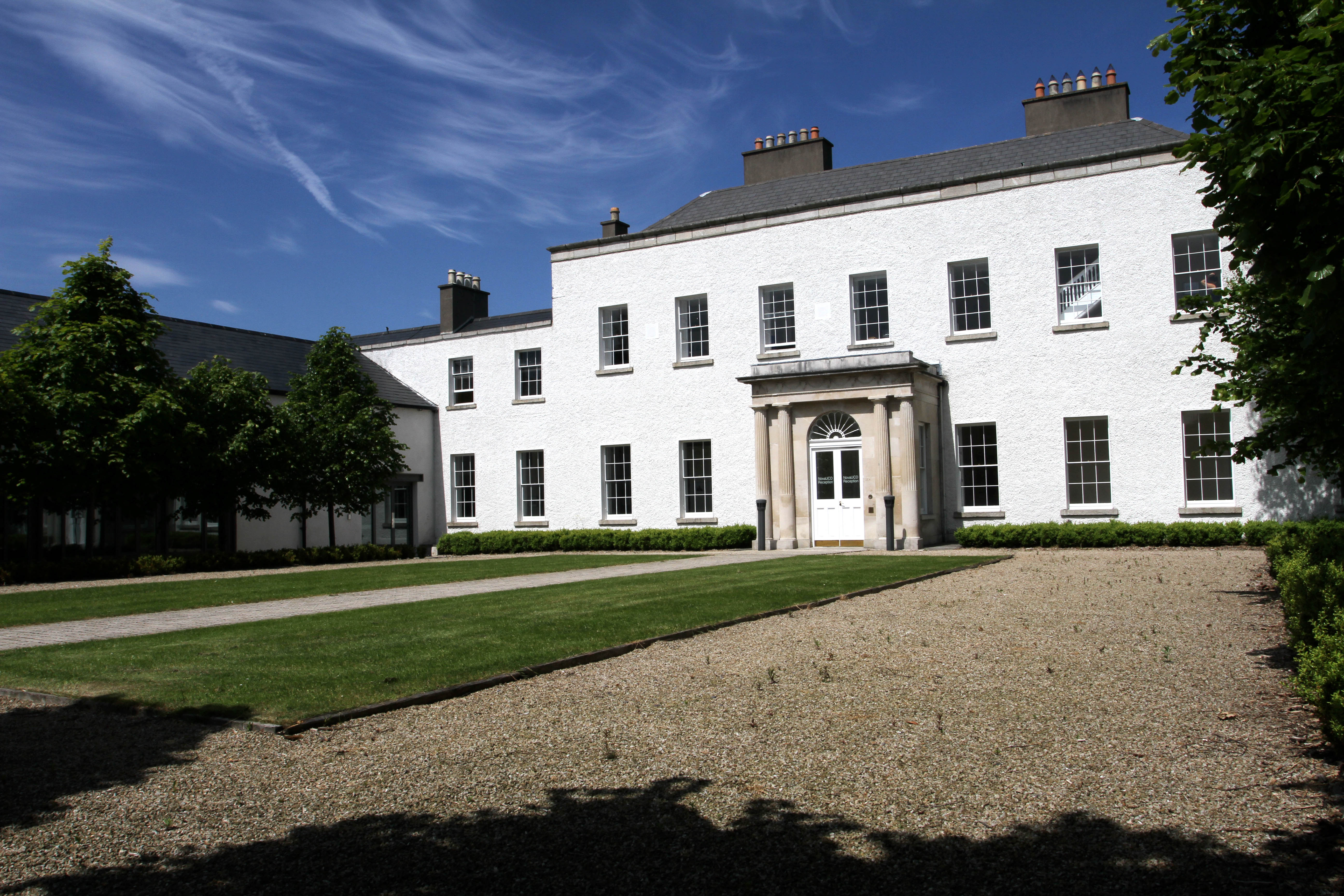 Startup Boost Ireland Announces NovaUCD as an Ecosystem Partner
Startup Boost Ireland today announced NovaUCD, the Centre for New Ventures and Entrepreneurs at University College Dublin (UCD), as an ecosystem partner for its Autumn program which commences later this month.
Startup Boost Ireland, part of the global Startup Boost initiative, is a mentor-driven pre-acceleration program for early-stage tech start-ups that runs over a 6-week period. The goal of the program is to prepare startups for accelerators, investors and/or revenue by providing pitch coaching and mentorship during the program as well as connections after the program.
Since 2017 Startup Boost has had over 2900 applications to its global programs and the 200 startups selected to attend these programs have now gone on to raise $50m+ in investment. Programs are based in Europe, North America, Canada and most recently Africa and encompass 12 locations around the world.
Gene Murphy, founding member of Startup Boost said, "Startup Boost Ireland is delighted to welcome NovaUCD as an ecosystem partner to the Autumn 2020 Program. By collaborating around our shared mission of supporting promising startups to achieve next level growth, NovaUCD and Startup Boost intend to create more meaningful commercial outcomes for our early innovators from across Ireland."
Tom Flanagan, UCD Director of Enterprise and Commercialisation said, "NovaUCD as a hub for high-tech start-ups is thrilled to be a partner in this year's Startup Boost Ireland program. This excellent program prepares early-stage start-ups for the next steps on their entrepreneurial journey as they develop and grow to achieve their global potential."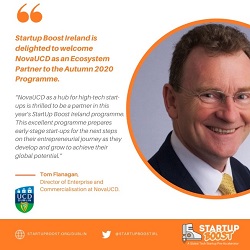 The application process is currently open for the Startup Boost Ireland Autumn 2020 program. Between six and eight pre-seed/seed stage tech teams will be selected to take part in this 6-week online program which commences on 29 September.
Prerequisites include a comprehensive business model, a minimum viable product (MVP), and market validation or traction. Working in tandem with keynote speakers, the Startup Boost Ireland Directors offer industry insights alongside hands-on mentorship, guidance, validation and the necessary resources for building traction.
Startups accepted into the program are not charged any fees and have no equity taken.
"Innovation is core to our nation's economic success, particularly today. Startup Boost Ireland delivers a powerful 6-week program to prepare early stage startups for an accelerator and investment, providing a critical bridge to their next level growth," said Suzanne Mills, Co-Director, Startup Boost Ireland.
Concluding with a global demo day, this year's Autumn 2020 participants will gain exposure to potential new sales leads, and the opportunity to pitch and connect directly with investors and accelerator directors.
Companies also get promoted to investors globally through the Startup Boost virtual demo day which occurs 6 weeks after their program and allows investors from around the world view their pitches online for a limited two-day period. Startup Boost alumni will be part of a growing global network globally.
Applications are now open to all pre-seed/seed stage startups for Startup Boost Ireland program at http://startupboost.org/ireland with a closing date of 16 September.
ENDS
7 September 2020
For further information contact Micéal Whelan, Communications and Media Relations Manager, UCD Research and Innovation, NovaUCD, e: miceal.whelan@ucd.ie, t: + 353 1 716 3712 or Gene Murphy, Startup Boost Ireland, e: gene@startupboost.org.
Editors Notes
Over the past 3 years Startup Boost has had 2900 applications, grown to 12 locations with 26 programs thanks to amazing city leaders who have pre-accelerated 200+ startups with 50% of these companies going on to top tier accelerators and raising over $50m to date. http://startupboost.org/
At NovaUCD, the hub for new ventures and entrepreneurs at University College Dublin, we nurture and support new high-tech companies as part of UCD's mission. At NovaUCD we provide purpose-built, state-of-the-art incubation facilities alongside a comprehensive business support programme for client companies. NovaUCD has been funded through a unique public-private partnership that includes AIB Bank, Arthur Cox, Deloitte, Enterprise Ireland, Ericsson, Goodbody Stockbrokers, UCD and Xilinx. www.novaucd.ie