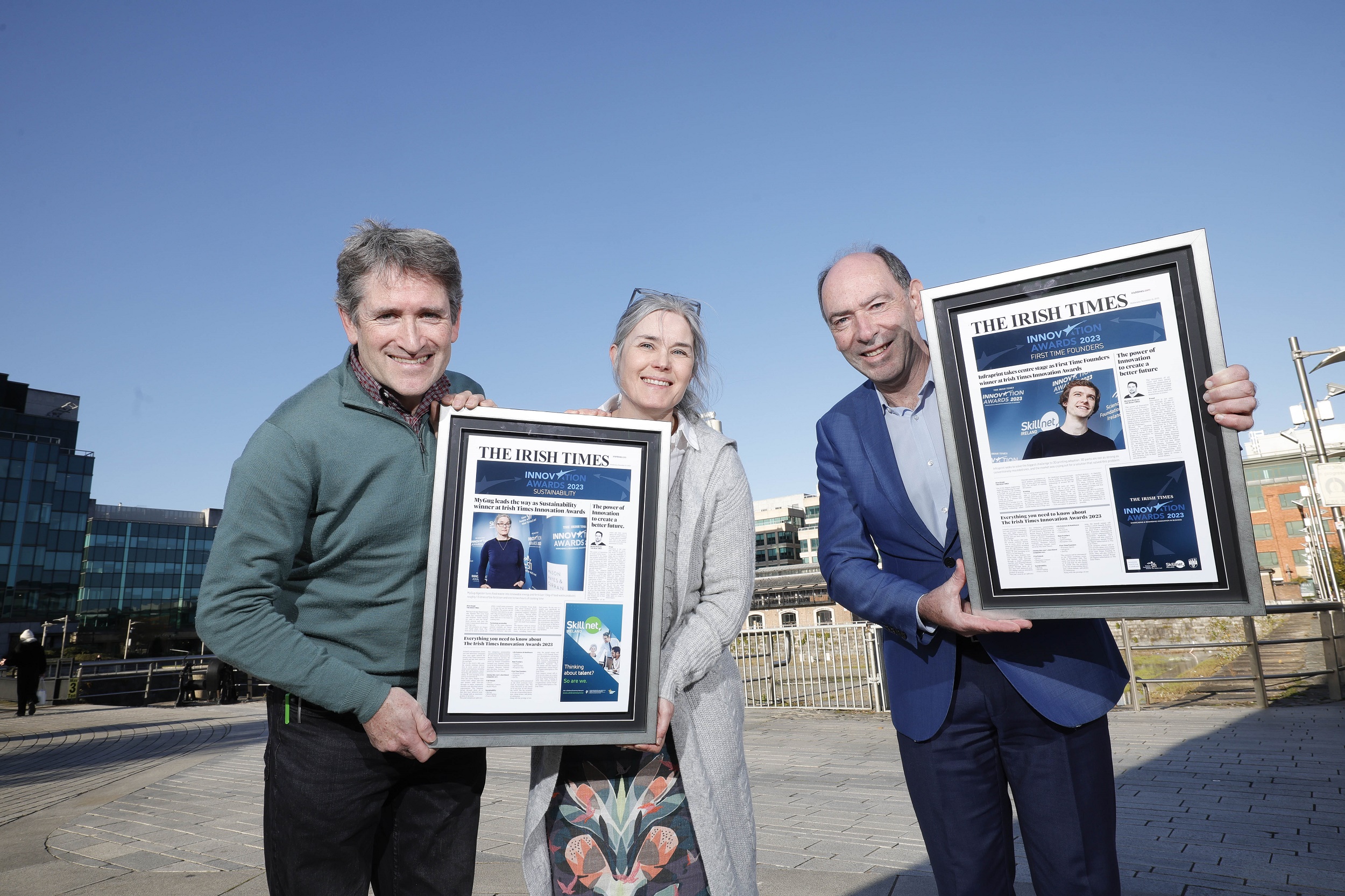 Success of NovaUCD Supported Start-ups at 2023 Irish Times Innovation Awards
Two University College Dublin (UCD) supported start-ups, Infraprint and MyGug have won Awards at the 2023 Irish Times Innovation Awards, which are now in their 14th year.
Infraprint, a spin-out from the UCD School of Mechanical and Materials Engineering, which is headquartered at NovaUCD, and which was co-founded by Dr Andrew Dickson and Professor Denis Dowling, won the First Time Founder Award, sponsored by the Irish Times.
One of the biggest engineering challenges hampering the wide-scale adoption of 3D printing is that 3D parts are not as strong as conventionally moulded ones. To address this issue Dr Dickson has developed a powerful technology called TRAAM (thermal radiation assisted additive manufacturing) that can print parts with almost twice the strength of existing 3D systems.
Dr Dickson developed TRAAM over a two-year period with the support of Professor Dowling with funding from Enterprise Ireland.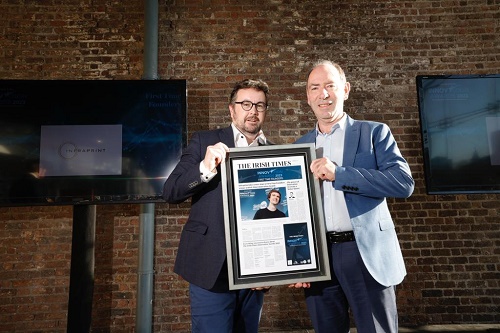 Michael McAleer, Innovation Editor, Irish Times and Professor Denis Dowling, co-founder, Infraprint
(Image - Conor McCabe Photography)
Infraprint, which completed the 2022 UCD VentureLaunch Accelerator Programme run by NovaUCD, offers its technology as a service to customers and conducts trials using their designs and materials with a view to transitioning them to 3D printing as seamlessly as possible.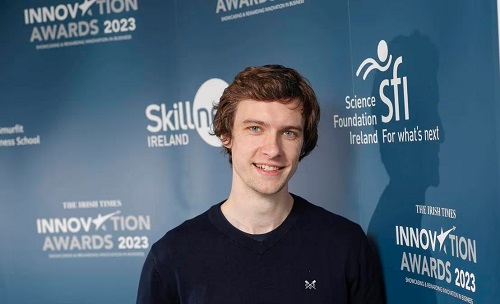 Dr Andrew Dickson, co-founder, Infraprint
(Image - Conor McCabe Photography)
MyGug based in Clonakilty, Co. Cork, and which was co-founded by Kieran Coffey and Fiona Kelleher, won the Sustainability Award, sponsored by Skillnet Ireland. MyGug is an egg-shaped anaerobic digester that turns food waste into renewable energy and fertiliser. Dried bacteria are used to start the breakdown process and once the waste is macerated it flows into a storage tank.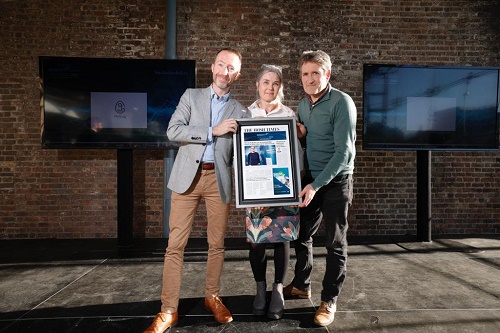 Eoin Mc Donnell, Head of Strategic Programmes, Skillnet Ireland with Fiona Kelleher and Kieran Coffey, co-founders, MyGug
(Image - Conor McCabe Photography)
The end products are biogas and liquid plant feed. The feed can be used to enrich soil while a small pump pressurises the gas for use for heating or cooking. The system can be remotely controlled by an app, and 1.5kg of food waste produces roughly 1.5L of bio fertiliser and one to two hours of cooking time.
Earlier this year MyGug completed the second AgTechUCD Agccelerator Programme, and was named the AIB and Yield Lab AgTech Start-up 2023 at the end of the programme.
The focus of the AgTechUCD Innovation Centre which runs the annual agccelerator programme is to promote and accelerate early-stage start-ups and SMEs with disruptive innovations in the agri, agtech, agrifood and veterinary sectors, as they build their innovative businesses into leading enterprises creating jobs. The AgTechUCD Innovation Centre, the first and only on-farm workspace hub in Ireland, is part of NovaUCD, and provides clients with preferred access to on-farm experimental facilities, allowing testing and trialing of products and services in the real-world environment at UCD Lyons Farm.
MyGug has been supported to date with funding from LEO Cork North and West and Enterprise Ireland.
Orreco was named the overall winner of the 2023 The Irish Times Innovation of the Year Award. The Galway-based sports data company uses machine learning and data analytics to monitor the health of sportspeople, helping to accelerate recovery and prolong careers. The company also won the IT and Fintech Award category, sponsored by Mason, Hayes and Curran.
The New Frontiers Award category, sponsored by the UCD Michael Smurfit Graduate Business School, was won by AI Mapit, a spin-out from ADAPT, the SFI Research Centre for AI-Driven Digital Content Technology. The company's AI and geotagging technology can pinpoint assets to within two metres, revolutionising how this roadside infrastructure is managed.
The Life Sciences Award category, sponsored by Science Foundation Ireland, was won by another Galway-based company, Genicity which has developed a cancer treatment platform to deliver a safe, affordable, and off-the-shelf allogenic cell therapy.
The 15 selected finalists recently pitched their innovations to a final-round judging panel which was chaired by entrepreneur, investor and Irish Times columnist Chris Horn.
ENDS
15 November 2023
For further information contact Micéal Whelan, Communications and Media Relations Manager, UCD Research and Innovation, e: miceal.whelan@ucd.ie