University College Dublin's Professor Orla Feely Inaugurated as 129th President of Engineers Ireland
- Professor Edmond Harty appointed to the role of Vice-President
Professor Orla Feely, UCD Vice-President for Research, Innovation and Impact and a Professor of Electronic Engineering, has been inaugurated as the 129th President of Engineers Ireland at the professional membership body's AGM, which was held (virtually) today.
Engineers Ireland is the statutory and regulatory body for all disciplines of professional engineering in Ireland and the sole authority to award the registered professional title of Chartered Engineer within the Republic of Ireland. It is one of the longest established professional bodies in the country and also has branches in GB and in Australia/New Zealand.
Professor Feely holds a BE degree from University College Dublin (UCD) and MS and PhD degrees from the University of California, (UC) Berkeley, where her PhD thesis won the David J Sakrison Memorial Prize for outstanding and innovative research. While at UC Berkeley, she also won the Outstanding Graduate Student Instructor Award. Her research is in the area of nonlinear circuits and systems, and she has been awarded research grants and prizes from a number of national, international and industry sources.
Professor Feely is a Member of the Royal Irish Academy and a Fellow of the IEEE (Institute of Electrical and Electronics Engineers), Engineers Ireland and the Irish Academy of Engineering.
She has served as Chair of the Irish Research Council, the EU Advisory Group on Marie Skłodowska-Curie Actions, and the IEEE Technical Committee on Nonlinear Circuits and Systems, and as a member of a number of Editorial Boards. She is a director of the BT Young Scientist and Technology Exhibition and Deputy Chair of the Higher Education Authority. She became a Fellow of Engineers Ireland by Presidential invitation in 2012.
Inaugurated as Vice-President of Engineers Ireland in 2019, Professor Feely will now hold the position of President for the organisation's 2021/2022 session.
Professor Orla Feely said, "Engineering is at the heart of society and central to innovation, enterprise and economic growth. The pandemic has demonstrated our collective resilience and our ability to engineer dramatic changes for the good of society. As we progress towards recovery, I am honoured to be President of this Institution's broad and creative community of over 25,000 member-engineers. I look forward to working with and for our engineering community as we innovate to deliver creative and sustainable solutions for society at this critical time and to pursue a green and digital recovery."
Professor Feely also mentioned that she was looking forward to working with Engineers Ireland's Director General, Caroline Spillane, and staff, in supporting the implementation of the Institution's Statement of Strategic Intent 2021-2023. The statement was launched by An Taoiseach Micheál Martin TD in January.
Also inaugurated to the role of Vice-President at the professional membership body's AGM was Professor Edmond Harty, Adjunct Full Professor at the UCD School of Biosystems and Food Engineering and Chair of the Board of Directors of AgriTech Centre of Excellence, a Governor of the Irish Times Trust, and the Chair Board of Governors at Pallaskenry Agricultural College.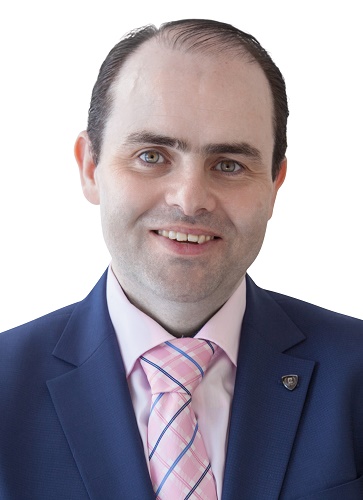 Professor Edmond Harty, Vice-President, Engineers Ireland
With a Mechanical Engineering degree from University of Limerick and a PhD in Biosystems Engineering from UCD, Professor Harty is regarded as one of the world's pioneers in agricultural technology. He has a track record of combining leading research with successful commercialisation of the resulting intellectual property. He has filed over 100 patent applications and developed a multi-disciplinary innovation focused company of almost 400 people with operations in five countries.
Professor Harty said, "Engineering changes our world and the evolving nature of technology is the central force behind the transformation of the business industry. I am honoured to be elected as Vice-President of Engineers Ireland. I look forward to working with President Orla Feely, staff and the wider membership as we leverage the talent of our engineering community and navigate the pathway to Ireland's economic recovery."
ENDS
3 June 2021
For more information contact Micéal Whelan, Communications and Media Relations Manager, UCD Research and Innovation, NovaUCD, e: miceal.whelan@ucd.ie or Anne-Marie Clarke, Engineers Ireland, e: aclarke@engineersireland.ie
Editors Notes
With over 25,000 members, Engineers Ireland is the voice of the engineering profession in Ireland. Engineers Ireland was established in 1835 making the organisation one of the oldest and largest professional bodies in the country. Members come from every discipline of engineering and range from engineering students to fellows of the profession. www.engineersireland.ie.