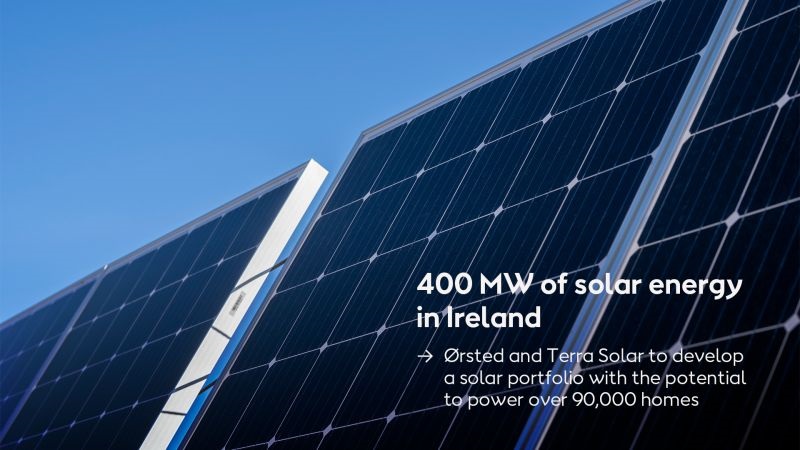 Ørsted and Terra Solar Team up to Develop 400MW Portfolio of Solar Energy in Ireland
Today, leading global renewable energy company Ørsted has announced the development of a portfolio of Irish solar projects in a partnership with renewable energy developer Terra Solar, headquartered at NovaUCD in Dublin. With a capacity of up to 400 MW, the projects have the potential to power over 90,000 Irish homes.
This latest partnership brings further momentum to Ørsted's solar pipeline in Ireland which now totals over 600 MW.
Subject to grid route consent and a grid offer, the portfolio of projects announced today are targeted for completion in advance of 2030, in line with the Irish government's 8 GW Climate Action Plan solar energy target.
The renewable electricity produced by the solar farm portfolio has several potential routes to market including future RESS auctions and corporate power purchase agreements.
The Irish investment follows Ørsted's entry into the UK solar market announced only last week with the development of a proposed 740 MW solar farm and associated battery storage in Nottinghamshire.
"We are delighted to extend our existing collaboration with Terra Solar on the development of these projects which will contribute to Ørsted's global goal of 17.5GW of onshore renewables by 2030," said TJ Hunter, Senior Director, Development & Operations in UK & Ireland at Ørsted.
"Solar energy is an essential component for enabling the Irish power system to run entirely on green energy. Ireland has seen several amber alerts on warm summer days with low wind speeds, the cost of electricity is too high due to over-reliance on fossil fuel, and the carbon intensity of Ireland's electricity is among the highest in Europe. To solve these issues and reduce our reliance on fossil fuels, we need to grow solar energy in parallel with onshore wind, offshore wind, and energy storage," he added.
André Fernon, Director at Terra Solar, said, "Terra Solar is delighted to be working in partnership with Ørsted on the development of the solar projects announced today. With a combined capacity of up to 400 MW, this partnership will contribute significantly to Ireland's low-carbon future, strengthen our indigenous energy supply, and ensure competitively priced green electricity for Irish consumers."
Ørsted currently operates 378 MW of onshore wind across the island of Ireland, producing enough power for over 230,000 homes. Ørsted currently has two Irish solar projects in development, and earlier this year, the company announced a partnership with ESB to jointly develop an Irish offshore wind portfolio.
Ranked as one of the world's most sustainable energy companies, Ørsted has over 5.7 GW of onshore renewables in operation, under construction or consented across the United States and Europe. Ørsted's Irish headquarters are based in Cork City, where it employs over 100 people.
ENDS
18 September 2023
For further information, contact Sarah Thatt Foley, Public Affairs and Communications Lead, Orsted, e: sarfo@orsted.com or Micéal Whelan, Communications and Media Relations Manager, UCD Research and Innovation, NovaUCD, e: miceal.whelan@ucd.ie
Editors Notes
The Ørsted vision is a world that runs entirely on green energy. Ørsted develops, constructs, and operates offshore and onshore wind farms, solar farms, energy storage facilities, renewable hydrogen and green fuels facilities, and bioenergy plants. Ørsted is recognised on the CDP Climate Change A List as a global leader on climate action and was the first energy company in the world to have its science-based net-zero emissions target validated by the Science Based Targets initiative (SBTi). Headquartered in Denmark, Ørsted employs approx. 8,000 people. Ørsted's shares are listed on Nasdaq Copenhagen (Orsted). In 2022, the group's revenue was DKK 132.3 billion (EUR 17.8 billion).