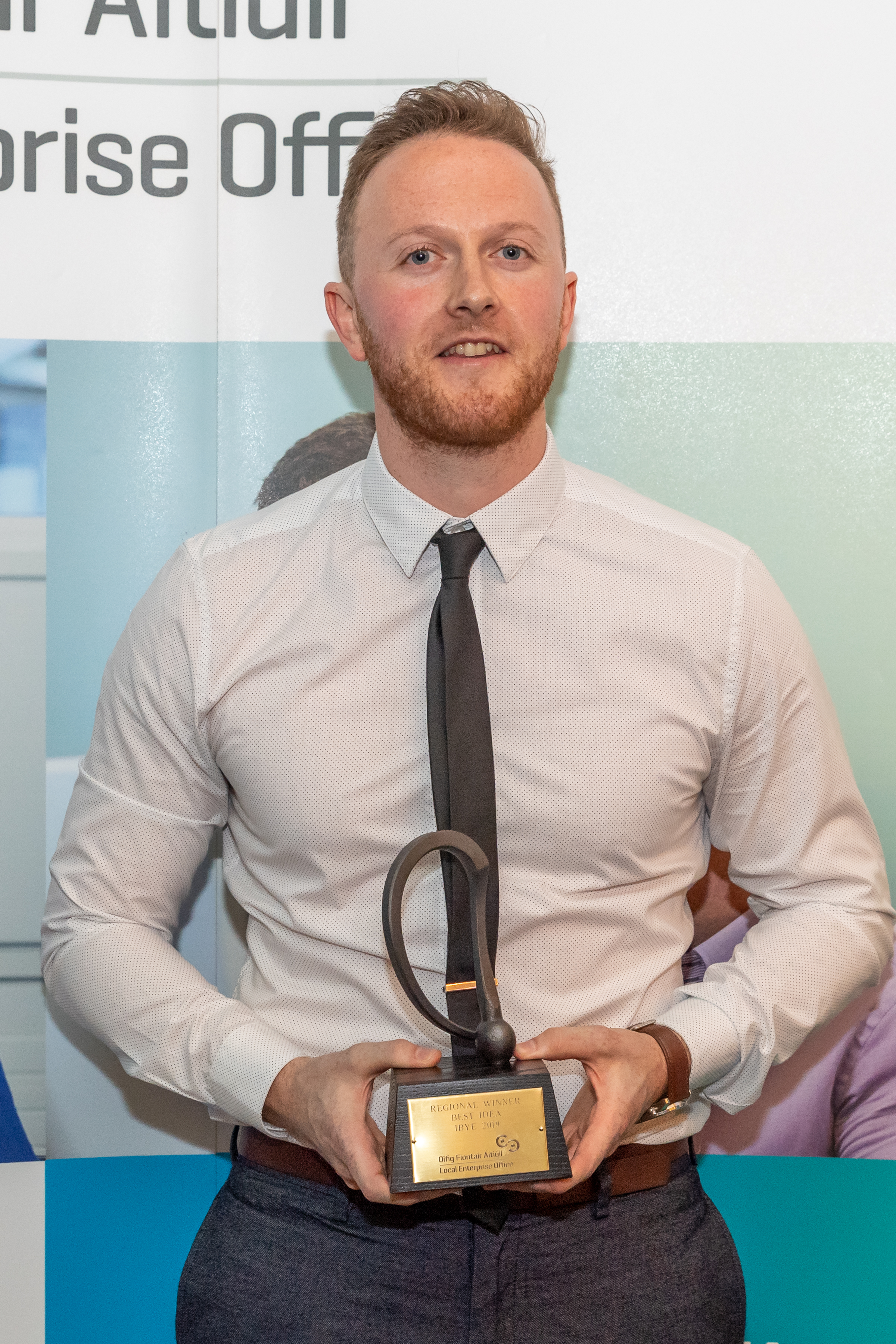 Output Sports' CEO Wins a Dublin Regional Award in Ireland's Best Young Entrepreneur Competition
Dr Martin O'Reilly, co-founder and CEO of Output Sports, a University College Dublin (UCD) spin-out company, has won a Dublin Regional Award as part of the 2019 Ireland's Best Young Entrepreneur (IBYE) competition.
Representing the Dún Laoghaire-Rathdown Local Enterprise Office (LEO) Martin won the Best Business Idea category and now goes forward to the National IBYE Final which takes place in Dublin in September.
Output Sports, which is headquartered at NovaUCD, shrink lab-grade athlete performance analytics into a wearable system so coaches can truly understand athletes and optimise their performance.
Output Sports is an end-to-end system designed to streamline the off-field athlete performance optimisation process. It is capable of testing an athlete's performance profile, such as strength, power, balance, speed and mobility, and tracks their exercise programmes. This is completed using off the shelf wearable sensors and applying sophisticated signal processing and machine learning applications to the sensor data.
Output Sports, a spin-out from the UCD School of Public Health, Physiotherapy and Sports Science, was founded by Dr Martin O'Reilly, Dr Darragh Whelan, Julian Eberle and Professor Brian Caulfield, based on research they carried out at the Science Foundation Ireland funded Insight Centre for Data Analytics at UCD.
Dr Martin O'Reilly, co-founder and CEO, Output Sports said, "I am delighted to have won the Best Business Idea Award at the Dublin Regional Final of the 2019 Ireland's Best Young Entrepreneur competition, representing Dún Laoghaire-Rathdown."
"It is a very exciting time for Output Sports at present as we progress through our seed fundraising process and prepare to trial our V2 prototype with some world-leading sports teams over the coming months."
"I now look forward to taking part in the IBYE National final in September and launching Output's first product soon thereafter."
The IBYE is a programme run by the 31 Local Enterprise Offices (LEOs) with the support of the Department of Business, Enterprise and Innovation and Enterprise Ireland.
The nationwide competition, now in its 5th year with an investment fund of up to €2 million, is open to people between the ages of 18 and 35. It runs across three award categories: Best Business Idea, Best Start-Up Business and Best Established Business.
With an IBYE investment fund of €50,000 each, every LEO, including Dún Laoghaire-Rathdown, awards up to six investments to three category winners and three runners-up at county level.
Earlier this year Dr Martin O'Reilly won the Best Business Idea and Best Overall Awards in the Dún Laoghaire-Rathdown LEO.
ENDS
14 June 2019
For further information contact Micéal Whelan, Communications and Media Relations Manager, UCD Research and Innovation, e: miceal.whelan@ucd.ie, t: +353 1 716 3712.
Editors Notes
At NovaUCD, the hub for new ventures and entrepreneurs at University College Dublin, we nurture and support new high-tech companies as part of UCD's mission. At NovaUCD we provide purpose-built, state-of-the-art incubation facilities alongside a comprehensive business support programme for client companies such as Output Sports.
NovaUCD has supported over 360 companies and early-stage ventures. Supported companies have attracted over €760 million of investment and currently employ over 1,040 people directly.
NovaUCD has been funded through a unique public-private partnership that includes AIB Bank, Arthur Cox, Deloitte, Enterprise Ireland, Ericsson, Goodbody Stockbrokers, UCD and Xilinx. www.novaucd.ie