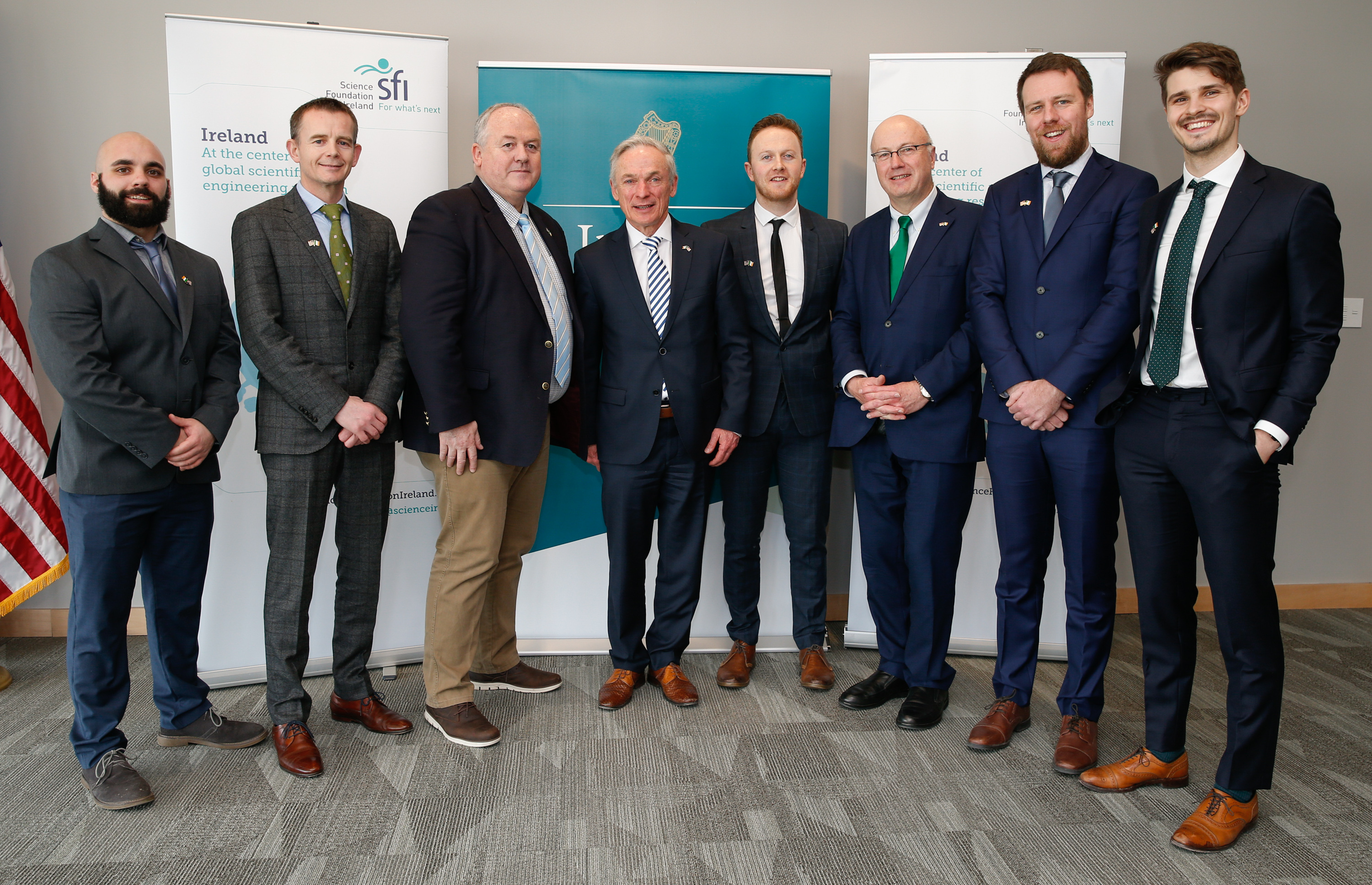 Output Sports Launches Wearable Fitness Tests for Elite Athletes and Announces Partnership with Colorado Rapids
- Technology developed at Insight SFI Research Centre hosted by UCD
Minister for Communications, Climate Action and Environment, Richard Bruton TD has today announced the launch of a novel sports technology which applies machine learning to the task of shrinking the pro-athlete analysis laboratory to the size of a wearable sensor system.
This novel technology brings a whole new level of portability, efficiency and accuracy to athlete performance optimisation processes. It has been developed after more than five years of interdisciplinary research, by the co-founders of Output Sports a new University College Dublin (UCD) spin-out company, at the Insight SFI Research Centre hosted by UCD.
Output Sports is currently headquartered at NovaUCD, the Centre for New Ventures and Entrepreneurs at UCD.
Speaking from an event at Massachusetts Institute of Technology, Boston, Minister Bruton TD said, "I am delighted to announce this new technology capability. It demonstrates how the Irish research ecosystem is responsive and flexible, supporting the commercialisation and transfer of cutting-edge research into the marketplace. The government-funded SFI Research Centres continue to make important knowledge advancements; enhancing enterprise and industry, developing critical skills and further growing Ireland's international reputation."
Output Sports is now looking to expand relationships into the United States. Major league soccer team, Colorado Rapids, is set to begin a comprehensive evaluation of the Output Sports prototype systems with an aim to maximising its usability and value for US elite-sports environments.
In announcing this partnership, Chad Kolarcik, Head of Sports Science at Colorado Rapids said, "At Colorado Rapids we are always aiming for the cutting edge of sports science. We are excited to be working with Output Sports as they move their work from fundamental science through to a commercial offering. We are working together to ensure their technology adds objectivity to sports-practitioners' decision-making processes with the efficiency and portability required in elite sports environments."
Output Sports are also developing a presence Stateside through participation in several high-profile start-up competitions. Earlier this month Output Sports pitched as a finalist in the MIT Sloan Sports Analytics Conference sports-tech start-up competition.
Dr Martin O'Reilly, co-founder and CEO, Output Sports said, "With a record number of competition entries this year, we were delighted to be among a small number of companies from around the world selected to pitch our technology at the prestigious MIT Sloan Sports Analytics Conference."
Output Sports is also working with ex-Leinster rugby player Peadar Timmins and UCD graduate David Gormley, to enter the prestigious McCloskey start-up competition in Notre Dame University.
As scholarship students of the ESTEEM programme in Notre Dame, they are working on an initial market entry strategy for the US and engaging with and developing partnerships with NCAA and US pro-league teams across baseball, hockey, basketball and American football. Such partnerships will add to the learnings and advances gained from Output Sports' flagship partnership with Colorado Rapids.
Professor Mark Ferguson, Director General, Science Foundation Ireland and Chief Scientific Adviser to the Government of Ireland, said: "Science Foundation Ireland invests in world-class scientific research with deep and significant enterprise engagement, which underpins economic development and assists industry to grow and flourish in Ireland. I am delighted to see such collaborative and highly innovative research emerging from the Insight SFI Research Centre and Output Sports and look forward to seeing the results of its application."
Output Sports is also partnering with George Mason University Virginia to externally test the scientific validation of the system. This will involve researchers in the university comparing Output Sports to gold standard laboratory equipment across a range of fitness tests. This will help to ensure that the metrics provided by the system are gold standard.
Dr Darragh Whelan, co-founder and CSO, Output Sports said; "Output Sports are delighted to partner with Professor Margaret Jones, Justin Merrigan and all the team in George Mason University to further investigate the scientific validity and reliability of the system. We pride ourselves on our scientific accuracy and this is another example of the efforts we are undertaking to ensure the same."
ENDS
For further information please contact Micéal Whelan, UCD Research and Innovation, Communications Manager (Innovation) e: miceal.whelan@ucd.ie or t: +353 1 716 3712 or Gráinne Faller e: grainne@fhmediaconsulting.com.