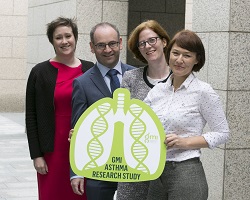 Pioneering Genomic Research Study into Asthma is Launched in Ireland
Genomics Medicine Ireland collaborating with St. Vincent's University Hospital and University College Dublin to investigate one of Ireland's most common ailments
- Study aims to lead to more accurate diagnoses and more personalised treatments for patients
Irish life sciences company Genomics Medicine Ireland Ltd (GMI) today announced the launch of a landmark and nationwide study to examine the genomic basis of chronic respiratory conditions, such as asthma, and Asthma-COPD Overlap (ACO), in collaboration with St. Vincent's University Hospital and University College Dublin (UCD).

Sarah O'Connor, CEO, Asthma Society of Ireland; Dr Marcus Butler and Dr Eleanor Dunican, Consultants in Respiratory Medicine, St. Vincent's University Hospital and UCD; and Lorna Murphy, Genomics Medicine Ireland;
Currently, there is no cure for either asthma or ACO. These chronic lung conditions are complicated by differing subtypes and underlying causes, despite displaying similar clinical characteristics, making it at times difficult to predict or treat. (Source: Wenzel, 2012, ERS/ATS, 2014).
The study announced today, the first of its kind in the world, aims to identify and examine the underlying genetic factors that are common amongst people living with asthma and ACO.
The objective of the study is to identify commonalities and linkages that can help predict disease severity, better understand complex subtypes, and help develop more personalised treatment pathways for patients to manage their respiratory conditions – with the hope of one day finding a cure.
Ireland has the fourth highest prevalence of asthma in the world with an estimated 470,000 people in the country living with the condition. Furthermore, one person per week dies from an asthma-related illness. Asthma also accounts for approximately 20,000 emergency department attendances, 5,000 hospital admissions per year and 37% of asthma patients miss 10 days or more of school or work annually. (Source: Asthma Society of Ireland, 2012.)
Asthma-COPD Overlap (ACO) as an additional subtype of the disease accounts for approximately 35% of all asthma patients.
GMI is collaborating with consultant respiratory physicians, Dr Marcus Butler and Dr Eleanor Dunican, at the Department of Respiratory Medicine at St. Vincent's University Hospital and the UCD Clinical Research Centre for this nationwide genomics research study.
Dr Marcus Butler, Consultant in Respiratory Medicine, St. Vincent's University Hospital and UCD, commented, "Asthma is a much more complicated condition than many may realise, and can present itself in an as-of-yet undefined number of distinct diseases that all fall under the generic umbrella term of "Asthma".
"The potential of genomics is that, in future, we could unambiguously identify and treat the many variants of asthma on a person-to-person basis, avoiding unnecessary patient morbidity from imprecise diagnosis and side-effects of futile therapy, in addition to saving a significant amount of time, money and effort in the process."
Dr Eleanor Dunican, Consultant in Respiratory Medicine, St. Vincent's University Hospital and UCD added, "Many patients with asthma can share or display identical clinical characteristics or symptoms - shortness of breath, cough, wheeziness, chest tightness, etc. What's more, you can either develop the condition as a child or develop it in adulthood and have the condition triggered by differing factors including viral infections, allergen exposures, exercise, environmental irritants and so on."
"It is this range of possibilities that makes asthma and its related conditions difficult to treat accurately using traditional medicines and treatments. The research we are undertaking with GMI aims to clarify all this uncertainty and enable medical professionals to make more accurate, definitive diagnoses and offer similarly precise prognoses and treatments."
Sarah O'Connor, CEO, Asthma Society of Ireland, commented, "We're delighted that Genomics Medicine Ireland has launched this cutting-edge genomic study into asthma and its related conditions. The figures that surround Asthma in Ireland are stark and present a major challenge to the Irish healthcare system and to the patients who experience it."
"Every 26 minutes, someone in Ireland visits an Emergency Department with asthma. One Irish person dies every week as a result of the condition - 90% of these deaths are preventable. There are good preventative and remedial measures available, but the complexity and broad scope of the disease make it difficult to treat accurately."
"Genomics can potentially provide a definitive assessment the type of asthma a patient has, making treatment much more accurate and effective. It may even provide some clues about a possible cure. Every effort made to fight asthma is welcome, and we very much look forward to seeing the results of this research in years to come."
Sean Ennis, Chief Scientific Officer of Genomics Medicine Ireland, said, "By analysing a person's genome – that is, all of their genetic material, plus relevant clinical and environmental factors – we aim to identify the common linkages between Asthma patients and the circumstances that can lead to the development of the disease in an individual. By the end of the study, we hope to have shed a light on this complicated collection of pathologies and help improve the lives of patients not only in Ireland, but worldwide."
People with asthma or ACO who are attending St. Vincent's University Hospital and who are interested in participating in the research can ask their consultant for more information.
ENDS
19 September 2018
For further information contact Micéal Whelan, Communications Manager, UCD Research and Innovation, e: miceal.whelan@ucd.ie, t: + 353 1 716 3712 or Richard Magnier, MKC Communications, e: richard@mkc.ie or t : + 353 1 703 8618.
Editors Notes
Genomics is the study of all of a person's genes (the genome), including the interactions of those genes with each other and the person's environment. Genomics has a critical role to play in the identification, prevention and treatment of disease and rare conditions, including the scientific study of complex diseases such as heart disease, asthma, diabetes, and cancer because these diseases are typically caused more by a combination of genetic and environmental factors than by individual genes.
Founded in 2015, Genomics Medicine Ireland (GMI) is an Irish life sciences company leading large-scale, population-based genome research studies on the island of Ireland examining the relationship between genetics, health and disease. It is building a preeminent disease-specific database of population genomics. GMI works in collaboration with clinicians, patients, academic researchers and global biotech and pharmaceutical sectors to discover pathways to new treatments and new diagnostics for people both here in Ireland and around the world.
GMI is currently undertaking genomic research into a range of diseases in collaboration with a number of Irish hospitals, such as: brain tumours with Beaumont Hospital; Rare Diseases with Temple Street Children's University Hospital; Inflammatory Bowel Disease with University Hospital Limerick, Cork and Mercy University Hospitals, Beaumont Hospital Dublin, St. James's Hospital Dublin, St. Vincent's University Hospital and Tallaght University Hospital; Multiple Sclerosis with Cork University Hospital, St. Vincent's University Hospital and Tallaght University Hospital.
GMI is researching MS and IBD with hospitals in the Western Health and Social Care Trust area, Northern Ireland, in conjunction with the Clinical Translational Research Centre (C-TRIC) at Altnagelvin Hospital site. The company is also conducting research with general participants examining the underlying genetic, environmental and lifestyle factors of fitness and health held at the GenoFit Research Clinic on the UCD Campus in conjunction with the UCD Institute for Sport and Health. www.genomicsmed.ie
Further information about St. Vincent's University Hospital visit www.stvincents.ie
Further information about University College Dublin visit www.ucd.ie