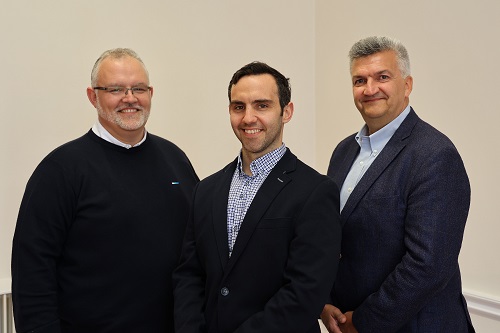 PlasmaBound to Collaborate with Hyundai Motor Company and KIA Corporation as a Winner of the 2022 Accelerate the Future Challenge
PlasmaBound, a University College Dublin (UCD) spin-out company headquartered at NovaUCD, is among the five start-ups from around the world which have been announced as winners of the 2022 Accelerate the Future Challenge.
The 2022 Challenge was launched earlier this year to facilitate start-up collaborations with Hyundai Motor Company (HMC) and KIA Corporation (KIA), one of the largest automotive companies in the world. Established by Unknown Group, a Dutch VC and Open Innovation firm, this year's challenge focus areas were Smart Factory, Robotics, Advance Automotive Technology, and Smart Mobility with the vision to build a brighter future for all.
The objective of the Challenge is to support HMC and KIA reach their innovation goals through start-up collaborations and to build a human-centric mobility ecosystem. The challenge winners will explore a paid proof-of-concept or pilot programme with HMC and KIA and one of their business units.
PlasmaBound, a University College Dublin (UCD) engineering spin-out, has developed a novel surface bonding pre-treatment technology, Controlled Polymer Ablation (CPA), which enables high-speed bonding of ultra-lightweight fibre-reinforced materials at throughput and with reliability unseen outside of metallic applications.
This CPA technology is attracting significant interest in several sectors, where it empowers global industry to achieve their sustainability goals, particularly in decarbonisation and battery range extension, along with the benefit of being a single-step fully automated process, with extended bonding open times.
PlasmaBound was co-founded in 2017 by Dr James Nicholas Barry, Alan Barry and Xavier Montibert.
Alan Barry, CEO and co-founder, PlasmaBound said, "We are delighted to have been selected by the Hyundai-Kia Motor Group as a start-up with an exciting technology for the automotive industry after a thorough process involving initially more than a 1000 companies worldwide. The future Proof of Concept with the R&D team in Seoul demonstrates that PlasmaBound's unique CPA technology brings automation, sustainability and high reliability with considerable process improvements. PlasmaBound will now engage with the Hyundai-Kia teams and validate its surface preparation of composites before structural bonding technology."
"It has been another exciting year with the Accelerate the Future Challenge. This year, Hyundai and Kia business units were able to engage with innovative start-ups within the Smart Factory, Robotics, Advanced R&D Solution, and Smart Mobility Solution domains. We are proud to announce the finalists of this year and all the teams are looking forward to collaborating even more actively by working on the PoC projects," said Kwangmo Moon, Hyundai Motor Group Senior Open Innovation Manager.
Jurgen Nieuwenhuijsen, COO, Unknown Group, said, "We are excited to see the Accelerate the Future Challenge coming to life once again to facilitate meaningful start-up corporate collaborations. With this challenge, we align with Hyundai Motor Company and KIA Corporation on a common goal, to fix the future of mobility by fueling founders to bring their innovative solutions to scale."
ENDS
25 November 2022
For further information contact Micéal Whelan, Communications and Media Relations Manager, UCD Research and Innovation, e: miceal.whelan@ucd.ie.
Editors Notes
PlasmaBound's goal is to enable industry to employ composite materials in lightweight vehicles, products and structures, as standard, at all price points. https://plasmabound.com
The other four 2022 Accelerate the Future Challenge winners are;
Compactive (Germany): Deploy shape memory alloys to build lightweight, strong and small Integrated Bending Actuators.
Lineat Composites (UK): Close the loop for carbon fibre with their Aligned Formable Fibre Technology (AFFT™), enabling multiple re-use cycles of carbon fibre.
Small Ticket (South Korea): Providing data-driven insurance where users pay only for the time they actually drive.
The Smart Tire Company (US): Commercialising airless tires based on NASA technology, reducing tire weight, maintenance and waste while improving driving range.
The Accelerate the Future Challenge is an open innovation program for start-ups and scale-ups worldwide. With this initiative, HMC & KIA are establishing meaningful collaborations with like-minded founders working on practical solutions within the Smart Factory, Robotics, Advanced Automotive Technology, and Smart Mobility domains. By committing to a paid proof-of-concept or pilot programme with the most promising ventures, HMC & KIA are looking for equal partners to accelerate a brighter future for all. https://acceleratethefuturechallenge.com/
Unknown is an early-stage venture capital and business development firm, supporting founders and industry leaders to successfully bring innovations to the market: a "Venture Engine®". With a fresh approach to delivering venture success, lining up the industry, and creating a pool of solutions ready to be adopted by the market. https://unknowngroup.com/