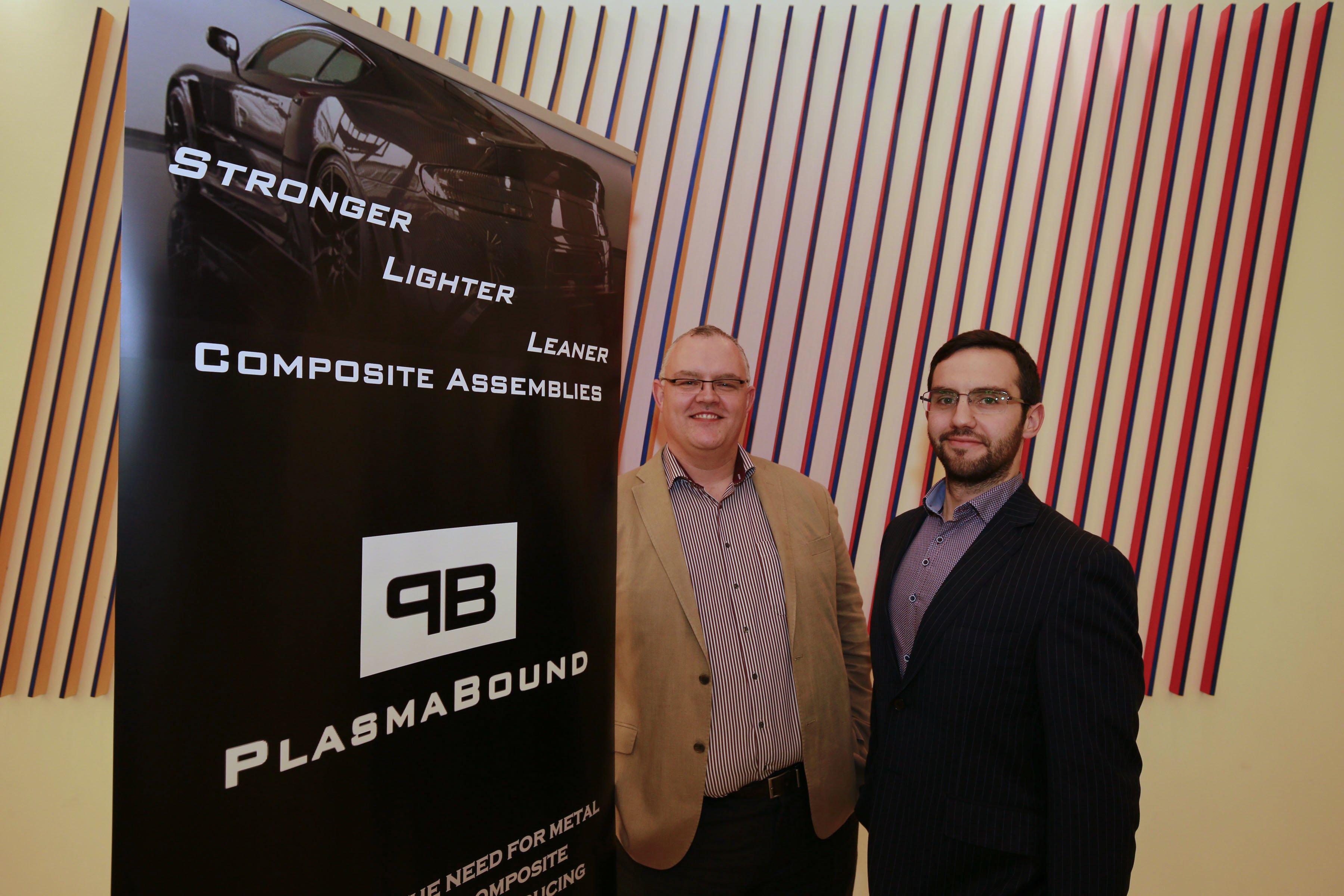 PlasmaBound Selected by Florida Venture Forum to Pitch at 2021 Aerospace Innovation and Tech Forum
PlasmaBound, a University College Dublin (UCD) spin-out company, has been selected by Florida Venture Forum, as one of only 20 companies from around the world, to pitch (virtually) at the 2021 Aerospace Innovation and Tech Forum.
The company has developed a novel surface bonding pre-treatment technology to enable global manufacturing industries, including the aerospace/space industry, to reduce product weight and meet fuel efficiency and carbon emissions requirements.
The 2021 Aerospace Innovation and Tech Forum, which takes place later today, is the sixth annual aerospace-focused conference which Florida Venture Forum has hosted in partnership with Space Florida. A total of $100,000 in cash prizes will be presented to 4 (four) winning companies, courtesy of Space Florida.
PlasmaBound's patented technology, called controlled polymer ablation (CPA), uses a repeatable and high-speed one-step process, involving the structural adhesive joining of lightweight materials, namely carbon and glass fibre reinforced composites.
The technology enables global players in industries such as, transport, renewables, marine and consumer electronics, in addition to aerospace/space industry, achieve lightweighting goals with simplified and fully automated workstreams. Such workstreams generate significantly less manufacturing waste, dramatically reduces product weight and also assists industry players to achieve stringent global carbon emission and fuel efficiency goals.
PlasmaBound, headquartered at NovaUCD, the Centre for New Ventures and Entrepreneurs, was co-founded in 2017 by Dr James Nicholas Barry, Alan Barry and Xavier Montibert as a spin-out from the UCD College of Engineering and Architecture.
Last year PlasmaBound closed a €1.1 million investment round led by the Atlantic Bridge University Fund, with Enterprise Ireland, and a number of private investors. The company is an Enterprise Ireland High-Potential Start-Up.
Watch this video to find out more about PlasmaBound
Xavier Montibert, Co-founder and Commercial Director, PlasmaBound said, "We are very excited to have been selected amongst these very innovative companies. Bonding of composites and lightweighting are two key issues in the aerospace and space industries and PlasmaBound has developed a unique breakthrough technology to address these technological gaps."
Of the twenty companies selected to pitch at the event, 12 are from Florida, another two are US-based, two are from Israel, two are from Ireland and one each is from Germany and the UK. The other Irish start-up selected, in addition to PlasmaBound, is VRAI, which creates data driven Virtual Reality simulation training for high hazard environments.
Ben Patz, Florida Venture Forum board member, and managing partner of DeepWork Capital said, "Florida's aerospace sector growth is expected to continue to accelerate over the next several years, powered by a new commercial interest in space and technological advancements that support it. This forum displays an ever-expanding collection of impressive and innovative companies for a wide audience of innovators, technologists, and investors."
The 20 presenting companies were selected by a committee of active venture investors and will present via webinar to an audience of investors, aerospace industry leaders and other deal professionals.
Further information on the companies selected to pitch at the 2021 Aerospace Innovation and Tech Forum is available via https://www.spaceflorida.gov/news/sf-fvf-announce-20-presenting-companies/.
ENDS
10 June 2021
For more information contact Micéal Whelan, Communications and Media Relations Manager, NovaUCD, UCD Research and Innovation, e: miceal.whelan@ucd.ie.
Editor's Notes
PlasmaBound is helping industries lose weight and reduce their Carbon footprint globally. www.plasmabound.com
Florida Venture Forum is Florida's largest statewide support organization for investors and entrepreneurs, helping companies with headquarters, operations or supply chain in Florida connect with sources of capital from across the country. Since 1984 over 1400 companies have presented at Forum events and have gone on to raise upwards of $10B in equity capital and contribute well over $15B in economic value to Florida and beyond. http://www.flventure.org
Space Florida was created to strengthen Florida's position as the global leader in aerospace research, investment, exploration, and commerce. As Florida's aerospace and spaceport development authority, we are committed to attracting and expanding the next generation of space industry businesses. www.spaceflorida.gov.