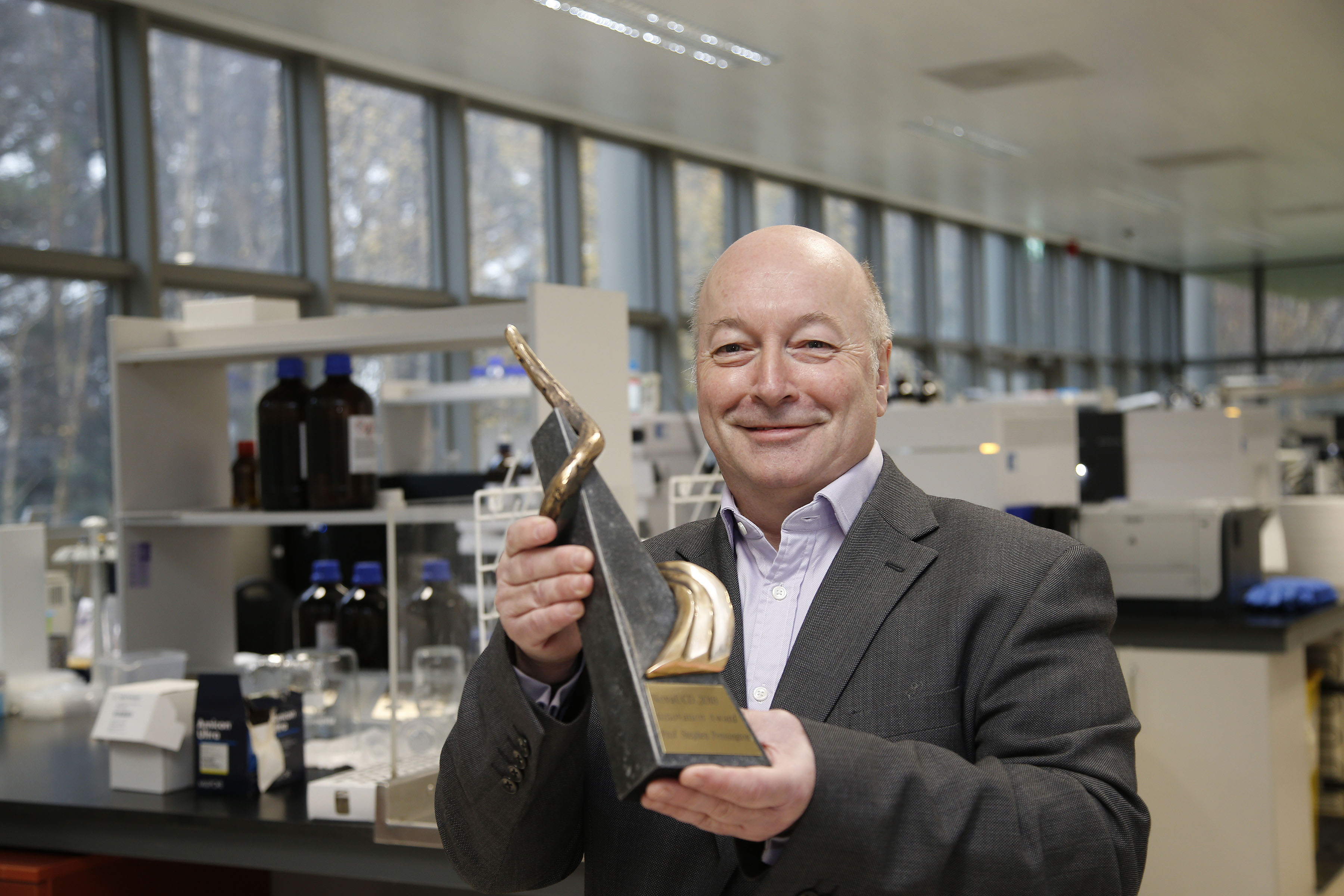 Pioneering Proteomics Researcher and Entrepreneur Receives the NovaUCD 2018 Innovation Award
- Atturos' first blood test is designed to help men diagnosed with prostate cancer make more informed decisions about their treatment
The NovaUCD 2018 Innovation Award was today presented to University College Dublin's (UCD) Professor Stephen Pennington, a global leader in proteomics (the study of proteins) research and innovation, by UCD President, Professor Andrew J. Deeks, at an event held at NovaUCD.
The Award was presented to him in recognition of his commitment and success in protein biomarker research, undertaken during the last 15-years at the UCD School of Medicine, and previously in the UK, and the conversion of this research into diagnostic tests for clinical use which can have a positive impact on the lives of patients worldwide.
Professor Pennington is the founder and Chief Scientific Officer of Atturos, a UCD spin-out company, which is developing a portfolio of novel multi-marker blood tests. Atturos' first test, OCProDx, is a prostate cancer test which will help some men avoid unnecessary over treatment of their cancer.
The company is planning to launch this test onto the market in 2020.
Every year over 1.2 million men globally receive a diagnosis of prostate cancer and the aim of Atturos' test is to determine whether or not the cancer remains in the prostate or has spread beyond it. With this information, patients can make a more informed decision about their treatment, including the opportunity of monitoring the disease via active surveillance.
Professor Pennington is also the incoming President of the Human Proteome Organisation (HUPO), the international scientific organisation of over 1000 members representing and promoting proteomics, which is headquartered in Vancouver, Canada.
He is the first researcher from an Irish University to be elected to this prestigious position.
Professor Andrew J. Deeks, UCD President said, "I am delighted to present the NovaUCD 2018 Innovation Award to Professor Stephen Pennington. The Award recognises the quality and impact of his peer-reviewed research, over many years, and his commitment and continuing enthusiasm to convert the outputs of his protein biomarker research into diagnostic tests for clinical use."
"Atturos, the company established by Professor Pennington, is currently developing a blood test to help men diagnosed with prostate cancer make more informed decisions about their treatment. This test can have significant benefit to patients worldwide and I wish him and the Atturos team every success with the launch of this test onto the global market."
He added, "This Award also recognises Steve as an innovation and entrepreneurial leader who combines excellence in teaching and research with a proven commitment to translating his research outcomes into commercial applications to impact the lives of people."
Before moving to UCD in 2003 Professor Pennington was a Wellcome Trust lecturer at the University of Liverpool. There he became deeply involved in a new field of biochemistry research, now called proteomics, and co-authored the first review of this newly emerging field. While at Liverpool he also developed strong links with industry partners such as AB Sciex and Waters and was actively involved in technology licensing.
On moving to Ireland Professor Pennington helped to establish the University's proteomics facility at the UCD Conway Institute. During the last 15-years he has been active in the implementation of collaborative proteomics projects, in particular clinical translational projects that align significant clinical needs to basic research.
In recent years this has been focused on the discovery and subsequent quantitative measurement of protein biomarker signatures, the latter using targeted proteomics strategies. It is this experience and expertise that lead to the establishment of Atturos.
On receiving the NovaUCD 2018 Innovation Award, Professor Stephen Pennington, said, "It is a great honour to receive this prestigious Award and to follow in the footsteps of previous awardees. This Award reflects the valued guidance and input of many colleagues and collaborators over many years and the 'can do' attitude instilled in me by two remarkable ladies, my mother and grandmother. It also reflects the recent invaluable mentorship of Mike Feeny formerly of the IDA and Enterprise Ireland."
He added, "I am very excited about the potential of Atturos to make a significant impact in the new era of personalised medicine initially by helping men diagnosed prostate cancer make the life changing decisions they face. I would like to take this opportunity to acknowledge the huge support of Enterprise Ireland, NovaUCD, Agilent Technologies and MSC, amongst others, who have supported me and the Atturos team on our journey to date."
He concluded, "The Award also recognises the significant support and commitment of a large number of research colleagues, as well as current and past research students, who have worked closely with me over many years to help to develop our contribution to the proteomics research and innovation ecosystem at UCD, in Ireland and internationally."
Professor Pennington is a named inventor on 4 priority patent filings and has also published over 90 scientific papers, edited and contributed to several books including editing one of the first books on proteomics that was translated into Chinese and Japanese. He is on the editorial board of several journals and regularly reviews manuscripts and grants for a number of organisations.
On an international level Professor Pennington has been the President of the British Society for Proteome Research since 2016 and in 2017 he was the lead organiser of the 16th Annual World Congress of the Human Proteome Organisation, held in the Convention Centre in Dublin. This Congress attracted 1500 delegates and included a gala dinner, in the Royal College of Physicians, at which former Vice-President Joe Biden was the guest of honour.
The NovaUCD Innovation Award was established in 2004 to highlight University College Dublin's commitment to innovation. The Award is presented annually to an individual, company or organisation or group in recognition of excellence in innovation or of success achieved in the commercialisation of UCD research or other intellectual activity.
ENDS
7 December 2018
For further information contact Micéal Whelan, UCD Research and Innovation, Communications, University College Dublin, e: miceal.whelan@ucd.ie, t: + 353 1 716 3712.
Editors Notes
Previous recipients of the NovaUCD Innovation Award are; Professor Brian Caulfield (2017); Professor Kevin O'Connor (2016); Professor Eoin Casey and Dr Eoin Syron (2015); Dr Emmeline Hill, (2014); Dr Viliam Holub and Dr Trevor Parsons (2013); Professor Denis Dowling (2012); Professor William Gallagher (2011); The Fault Analysis Group (2010); Nicola Mitchell (2009); Celtic Catalysts (2008); Professor Ciaran Regan (2007); Professor Conor Heneghan (2006); Professor Barry Smyth (2005) and Professor Mark Rogers (2004).