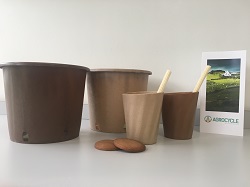 Researchers to Showcase New Agri-Food Waste 'DoneDeal for Farmers' Platform at 2018 National Ploughing Championships
- AgroCycle Marketplace connects producers and users of Agri-food waste
- AgroCycle to showcase new products from Agri-food waste
An international team of researchers, including scientists at University College Dublin (UCD), have developed AgroCycle Marketplace, a new free, web-based platform for trading agri-food waste to add value within the circular economy.
The platform, which connects producers and users of Agri-food waste, will be showcased at the National Ploughing Championships 2018, which takes place from 18-20 September in Screggan, Co. Offlay.
The platform has been developed by AgroCycle, a ca. €8 million EU-China Horizon 2020 research and innovation project addressing the recycling and valorisation of waste from the agri-food sector. Led by the UCD School of Biosystems and Food Engineering the project involves a consortium of 26 partners, from 8 EU countries, along with two partners from mainland China, and one from Hong Kong.
A selection of AgroCycle products from Agri-food waste, including rice bran drinking straws and biscuits and biocomposite cups and flower pots from potato pulp
"Over 700 million tonnes of agricultural wastes are produced in Europe every year," said Assistant Professor, Tom Curran, UCD School of Biosystems and Food Engineering and the co-ordinator of AgroCycle.
"The major challenge is linking the producers of this waste with users of waste. This is why we have created the AgroCycle Marketplace, effectively a 'DoneDeal for Farmers'. We will be showcasing the developer version of the platform at next week's national ploughing championship as we would like to receive and incorporate feedback from farmers before the platform goes live within the next couple of months," he added.
New products from the AgroCycle project will also be on display at the National Ploughing Championships 2018 including edible straws from rice bran and flower pots from potato pulp.
"We are excited to be showcasing some of the innovative products coming from our partners across Europe," said Dr Anna Lesniak, AgroCycle Liaison Manager.
"The edible straws are my favourite. As 'single-use plastics' are starting to be banned in many cities across the world, our product is timely and will help solve the issue."
A number of AgroCycle Kids products have also been developed as part of AgroCycle's education plan for primary school teachers led by scientists from Maynooth University. This includes a kid's video which will be launched with a live performance by 'The Kid-Rappers' during the Championships.
At the Championships AgroCycle will host Ireland's first ever public display of a Fatberg, a massive congealed lump of calcified faeces, fats, oils and sanitary products found in a sewer system.
ENDS
14 September 2018
For further information contact Micéal Whelan, Communications Manager, UCD Research and Innovation, e: miceal.whelan@ucd.ie, t: + 353 1 716 3712 or Dr Tom Curran, e: tom.curran@ucd.ie.
Editor's Notes
The AgroCycle project has received funding from the European Union's Horizon 2020 research and innovation programme under grant agreement No. 690142. www.agrocycle.eu