UCD's Professor William Gallagher Named 2021 SFI Researcher of the Year
- Three other UCD researchers also recognised with awards
Science Foundation Ireland today announced the winners of the prestigious 2021 Science Foundation Ireland Awards, across 8 categories, which recognise key leaders in Irish research at its annual Science Summit.
University College Dublin (UCD) researcher Professor William Gallagher, a Full Professor of Cancer Biology in the UCD School of Biomolecular and Biomedical Science and a Fellow of the UCD Conway Institute, was named the recipient of the 2021 SFI Researcher of the Year Award.
Professor Gallagher is also Deputy Director of Precision Oncology Ireland, a large-scale SFI Strategic Partnership Programme involving five academic institutions, six cancer charities (including the Irish Cancer Society) and eight companies. He is currently leading OPTi-PREDICT, an SFI Investigator Programme focused on identification and validation of prognostic biomarkers for early-stage breast and prostate cancer.
From 2016-2021, Professor Gallagher was Director of the UCD Conway Institute of Biomolecular and Biomedical Research, one of Ireland's largest biomedical research facilities. From 2013-2019, he was the Director of BREAST-PREDICT, which was the first Irish Cancer Society Collaborative Cancer Research Centre (CCRC) to be funded. This country wide CCRC, which was supported to the level of €7.5 million and involved six academic institutions, as well as Cancer Trials Ireland.
From 2009-2014, Professor Gallagher was also a co-PI and Deputy Co-ordinator of a major SFI-funded Strategic Research Cluster, Molecular Therapeutics of Cancer. He has co-ordinated three Marie Curie Industry Academia Partnerships and Pathways (IAPPs) projects under FP7, namely TARGET-MELANOMA, FAST-PATH and SYS-MEL. He was also co-ordinator of a large-scale, multi-million euro, FP7 collaborative project, entitled RATHER.
Professor William Gallagher said, "I am greatly honoured to receive this prestigious award. I am indebted to the various members of my research group, both past and present, along with other colleagues in academia and industry across the world that I have had the great pleasure to collaborate with. One in two people in Ireland will be diagnosed with cancer at some point in their lifetime. Indeed, practically every family in the country is being or has been affected in some way by this complex collection of diseases, including my own. Our cancer research work has been focused on taking new discoveries from the laboratory bench and bringing them closer to clinical implementation."
Professor Orla Feely, UCD Vice-President Research, Innovation and Impact said, "Professor Gallagher is a highly deserving recipient of the SFI Researcher of the Year award, based on his many outstanding achievements in the field of cancer research that reflect a rounded academic career of the highest quality."
Professor Mark Ferguson, Director General Science Foundation Ireland and Chief Scientific Adviser to the Government, said, "The annual SFI Science Awards is an opportunity to recognise some of the very best achievements of our research community. I want to congratulate the award winners on their significant achievements, as well as their dedication and determination, in what has been another eventful and challenging year for our research community. I am confident that their success will be a source of inspiration to their peers and, more importantly, to the next generation of researchers in Ireland. I would particularly like to congratulate Professor William Gallagher as our 2021 SFI Researcher of the Year. At Science Foundation Ireland we very pleased to see the superb quality of research that our funding enables. By working closely together, the Irish research community continues to be impactful, inspirational and world-leading."
Professor Gallagher has also received numerous awards for his research and innovation achievements in the oncology arena, including the NovaUCD 2011 Innovation Award, the inaugural Irish Association for Cancer Research Medal in 2017 and the SFI Entrepreneurship Award in 2019.
He has filed/been awarded multiple patents and has acted as consultant for a wide variety of industrial parties within the biomedical sphere. Professor Gallagher has co-founded two molecular diagnostics companies, OncoMark Ltd and OncoAssure Ltd, both supported by NovaUCD, with the former being acquired earlier this year.
Currently, Professor Gallagher is a primary driving force behind the All-Island Cancer Research Institute which is creating an overarching framework for cancer research across the entire island of Ireland.
Professor Gallagher added, "I would like to especially acknowledge the patients which have contributed their precious clinical samples for analysis, SFI and other funders, UCD for providing a rich environment for research and innovation and my family, particularly my wife Catherine, for their tireless support."
The other UCD Awardees in addition to Professor Gallagher are;
SFI Mentorship of the Year Award 2021: Recipient, Professor Helen Roche, Director UCD Conway Institute, Full Professor of Nutrition / Nutrigenomics, UCD Conway Institute & UCD Institute of Food & Health.
SFI Early Career Researcher of the Year Award 2021: Recipient, Dr Dara Stanley, Assistant Professor in Applied Entomology in the UCD School of Agriculture and Food Science at UCD.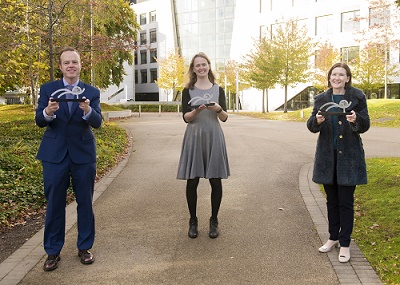 Pictured (l-r) Professor William Gallagher, Dr Dara Stanley and Professor Helen Roche.
SFI Research Image of the Year Award 2021: Recipient, Dr Aileen Doran, Postdoctoral Researcher in Economic Geochemistry, iCRAG SFI Research Centre in Applied Geosciences and UCD School of Earth Sciences.
Image title: Colloform Sphalerite: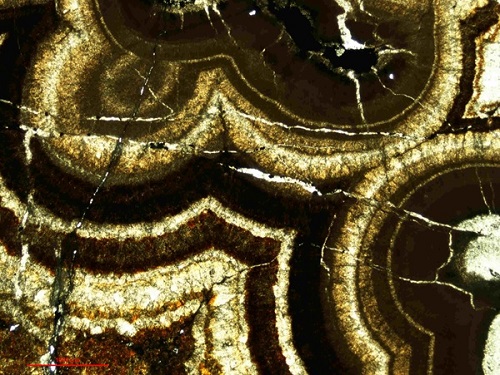 An example of colloform sphalerite from the Lisheen deposit, southern Ireland. Lisheen mine (closed in 2015) was Irelands second-largest known base metal deposit, and it was mined for zinc and lead. Sphalerite is a common ore mineral for zinc, which is a valuable metal required for many green technologies (e.g. wind turbines, solar panels). Ireland is currently one of Europe's top suppliers of zinc. Often, sphalerite can display textures such as these (colloform growth), with variations in colour generally linked to trace element variations. Image was taken using a transmitted light microscope at UCD School of Earth Sciences. Scale included.
Professor Feely added, "Dr Dara's Stanley's SFI Early Career Researcher of the Year Award recognises both the far-reaching impact of her work on pesticides and pollinators, and also her strong commitment to engaging members of the public."
"SFI Mentorship Award-winner Professor Helen Roche is internationally renowned for her research in the field of nutrigenomics and also for her dedication to the development of research talent, including her supervision and mentorship of more than 30 PhD students and a similar number of postdoctoral scientists."
"Postdoctoral researcher Dr Aileen Doran's SFI Science Image of the Year wonderfully highlights the creative relationship between science and art that renders subjects such as mineral and isotopic geochemistry more accessible to broader audiences."
She concluded, "These recipients together showcase the great research talent that we are fortunate enough to have at all career stages in UCD."
The recipients of the other four awards were;
SFI Outstanding Contribution to STEM Communication Award 2021: Recipient, Presented to IUA and THEA in recognition of the science communication undertaken by the Research Community who informed the general public on all aspects of COVID-19 though sustained engagement and evidenced based communication on local and national media, social media and discussions at various levels in our society.
SFI Industry Partnership Award 2021: Recipient, Professor Garry Duffy, NUI Galway in partnership with Boston Scientific.
SFI Best International Engagement Award 2021: Recipient: Professor Barry O'Sullivan, University College Cork.
SFI Commercialisation Award 2021: Recipient, Dr Elaine Spain and Dr Kellie Adamson, Novus Diagnostics Ltd.
ENDS
4 November 2021
For further information contact Micéal Whelan, Communications Manager, UCD Research and Innovation, NovaUCD e: miceal.whelan@ucd.ie.