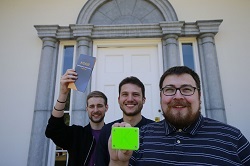 Start-Up Developing New Smart Bike Light to Improve Cycling Safety Wins 2018 UCD Entrepreneurship Programme for Students
- Kogii scoops €3,000 prize and plans a crowdfunding campaign
Kogii, an early-stage University College Dublin (UCD) student venture, has been declared overall winner of the 2018 UCD Start-up Stars Programme and has received a €3,000 cash prize.
Kogii is developing an innovative and feature-rich smart bike light to improve real-time safety for cyclists. Kogii also plans to use the data acquired from the light's sensors to help understand precisely what factors make a road dangerous for cyclists.
The light, which is attached to a cyclist's seatpost, uses motion sensing to detect braking, and when it does, it behaves like a car brake light to assist drivers in understanding a cyclist's intentions. Depending on ambient lighting conditions, the brightness of the light will also changes to maximise the visibility of the cyclist. It brightens to improve visibility during the day and dims to avoid dazzling drivers at night.
In addition, Kogii incorporates proximity sensors to actively monitor surrounding vehicles. When vehicles come within a dangerous range of the cyclist, the light will dynamically flash to alert drivers of potential danger and improve their visibility or awareness of the cyclist.
Data from these sensors will also allow Kogii to develop interactive visualisation maps to show dangerous cycling zones, at differing times of the day, to improve awareness of such zones to cyclists and drivers.
The members of the Kogii team are Karl Roe, Andrea Pignanelli and Callan Eldon. Karl has a Master's degree from the UCD School of Computer Science and is currently a PhD researcher in the field of sensors and middleware at UCD. Andrea also has a Master's degree from the UCD School of Computer Science and is currently working as a Software Engineer in a Dublin tech company. Callan is a graduate of Engineering Technology at the School of Mechanical and Design Engineering in DIT and is working full time as an Electronic Engineer with Kogii.
Karl Roe said, "Every road is unique, and as a result, data needs to be gathered and analysed to evaluate why specific roads are potentially more dangerous than others. With Kogii, cyclists will be able to purchase a smart light to improve their visibility and safety, along with contributing to making roads a safer place for all cyclists simply by using it."
He added, "It is our intention to supply this new, untapped data to governments, councils and city planners to assist them in building a safer cycling infrastructure for tomorrow."
Andrea Pignanelli said, "Kogii's next step is to focus on refining our prototype and fund raising. We are planning to commence a crowdfunding campaign, via Kickstarter, within the coming months."
Callan Eldon said, "We have thoroughly enjoyed our last 4 weeks at NovaUCD during which we have further developed our start-up idea and we are delighted that Kogii has won the 2018 UCD Start-up Stars Programme."
The UCD Start-up Stars entrepreneurship programme, now in its 4th year, has been developed by UCD Research and Innovation, the UCD Innovation Academy and UCD Michael Smurfit Graduate Business School, to support UCD undergraduate and postgraduate students who want to work together to develop and grow start-up companies.
The programme began earlier this year with cross-disciplinary workshops and course modules delivered at UCD Michael Smurfit Graduate Business School and at the UCD Innovation Academy. During this period students from across the University explored and evaluated a number of real world problems before forming teams to develop start-up solutions to address the identified problems.
Six (6) early stage ventures, with a total of 17 team members, were then selected to participate in an intensive mentoring programme which took place over the last 4 weeks at NovaUCD.
The aim of this mentoring programme was to assist the students in refining their start-up ideas through a series of structured workshops, including taught content from industry experts, interactive workshops and regular pitching sessions. In addition each team also received a cash stipend and office space at NovaUCD.
Following final pitches, Kogii was selected as the overall winner as it was judged to have the most commercial potential and the founders received the cash prize of €3,000 sponsored by Xilinx.
The five runner-ups, profiled below, also received a cash prize of €500 each sponsored by Xilinx.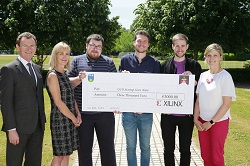 Tom Flanagan, UCD Director of Enterprise and Commercialisation, Libby Gribben, Vice-President, Global HR, Xilinx; Kogii founders, Callan Eldon, Andrea Pignanelli, Karl Roe, and Helen McBreen, Investment Director, Atlantic Bridge‌
Tom Flanagan, UCD Director of Enterprise and Commercialisation said, "I would like to congratulate the founders ofKogii on winning the 2018 UCD Startup Stars Programme and I would like to commend all the students who participated in the programme."
He added, "During the last 4 weeks this group of talented, enthusiastic and entrepreneurial students were able to leverage our start-up expertise and network to further develop and refine their start-up ideas. I look forward to seeing their early-stage ventures move forward to the next stage and successfully launch into the market."
Professor Suzi Jarvis, Founding Director, UCD Innovation Academy said, "UCD Start-up Stars is a great collaboration between NovaUCD, the UCD Innovation Academy and the UCD Michael Smurfit Graduate Business School."
"The students have worked very hard these past few weeks on venture ideas they are passionate about. The final pitches, better than any words, are a testament to the work that is being undertaken at UCD to foster entrepreneurial mind sets and the ambition of our students to tackle big problems. The programme is a fantastic opportunity for them to develop an idea and explore its viability in the real world."
Majella Murphy, Entrepreneur-in-Residence, UCD Michael Smurfit Graduate Business School said, "There was a great mix of students from multiple disciplines, on this year's programme who brought with them diverse ideas and perspectives which are very beneficial to early stage start-up ventures."
The members of the final UCD Start-up Stars Programme judging panel were; Tom Flanagan, Director of Enterprise and Commercialisation, UCD; Libby Gribben, Vice-President, Global HR, Xilinx; Helen McBreen, Investment Director, Atlantic Bridge and Bryan O'Higgins, Manager, AIB Branch at UCD.
The sponsors of UCD Start-up Stars Programme are; AIB, Arthur Cox, Goodbody Stockbrokers and Xilinx.
A total of 23 early-stage ventures and 60 students have now completed the UCD Start-up Stars Programme over the last 4 years.
The hashtag for this programme is #UCDstartupStars.
ENDS
25 June 2018
For further information contact Micéal Whelan, Communications Manager, UCD Research and Innovation, Communications Manager, t: + 353 1 716 3712, e: miceal.whelan@ucd.ie.
Editors Notes
Profiles of the other 2018 UCD Start-up Stars Participating Ventures
Aries is developing a fashionable scarf accessory which incorporates a carbon filter to prevent cyclists inhaling vehicle pollutants while they are cycling in the city. Founders are; Clare McGurk and Ilona Margras, UCD College of Science and Sneha Saloni, UCD School of Social Policy, Social Work and Social Justice masters.
Dr Noodle is developing a new noodle made from potatoes. Founders are are; Wenyang Jia, Zhihao Zhou, Tianjiao Chen and Jingru Wang, UCD School of Biosystems and Food Engineering.
Elixitronic is developing a personal connected health home device to accurately measure the presence of cystic fibrosis pathogens in a blood sample, to help minimise the number of visits that cystic fibrosis patients need to make to hospitals for treatment. Founders are; Camille Sylver O'Malley and Christina Kenny, UCD Michael Smurfit Graduate School of Business masters.
Get-Volvd is developing an app to promote campus events of third level institutions in a single platform to enable students become more informed about and involved with such events. Founders are; Tejaswini Kumar, Mohamed Jama and Lorenzo Battilocchi, UCD School of Computer Science.
Spare Space is creating a service that utilises an app to enable students and others who need to store belongings, to identify and rent easily accessible and affordable space in houses in close vicinity to them. Founders are; Marysol Angeloni and Conail Bridges, UCD undergraduate students.