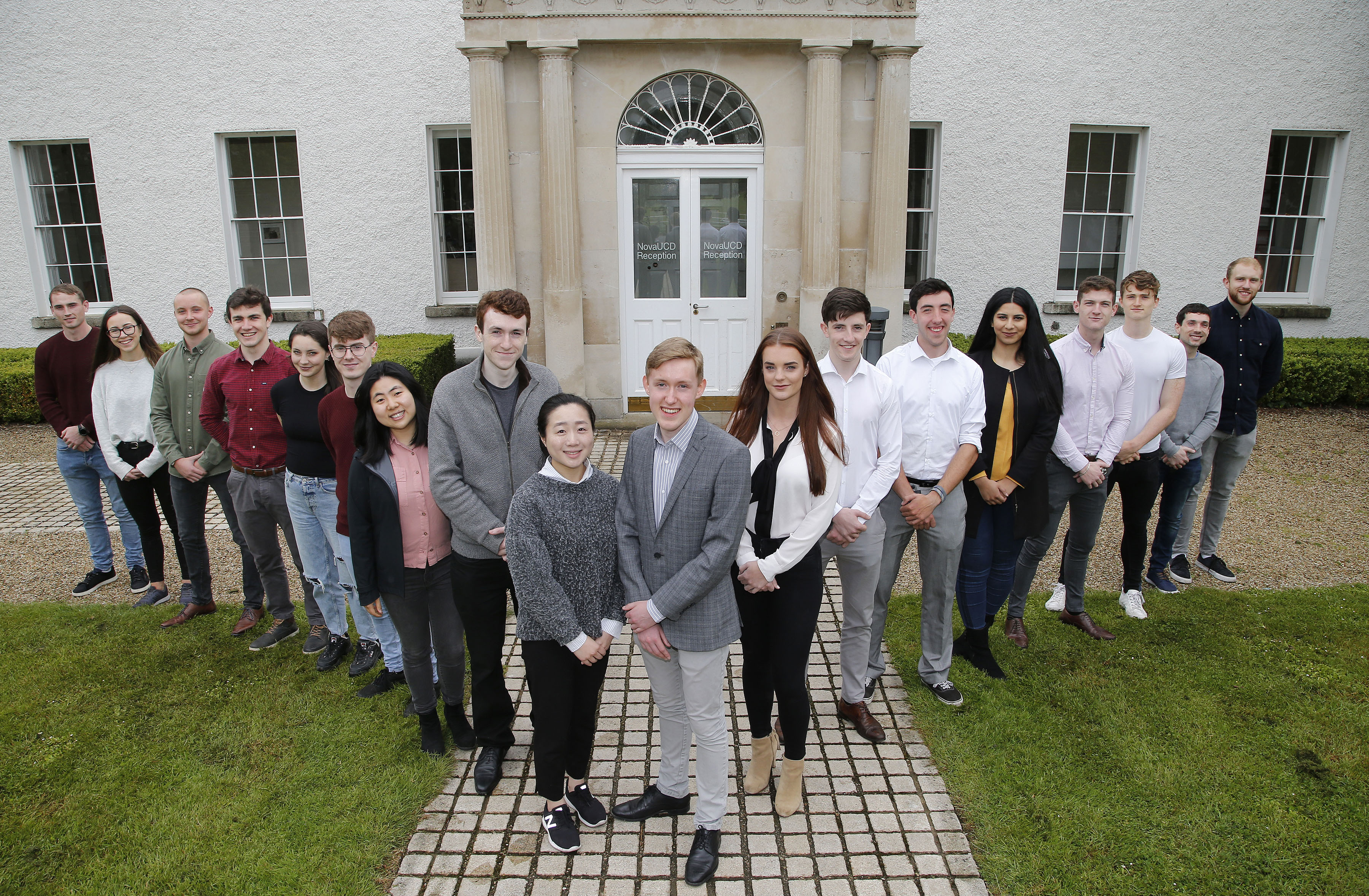 Start-up Programme for Young Entrepreneurs Kicks-Off at NovaUCD
- €3,000 prize available for the overall winner of entrepreneurship programme
An intensive 4-week mentoring programme, as part of University College Dublin's (UCD) 2019 Start-Up Stars Programme, kicked-off today at NovaUCD with seven (7) early-stage ventures and a total of 18 team members.
The entrepreneurship programme, now in its 5th year, has been developed by NovaUCD, the UCD Innovation Academy and UCD Michael Smurfit Graduate Business School, as a framework to support UCD undergraduate and postgraduate students who want to work together to develop and grow start-up companies.
The 7 new ventures taking part in the programme are;
Blue is planning to launch a dockless scooter-sharing service in Dublin city centre in 2020. Blue will provide customers with a quick and convenient way to travel around the city and offers them a 'last-mile' solution to get to and from public transport links.
The members of the Blue team are Charlie Gleeson and Ian Kinsley, who have both just completed commerce undergraduate degrees in the UCD Lochlann Quinn School of Business.
Find-A-Side is developing an app to connect footballers locally, based on age, skill and fitness level, and enable them join or create five-a-side football games, in their locality, at the touch of a button.
The members of the Find-A-Side team are brothers and football-fanatics, Ryan and Sean Lucas. Ryan is an economics and finance undergraduate student in the UCD Lochlann Quinn School of Business and Sean is a final year business and management student at TU Dublin.
Go Tappa is developing a corporate carpooling app which is customisable to the needs of its clients. Go Tappa aims to help companies improve their employees' commute to and from work and reduce the need and costs associated with parking, thereby helping to decrease the carbon footprint of the companies.
The members of the Go Tappa team are; Peter Hoy and Manal Mukhtar, undergraduate students in the UCD Lochlann Quinn School of Business and UCD Sutherland School of Law, Conrad Schaefer, an undergraduate student in the UCD School of Mechanical and Materials Engineering and Ellen Le Bas, a postgraduate student in the UCD School of Electronic and Electrical Engineering.
MedBell is developing a pharmacist-initiated medication reminder system. By directly involving pharmacists, MedBell aims to reduce the impact that medication non-adherence has on patient health.
The members of the MedBell team are Conor Lawlor and Thomas Fitzpatrick, both postgraduate students in the UCD School of Computer Science.
PodMaster is developing a solution that allows anyone produce a podcast using only a mobile phone. The members of PodMaster team are; Pheobe Sun, a PhD student in UCD School of Computer Science, and fellow music and sound enthusiasts, Shirley Sheek Ling Fan and Michael Riordan.
Terranaut Equipment is designing lightweight and portable energy solutions for use in outdoor adventure and disaster relief. Terranaut Equipment's first product, a portable wind turbine, will be manufactured in Ireland using modern manufacturing techniques such as 3D printing and composite materials. Mountaineer Hugh Irving, a postgraduate student in the UCD School of Mechanical and Materials Engineering is leading Terranaut Equipment.
UCD Formula Student (UCDFS) is developing an electrical race car for amateur drivers, which presents exciting and unique engineering challenges, and aims to use this race car to engage with the motorsport community nationally and internationally. The members of the UCDFS team taking part in the UCD Start-up Stars Programme are UCD engineering students, Adam Durning, Meg Brennan, Julie Mc Garrigle and Daire McGrath.
Tom Flanagan, UCD's Director of Enterprise and Commercialisation said, "Over the next few weeks we look forward to helping the participating student entrepreneurs to transform their innovative business ideas into early-stage ventures. I would also like to encourage them to take advantage of the opportunity to network with the community that surrounds them here at NovaUCD to help them to succeed with their business ventures."
The mentoring programme will consist of a series of structured workshops, taught content from industry experts, interactive workshops as well as regular pitching sessions. In addition there will be opportunities for the teams to network with the NovaUCD community of entrepreneurs. Each team will also be given a cash stipend and office space at NovaUCD during this phase of the programme.
The 2019 UCD Start-Up Stars Programme began earlier this year with cross-disciplinary workshops and course modules delivered at UCD Michael Smurfit Graduate Business School and the UCD Innovation Academy. During this period students from across the University explored and evaluated a variety of real-world problems before forming teams to develop start-up solutions to address the identified problems.
Eleven teams initially pitched their start-up ideas to a panel of judges who selected the early-stage ventures who are now taking part in the mentoring programme.
Professor Suzi Jarvis, Founding Director, UCD Innovation Academy, said, "Programmes such as UCD Start-up Stars are key to giving UCD students an opportunity to apply what they have learned at UCD in a meaningful way. Irrespective of the success or otherwise of the start-ups taking part on the programme, what is of most value is that the students are nurturing an entrepreneurial mindset that will serve them well in their future careers no matter path they follow."
Majella Murphy, Entrepreneur-in-Residence, UCD Michael Smurfit Graduate Business School said, "During the next month the UCD Start-Up Stars experience will push the students beyond their comfort zone to rise to the challenge of being real life entrepreneurs. I hope that the experience gives them the enthusiasm and confidence to pursue their start-up ventures after the completion of this programme."
At the final workshop, to be held in mid-June, each venture will present to a final judging panel. Based on evaluation of the presentations and submitted business plans one overall winning team will be awarded a €3,000 prize to help them on their start-up journey.
The sponsors of the 2019 UCD Start-Up Stars programme are; AIB, Arthur Cox, Goodbody Stockbrokers and Xilinx.
The programme hashtag is #UCDstartupStars.
ENDS
29 May 2019
For further information contact Micéal Whelan, Communications Manager, UCD Research and Innovation, t: + 353 1 716 3712, e: miceal.whelan@ucd.ie.
Editors Notes
UCD Start-Up Stars is an entrepreneurship programme for undergraduate and postgraduate students from all disciplines at University College Dublin. It is run by NovaUCD in collaboration with the UCD Innovation Academy and the UCD Michael Smurfit Graduate Business School. The programme is sponsored by AIB, Arthur Cox, Goodbody Stockbrokers and Xilinx. www.ucd.ie/innovation/researchers-and-students/ucd-startup-stars/
For further information about NovaUCD visit www.novaucd.ie
For further information about the UCD Innovation Academy visit www.innovators.ie
For further information about the UCD Michael Smurfit Graduate Business School visit www.smurfitschool.ie