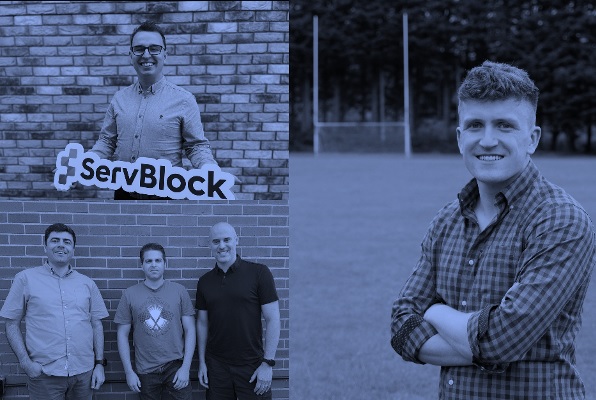 Three Irish Start-Ups Secure €150,000 in Funding through ESA BIC Ireland
Three Irish start-up companies, Sports Impact Technologies, Solsign and ServBlock have secured funding of €50k each, as well as technical, business, financial and incubation support through ESA BIC (Business Incubation Centre) Ireland.
ESA BIC Ireland supports Irish companies across the business spectrum that are developing technologies using space assets or resources or solutions that can be used in space.
ESA BIC Ireland is composed of four consortium partners; Tyndall National Institute (lead partner), NovaUCD at University College Dublin (UCD), Maynooth University and Technological University of the Shannon.
Sports Impact Technologies, supported by NovaUCD, is developing a sports wearable solution that detects head impacts as they happen, in real-time. This novel sports wearable is worn behind the ear and sends all impact data live to the coach, physio, or parent on the sideline.
The technology uses numerous sensors and positioning data from the Galileo constellation of satellites.
Founder of Sports Impact Technologies, Eóin Touhy, said, "Up to 3 million sports and recreation related concussions happen each year, and 5 in 10 concussions go unreported or undetected. While large undetected impacts can lead to second impact syndrome which can be fatal, studies are now showing that smaller repetitive impacts can affect long term brain health.
Sport has a wide range of health benefits, and our mission is to ensure that people can play with peace of mind. The help and support from ESA BIC have allowed us to utilise space technology to develop and grow our solution."
Solsign, supported by Tyndall and UCD, uses geospatial analytics to evaluate the suitability of land for solar installations. The company's unique marketplace function then directly connects the sellers of vetted land parcels with solar developers looking for their next project.
As the global renewable energy transition gains momentum, sourcing viable land quickly and cost-effectively has become challenging. Solsign addresses this problem through an integrated platform that harnesses the power of geospatial data, administrative records and machine learning.
By analysing the solar viability of land plots across parameters like terrain, infrastructure access, legal permissions and more, Solsign identifies and screens the suitability of sites for solar projects.
Founder and CEO of Solsign, Mattan Lass, said, "Our mission is to accelerate and optimise land sourcing for renewable energy projects globally. Our partnership with ESA BIC Ireland has allowed us to unlock renewable energy potential in under-served markets like the Balkans, where land data is fragmented. Our scalable, location-agnostic technology provides a comprehensive solution to land scouting obstacles, acting as a catalyst for realizing untapped solar capacity."
Led by a team of legal, geospatial and renewables experts, Solsign is poised to revolutionise how the solar industry discovers land opportunities.
Irish blockchain and pharmaceutical compliance company, ServBlock, is supported by NovaUCD. ServBlock provides a reliable and secure solution for location verification for pharmaceutical companies.
Transparent and verified sourcing of raw materials is a significant and ongoing issue, and the absence of reliable systems to trace the origins of raw materials leaves room for fraud and counterfeit materials. It can also pose significant risks to product quality, patient safety, and regulatory compliance, while also leading to substantial economic losses.
ServBlock combines robust blockchain technology with state-of-the-art space technologies to offer an unmatched solution for the verification and traceability of raw materials in the pharmaceutical supply chain.
Director of ServBlock, John Ward, said, "The ESA BIC Ireland funding supports the development and refinement of ServBlock's innovative technology, creating a reliable and secure solution for location verification across various industries. This technology is set to revolutionise the way businesses handle location data, providing enhanced trust and transparency, and mitigating risk."
Minister of State for Business, Employment and Retail, Neale Richmond, TD said, "It has been an exciting few years for the Space Industry in Ireland. The Irish Government's investment in space, particularly through our membership of the European Space Agency, has allowed the number of Irish companies that secured contracts with the European Space Agency to grow from 60 in 2017 to 97 in 2022; an increase of over 50% in just four years.
A number of these companies have come through ESA BIC Ireland and is illustrative of the fantastic work being carried out by the ESA BIC consortium in supporting companies like Sports Impact Technologies, Solsign and ServBlock to accelerate their product development process and hone their commercialisation potential.
Ireland's commitment to ESA and the space industry is steadfast. I was delighted to announce an additional €3.3m investment in ESA as part of Budget 2024 which will enable more innovative Irish companies and researchers to access ESA contracts and further support the expansion of Ireland's space-active industry."
To date, ESA BIC Ireland has supported 35 companies across Ireland to realise their potential by utilising or developing space technology. Space, a sector growing at an exponential rate, is predicted to be worth $1.3 trillion globally by 2030.
ESA BIC Ireland is one of 29 ESA BIC Networks operating across ESA Member States. Irish companies that can demonstrate a connection with space and which are less than five years old can apply to ESA BIC Ireland on a year-round basis.
ENDS
9 November 2023
For further information contact Micéal Whelan, Communications and Media Relations Manager, UCD Research and Innovation, e: miceal.whelan@ucd.ie
Editors Notes
Further information on ESA BIC Ireland visit https://www.esaspacesolutions.ie/