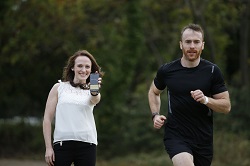 Start-Ups Seeking to Raise €6.5 Million to Pitch at 2018 University College Dublin Entrepreneurship Awards
Six (6) emerging University College Dublin (UCD) start-ups, which between them are seeking to raise €6.5 million in investment, are set to pitch their business ideas at the 2018 UCD VentureLaunch Accelerator Programme Showcase and Awards.
The event is taking place next Wednesday, 21 November (evening), at the UCD O'Brien Centre for Science, as part of Startup Week Dublin.
The overall objective of the 3-month UCD VentureLaunch Accelerator Programme, which is delivered at NovaUCD, is to support the creation, and to accelerate the launch, of sustainable and profitable new ventures based on intellectual property emerging from UCD.
The participating start-ups are; Illumino, Kogii, NAIAD, Output Sports, Pace-Man and ProvEye.
Illumino is developing a novel light therapy and sleep-aid technology in the form of a virtual-window.
The founders of Illumino, a start-up emerging from the UCD School of Psychology and the UCD School of Architecture, Planning and Environmental Policy are; Dr Brendan Rooney, Morteza Matkan, and Dr Sadegh Panahiazar.
Kogii is developing a smart bike light designed to reduce cyclist accident rates. Kogii's integrated sensors analyse a cyclist's dynamic environment and trigger different lighting patterns to maximise visibility and on-bike safety. Data from cyclists are collected and analysed to identify dangerous roads and accident black spots.
The founders of Kogii are Callan Eldon and Karl Roe, a PhD student in the UCD School of Computer Science.
NAIAD is developing a novel liquid-based 3D bioprinting technology to help researchers fabricate highly-reproducible 3D tissue models that better mimic the rich complexity of human tissues.
The founders of NAIAD are; Assistant Professor Emmanuel Reynaud, UCD School of Biomolecular and Biomedical Science at the UCD Conway Institute and Professor Brian Rodriguez, UCD School of Physics.
Output Sports tests and tracks multiple components of athlete performance with just a single wearable motion sensor.
The founders of Output Sports, a start-up emerging from the UCD School of Public Health, Physiotherapy and Sports Science and the Insight Centre for Data Analytics at UCD are; Dr Martin O'Reilly, Dr Darragh Whelan and Julian Eberle.
Pace-Man is an adaptive training and racing platform that helps runners prepare for, predict and pace their race.
The founders of Pace-Man, a start-up emerging from the UCD School of Public Health, Physiotherapy and Sports Science and the Insight Centre for Data Analytics at UCD are; Dr Alison Keogh and Dr Cailbhe Doherty.
ProvEye is developing advanced processing software to derive quantitative data from images collected by drones, and other platforms, which can be used to make informed actionable decisions on the farm.
The founders of ProvEye, a start-up emerging from the UCD School of Biosystems and Food Engineering, are; Professor Nick Holden and Dr Jerome O'Connell.
During the Awards event the founders of the six participating start-ups will each deliver an elevator pitch to an audience comprising members of Ireland's venture capital, research, state agencies, industry and business communities.
An overall winner, selected by an external evaluation panel, will be presented with the 2018 UCD Start-up of the Year Award. The winner will also receive a cheque for €10,000 and a professional services package to the value of €10,000. These prizes are sponsored by AIB, Bryan Maguire Business Consulting and Deloitte. The overall winner will also receive incubation space at NovaUCD to the value of €12,000.
Nicola McClafferty, Investment Director, Draper Esprit, will be the guest speaker at the event. Draper Esprit is one of Europe's most active VCs and backers of Irish successes Movidius and Clavis Insights. Nicola McClafferty, a UCD graduate, worked in venture capital before founding Covetique, an online marketplace for pre-owned luxury fashion which was acquired by ASOS in 2015.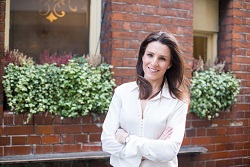 Guest speaker, Nicola McClafferty, Investment Director, Draper Esprit
All are welcome to attend and further information, including registration details, are available via https://2018ucdventurelaunch.eventbrite.ie
#VentureLaunch18
ENDS
15 November 2018
For further information contactMicéal Whelan, Communications Manager, UCD Research and Innovation, e: miceal.whelan@ucd.ie or t: +353 1 716 3712.
Editors Notes
The annual UCD VentureLaunch Accelerator Programme,which is delivered at NovaUCD, uses the Business Model Canvas approach to start-up development. The programme consists of ten 3-hour workshops, mentoring and a series of one-to-one sessions with external experts in areas such as finance, marketing and customer validation. The programme aims is to equip UCD researchers with the knowledge, skills and understanding that is required to work as part of a team successfully leading a new commercial venture.
At NovaUCD, the hub for new ventures and entrepreneurs at University College Dublin, we nurture and support new high-tech and knowledge-intensive companies as part of UCD's research and innovation mission. At NovaUCD we provide purpose-built, state-of-the-art incubation facilities alongside a comprehensive business support programme for our client companies along with a series of programmes, such as the UCD VentureLaunch Accelerator, to assist researchers who are commercialising research outputs. NovaUCD has been funded through a unique public-private partnership that includes AIB Bank, Arthur Cox, Deloitte, Enterprise Ireland, Ericsson, Goodbody Stockbrokers, UCD and Xilinx. www.ucd.ie/novaucd
The first ever Techstars' Startup Week Dublin, powered by Dublin City Council, is taking place from 19 to 23 November. The week includes 45+ frees events, across Dublin, including the 2018 UCD VentureLaunch Accelerator Programme Showcase and Awards, and involves 80+ speakers. Dublin becomes the 58th city to host a Techstars Startup Week. www.dublinstartupweek.com/