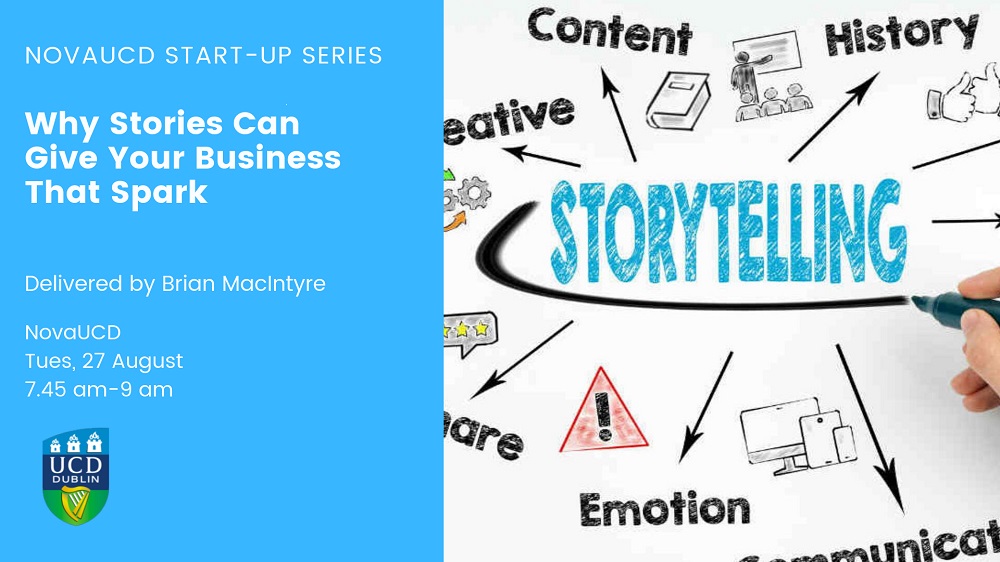 Event: Why Stories Can Give Your Business That Spark
Registration is now open for the third event in the NovaUCD Start-Up Series and is entitled, 'Why Stories Can Give Your Business That Spark'.
The event will take place at NovaUCD on Tuesday 27 August, 7:45 am to 9 am and the presentation be delivered by Brian Mac Intyre, Storiesforbiz.com.
Brian has worked as a print and broadcast journalist in Ireland and the US for well over two decades. He later retrained to become a screenwriter and immersive content creator.
Stories can help companies to solve their business problems specifically around customer engagement and staff buy-ins for in-house projects.
Topic which will be covered by Brian during his presentation include;
How stories work, why we tell them and why they're among the most persuasive forms of communication around.
The neuroscience of what happens to your brain while listening to stories, and the three chemicals that have a crucial role to play in this regard.
The shape of stories, the role of emotion, themes and a handful of other elements that make for great content marketing and ads that truly connect with customers.
Click here to register to attend.
ENDS
6 August 2019
For more information contact Micéal Whelan, Communications and Media Relations Manager, NovaUCD, UCD Research and Innovation, t: + 353 1 716 3712, e: miceal.whelan@ucd.ie.
Editors Notes
NovaUCD, the hub for new ventures and entrepreneurs at University College Dublin, is Ireland's leading innovation hub with a strong reputation and a proven track record in assisting start-ups to grow and scale internationally.
At NovaUCD we provide purpose-built, state-of-the-art facilities alongside a comprehensive business support programme for our client companies. NovaUCD has supported over 360 companies and early-stage ventures and supported companies have attracted over €760 million of investment and currently employ over 1,040 people directly.
Following a €6.5 million project to develop the Centre's eastern courtyard we can now support an ambitious community of over 450 people. We are now seeking high-tech aspiring start-ups who want to locate at NovaUCD and benefit from our unrivalled network of serial and next generation entrepreneurs, private investors and VCs, experienced business mentors and world-class researchers
NovaUCD has been funded through a unique public-private partnership that includes AIB Bank, Arthur Cox, Deloitte, Enterprise Ireland, Ericsson, Goodbody Stockbrokers, UCD and Xilinx. www.novaucd.ie