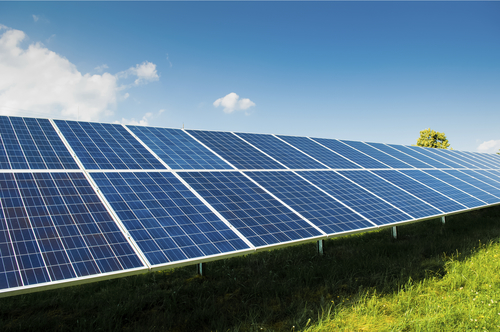 Terra Solar II to Bid Over 150 MW in Upcoming RESS-1 Auction
Having successfully sold Terra Solar Limited's portfolio of commercially viable solar farm sites to the ESB, David Fewer and André Fernon are now focused on realising the potential of solar assets held by their other company Terra Solar II Limited.
Based in NovaUCD, the Centre for New Ventures and Entrepreneurs at University College Dublin, Terra Solar II Limited was founded in 2016 by Fewer and Fernon to deliver low cost, renewable power to the Irish market. In 2015, the co-founders also established Terra Solar Limited, a development entity where ESB acquired a 25% stake in 2016. Terra Solar Limited is being wound down having sold its developed sites to the ESB, bringing a total of 118 MW of additional capacity to ESB's solar portfolio.
With over 800 MW of solar farms under development across seven counties, Terra Solar II Limited is one of Ireland's largest solar developers. Once operational, Terra Solar II Limited's pipeline would amount to over 3% of Ireland's energy needs, helping the country take a large step forward towards achieving its renewable energy targets.
The company has sites with grid connections to ESB Networks and Eirgrid which have the capacity to deliver 300 MW of solar power to the national grid. It has also secured full planning permission for the largest solar site in the country, north of Midleton in Cork. The 382-acre site has capacity to generate 125 MW of electricity.
According to David Fewer, Terra Solar II's total portfolio would power over 180,000 homes. The company will be bidding over 150 MW into the upcoming RESS-1 (Renewable Electricity Support Scheme) auction, with a further 300-400 MW ready to bid into RESS-2.
"We've full planning permission on almost half of the portfolio (380 MW) with another 220 MW in or going into the planning system. Local communities are set to benefit once we begin construction of these sites which will most likely begin next year after the conclusion of the RESS-1 and RESS-2 auctions".
André Fernon said, "The Irish market is at the beginning of a transformational evolution to renewable energy and solar has the potential to deliver 5 to 6 GW between now and 2030. Equally, due to the dramatic fall in the cost of solar in recent years and the speed at which solar can be deployed, solar represents the ideal electricity source to help move us closer to our renewable energy targets. Ireland is the last market in Europe to deploy solar technology and we believe that we are well placed to be a major player in the Irish solar market."
ENDS
27 April 2020
For further information contact Micéal Whelan, Communications and Media Relations Manager, NovaUCD, e: miceal.whelan@ucd.ie, t: + 353 1 716 3712 or Laurie Mannix, MKC Communications, e: laurie@mkc.ie.